November 30, 2010
Happy 12 Days of Giveaways to you – it's only DAY 2!
Today, meet the Bachmann Golden Spike Train Set: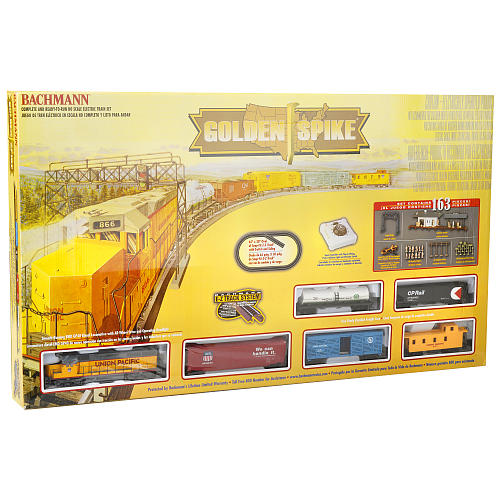 A little history lesson with this toy: the world's first transcontinental railroad was completed with the driving of the final Golden Spike. Commemorating this historic event in Ho-scale is the 163-piece Golden Spike Electric Train Set, featuring Bachmann's E-Z Track snap-fit track and roadbed system.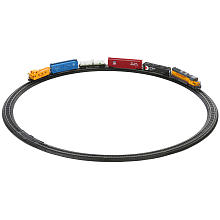 This set includes an EMD GP40 Union Pacific locomotive, four cars, and caboose, and it rides on a 63″ x 38″ oval track (20 pieces) with an included speed controller and power adapter.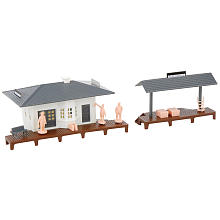 To complete the scene, the set also includes a signal bridge, suburban station, 48 figures, 36 utility poles, and 48 signs.
Giveaway
One lucky winner can one Bachmann Golden Spike Train Set simply by leaving a comment by Saturday, December 4th. I'll choose the winners using Random.org on Sunday.
Because I just LOVE comments, here's how to gain extra entries (please leave them as separate entries):
1. Do you subscribe by email or RSS to The Good Stuff Guide? I love my subscribers, so you get an extra entry. Wahoo!
2. Email 5 of your friends about The Good Stuff Guide and tell them what a rockin' website this is. We'd love to have them join us!
3. "Like" The Good Stuff Guide on Facebook and receive the latest news and your chance at additional giveaways. (I LIKE you too!)
4. Tweet this: "12 DAYS of GIVEAWAYS going on now at http://su.pr/2TJPO2  – Playmobil, LEGO, Leapfrog, Fisher-Price and more!"
Good luck!
Many thanks to Bachmann Trains for sponsoring this giveaway!  You can also find this Bachmann Trains Golden Spike Ready-to-Run HO Scale Train Set
($90)at Amazon.
Still only Day 2 – that means 10 more days of Giveaways to go!!

Share this post
You might like...
Category: Toys and Gift Ideas
Tags: 12 days of giveaways, Bachmann trains, Golden Spike Train set, Train giveaway |
100 Comments »
katie

on November 30, 2010 8:00 am

my son would LOVE this

---

Amy

on November 30, 2010 10:03 am

My kids would LOVE this train!!!

---

Amy

on November 30, 2010 10:03 am

I like The Good Stuff Guide on facebook.

---

on November 30, 2010 10:05 am

My son is a real rail fan. He would be crazy about this!

---

Christina D

on November 30, 2010 10:07 am

I stumbled this site.

---

Tracey

on November 30, 2010 10:29 am

Choo Choo!!!

---

Ronda

on November 30, 2010 10:51 am

Grandsons would love this!

---

Ronda

on November 30, 2010 10:51 am

I am a Facebook fan

---

Kelly Boyle

on November 30, 2010 11:13 am

My boys would love this train set!

---

Kelly Boyle

on November 30, 2010 11:13 am

I am a Facebook fan

---

D.

on November 30, 2010 11:19 am

my son would love this!

---

Gretchen

on November 30, 2010 11:27 am

Would look great under the tree, which my kids would love.

---

Gretchen

on November 30, 2010 11:28 am

I like on FB too

---

Jules Greenaway

on November 30, 2010 12:23 pm

Fun, fun… How cool would this look under the Christmas tree? Maybe not this year, since all my adorable wants to do is "taste" everything, but next year for sure!!

---

Kim

on November 30, 2010 1:11 pm

Agree with Jules, it would look great under the tree.

---

Kim

on November 30, 2010 1:12 pm

I like you on fb.

---

monkygm

on November 30, 2010 1:17 pm

My son LOVES trains!

---

Valerie S

on November 30, 2010 1:18 pm

My kids would love this!

---

monkygm

on November 30, 2010 1:18 pm

I am a facebook fan also!

---

Valerie S

on November 30, 2010 1:19 pm

I subscribe in google reader.

---

on November 30, 2010 1:19 pm

With my son, I can never go wrong giving him a train set!

---

on November 30, 2010 1:19 pm

Also a FB fan!

---

on November 30, 2010 1:44 pm

I have a boy and a girl who would LOVE this.

---

Diana

on November 30, 2010 2:30 pm

my son would love this

---

Diana

on November 30, 2010 2:30 pm

fb friend

---

Lesli C

on November 30, 2010 3:03 pm

My nephew would be over the moon with this!

---

Lesli C

on November 30, 2010 3:03 pm

I'm a fb fan!

---

Lesli C

on November 30, 2010 3:04 pm

I'm an email subscriber!

---

Lesli C

on November 30, 2010 3:04 pm

tweeted! (@seemommyknit)

---

Lesli C

on November 30, 2010 3:05 pm

I emailed five friends and told them what a great giveaway this is!

---

Sandi

on November 30, 2010 4:54 pm

My son would love this train.

---

Jessica Crump

on November 30, 2010 5:20 pm

Love the train and I like on facebook too

---

Jessica Crump

on November 30, 2010 5:26 pm

I am an email subscriber now too!

---

Katie Fisher

on November 30, 2010 6:41 pm

trains!!!!

---

Martha

on November 30, 2010 6:47 pm

Subscribe by email.

---

Martha

on November 30, 2010 6:47 pm

What fun for a whole family.

---

Martha

on November 30, 2010 6:48 pm

FB fan.

---

Leanne

on November 30, 2010 7:20 pm

My nephew would LOVE that!!
rae1124(at)aol(dot)com

---

Colleen Gallagher

on November 30, 2010 7:21 pm

Love this set!

---

Leanne

on November 30, 2010 7:22 pm

Email subscriber…
rae1124(at)aol(dot)com

---

Leanne

on November 30, 2010 7:25 pm

Follow on twitter and tweeted…
http://twitter.com/rae1124/status/9764601151361024
rae1124(at)aol(dot)com

---

Marlo Korstanje

on November 30, 2010 9:27 pm

Looks like a great train set!

---

Rebecca S

on November 30, 2010 9:28 pm

Very cool.

---

Rebecca S

on November 30, 2010 9:28 pm

I subscribe via RSS.

---

Rebecca S

on November 30, 2010 9:28 pm

I like the GSG on Facebook. Thanks for the contest.

---

gillian s

on November 30, 2010 9:35 pm

perfect for around the Christmas tree!

---

gillian s

on November 30, 2010 9:37 pm

We "like" (actually LOVE) GSG on FB.

---

gillian s

on November 30, 2010 9:37 pm

Subscriber also.

---

gillian s

on November 30, 2010 9:39 pm

…and emailed 5 FB friends about GSG.

---

susie

on November 30, 2010 10:38 pm

this is AWESOME!! my little man is like most boys a huge train fan. he would FLIP HIS LID if he won this : )

---

susie

on November 30, 2010 10:38 pm

i'm a subscriber!

---

susie

on November 30, 2010 10:38 pm

i'm on facebook too!!!

---

Jamie N.

on December 1, 2010 7:32 am

My son loves trains!

---

Jamie N.

on December 1, 2010 7:32 am

Im a facebook fan

---

Jamie N.

on December 1, 2010 7:33 am

Also an email subscriber!!

---

Sue

on December 1, 2010 8:36 am

email subscriber…Lots of train lovers here in IL!

---

Chris

on December 1, 2010 9:33 am

Love trains, particularly around the holidays, and the kids LOVE EM! What a great train set.

---

Chris

on December 1, 2010 9:34 am

Email Subscriber as well!

---

Chris

on December 1, 2010 9:37 am

"Like"ed the FaceBook page as well.

---

Chris

on December 1, 2010 9:38 am

and my tweet for your amazing site is out there as well.

---

Linda

on December 1, 2010 10:07 am

I would love to make a little boy happy by giving him this train for Christmas!

---

Linda

on December 1, 2010 10:07 am

I'm a fan on FB

---

Linda

on December 1, 2010 10:07 am

I'm an email subscriber too!

---

on December 1, 2010 10:22 am

Another great toy giveaway! Love this and was just thinking to get my girl one train set! It's now only for boys

---

on December 1, 2010 10:23 am

subscribed by mail

---

on December 1, 2010 10:24 am

following you on FB

---

Karen

on December 1, 2010 2:09 pm

My son would love this! Thanks for the chance

---

nan

on December 1, 2010 4:18 pm

my son loves trains, thanks for the chance
nannypanpan at sbcglobal.net

---

nan

on December 1, 2010 4:18 pm

e-mail subscriber

---

Rachel C

on December 1, 2010 4:35 pm

My husband and son love trains. this would be a great gift

---

Rachel C

on December 1, 2010 4:35 pm

email subscriber

---

Jill

on December 1, 2010 9:17 pm

a great gift for my son!

---

brian s

on December 1, 2010 9:29 pm

what a great train set!

---

on December 1, 2010 11:31 pm

My husband would love this train set!

---

on December 1, 2010 11:31 pm

I'm an email subscriber.

---

on December 1, 2010 11:32 pm

I like you on FB.

---

on December 1, 2010 11:33 pm

I emailed five friends about this great giveaway.

---

Janessa

on December 2, 2010 10:25 am

My boys would think this is great!

---

Janessa

on December 2, 2010 10:25 am

I follow you on GFC

---

on December 2, 2010 10:46 am

Oh, how I'd love to get rid of three boxes of Thomas and replace it with something a little more grown-up!

---

on December 2, 2010 10:46 am

I like you on Facebook!

---

on December 2, 2010 10:48 am

I'm a subscriber

---

Janessa

on December 2, 2010 10:51 am

I like you on FB

---

on December 2, 2010 5:02 pm

My daughter would love this
tbarrettno1 at gmail dot com

---

on December 2, 2010 5:03 pm

like on fb (michelle b)
tbarrettno1 at gmail dot com

---

on December 2, 2010 5:03 pm

email subscriber
tbarrettno1 at gmail dot com

---

on December 2, 2010 5:04 pm

tweet
http://twitter.com/ChelleB36/status/10453143980613632
tbarrettno1 at gmail dot com

---

Mimi

on December 2, 2010 5:07 pm

This train set has a history lesson with it !

---

Mimi

on December 2, 2010 5:08 pm

Any little guy could fall in love with this train.

---

Rose in Ohio

on December 2, 2010 10:33 pm

That's a great-looking train set.

---

Rose in Ohio

on December 2, 2010 10:33 pm

I subscribe to GSG via email.

---

Jackie J.

on December 3, 2010 1:33 pm

What a great gift idea. Thanks!

---

Julie R.

on December 4, 2010 8:03 am

Count me in, this is a good one.

---

Julie R.

on December 4, 2010 8:04 am

FB Fan. We saw the giant train display at the Museum of Science & Industry in Chicago this summer – so this would be the perfect tie in.

---

Julie R.

on December 4, 2010 8:05 am

email subscriber

---

Anna

on December 4, 2010 12:54 pm

We are huge train fans at my house!!!

---

Anna

on December 4, 2010 12:55 pm

I liked you on facebook.

---

Anna

on December 4, 2010 12:56 pm

http://twitter.com/youbrokethis/status/11116581484503040 tweet tweet.

---

on December 4, 2010 7:08 pm

amazing giveaway!

---

on December 5, 2010 5:35 am

tweeted: 12 DAYS of GIVEAWAYS going on now at http://su.pr/2TJPO2 – Playmobil, LEGO, Leapfrog, Fisher-Price and more @TheGoodStuffGuide

---
Leave Us Some Comment-Love