August 11, 2009
My friend Rebecca introduced me to this lifejacket and I think it's a WINNER!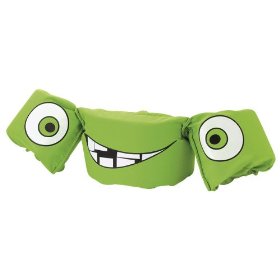 Can you believe this is a life jacket?  Here it is on an adorable so you can get the full scope: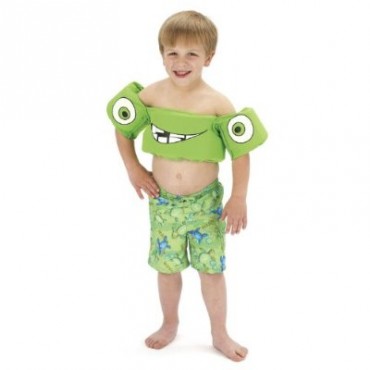 Rebecca loves it because it is much more supportive than traditional "arm floaties."  It also holds an adorable much higher in the water than the floaties.
This lifejacket works much better on a boat because the adorable can sit back comfortably in their seat. It doesn't have the flotation on the back side that makes life so uncomfortable for the little guys.  It is USCG Type III Approved for kids 30 to 50 pounds, which means it is okay for boats, pools, etc.
Even though it doesn't have the extra back piece, the adorable would always roll over to their back which means they could never end up floating with their face in the water.  Arm floaties don't do that folks.
Rebecca's adorable has special needs and this is the only flotation device where he can
freely explore
the water and
be safe
.   Her adorable is three, and has outgrown the baby flotation devices (like innertubes) and needs more support than arm floaties provide.
Best part is that because it's so unobtrusive, the adorables don't mind donning it! And that makes it a lifesaver for us.
It's also available in red (with black spots like a ladybug) or orange and it's under $27.00. Thanks Rebecca for the tip!
Share this post
You might like...
Category: Activities, Gear
Tags: arm floaties, kids lifejacket |
No Comments »
No comments yet.
Leave Us Some Comment-Love