March 30, 2010
Mind you, I'm not a creative person.  But I am excellent at copying the creativity of others.
I rephrase this to be not reinventing the wheel.
Doesn't that sound better?
In that vein, I "borrowed" this idea from Shara over at MommyPerks.com and Early Childhood News for these adorable Easter Basket cupcakes. (Go check hers out because they are much more professional than mine!)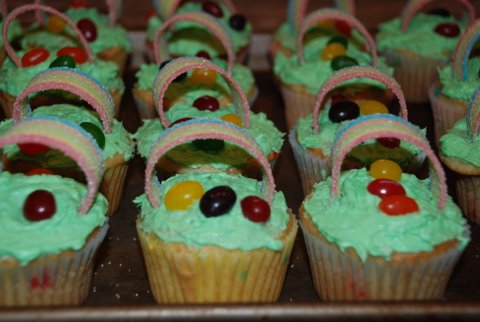 Aren't these cute?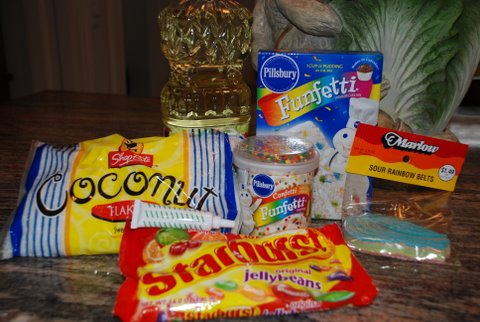 Here's all the stuff you need: White or yellow cake mix (I used Funfetti because the adorables love it), white frosting, oil for the mix, green food coloring, jellybeans, and these rainbow belts for the "handle" (or Twizzlers also work well).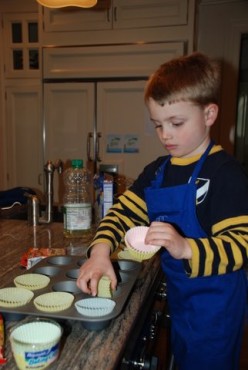 I enlisted the help of my eldest adorable and put him on paper muffin cup duty…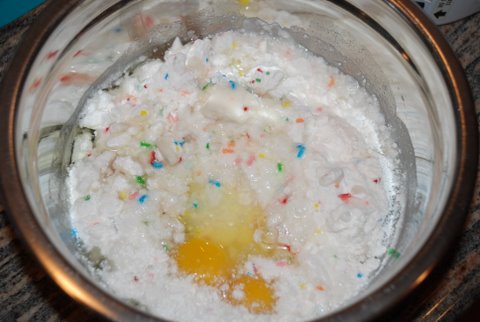 …while I threw things in to make the cupcakes.  Aren't you impressed with my cooking ability??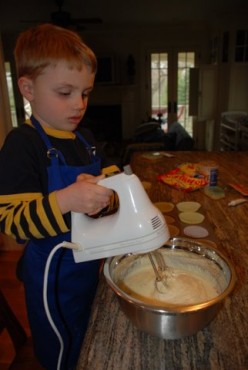 Taking my life into my hands – that's full speed on the mixer.  See the concentration on his face?  He's been warned, I tell you – NO funny business, mister.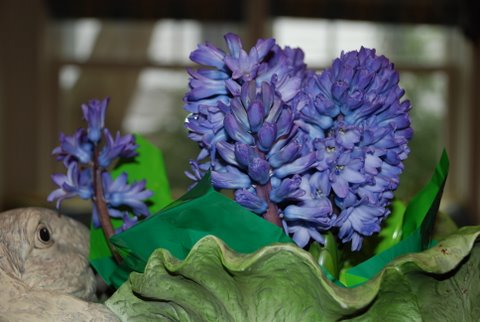 While the cupcakes are cooking, check out my grocery store hyacinths.  These stink so pretty, I wholeheartedly think they were worth the $3.99 that I spent.  The scent will knock you over when you come through the front door.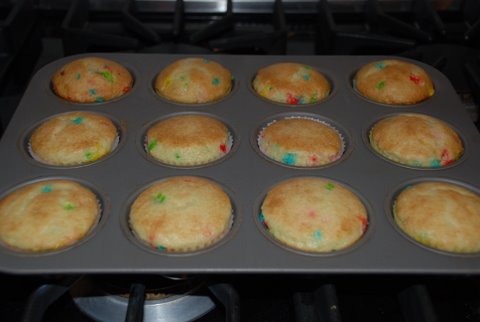 Back to our regularly scheduled programming, cupcakes are out of the oven.
While they cool, let's work on the frosting…
You don't really need the sprinkles, but they were the same price as the other frostings, and I figured I could use them on the adorable's ice cream sometime.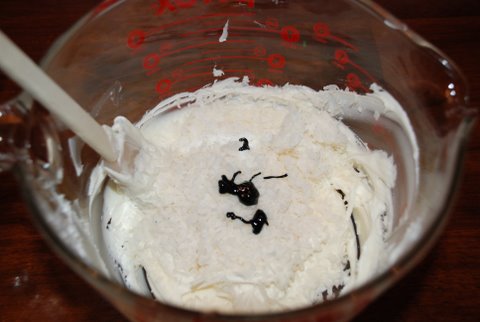 Now here's where I could improve next time: in this bowl is the white frosting, about 1 cup of coconut and green food coloring.  I was hesitant to add more coconut as these were for preschoolers and I didn't want them to scream "aacchh" and run.  But I was trying to achieve the look of Easter grass that Shara did so splendidly.  Her frosting looks like grass, mine doesn't.  So next time either go "whole hog" and use a lot of coconut, or stick with plain green and forget the coconut altogether.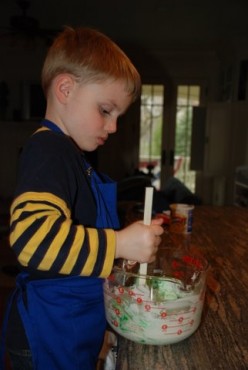 Strong arm it, little man!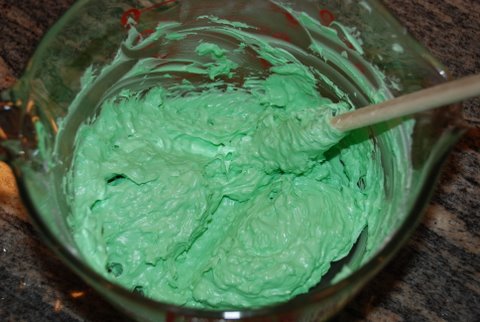 No matter how much food coloring we added, this is the color green we achieved.  Here's where you can really see it just looks bumpy, but not like grass.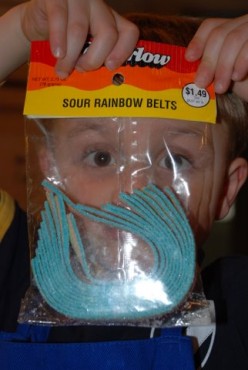 I found these Marlow Sour Rainbow Belts in the checkout aisle at my local grocery store.  I cut them in half so they weren't too long.  Twizzlers would also work perfectly.
I pushed either side of the rainbow belt down into the cupcake so it would stay put.  Elder adorable came along behind me with jellybeans.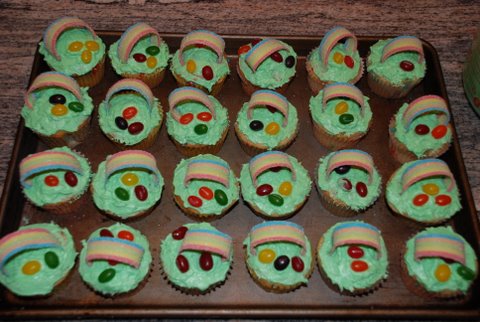 Voila!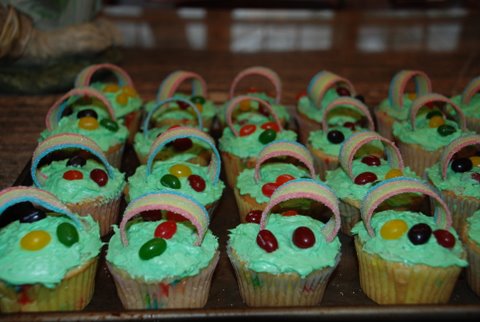 And one more just because I'm pleased as punch….
And while I have you thinking on Easter,there is not much out there in the way of Easter Children's literature, but we have one very special book I need to share.  (There's a market out there, writers!)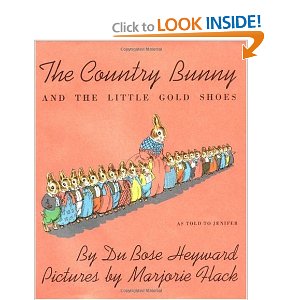 Written in 1939, The Country Bunny and the Little Gold Shoes
is a true Easter classic: a compelling story that promotes a Mommy Bunny (how very interesting in 1939!) to one of the coveted Easter Bunny positions. It's a favorite with gorgeous illustrations!  You will love how this Mommy Bunny organizes her 21 children, I promise!
Happy Passover to those of you who stuck with me through this whole post and have no plans to make these cupcakes!  I am jealous of your dinner tonight (besides the gelifte fish, which is not my fav, and probably isn't yours either.)
Oh no – Easter baskets ready for Sunday!!  What do you put in for your adorables?  What traditions do you have?

Share this post
You might like...
Category: Activities, Holidays
Tags: Easter activities, Easter Basket Cupcakes |
7 Comments »
on March 30, 2010 9:37 am

Love it!!!

---

on March 30, 2010 10:43 am

These are so cute. As for Easter, this year I am organizing a big egg hunt, but no basket (poor kid, but as he's two, he probably won't know the difference). I do remember demanding scavenger hunts from my own mother (ahem!) when I was younger to make Easter morning last as long as possible.

---

on March 30, 2010 12:28 pm

They are just fabulous. The taste is really what it's all about. Kids are forgiving especially when it comes to treats. Way to go!!!

---

on March 30, 2010 1:15 pm

I love that you had your son help! That's wonderful. I wondered about the coconut, also. When I went back to the classroom to get my containers, one child yelled, "Hi, Chandler's mom! Thanks for the cupcakes! Next time, leave off the coconut." LOL!!

I asked the kids, "So did any of you NOT eat the cupcake because of the coconut?" They all replied, "Oh, we ate them. Even with the coconut."

So I guess the concept of a cupcake outweighed the dislike of coconut? LOL.

---

on March 30, 2010 1:40 pm

Cute idea and so fun to do together!
Sweetie

---

Heidi Farmer

on March 30, 2010 1:45 pm

I think the older kids might love the coconut, but the younger ones are usually so finicky. But your grass was so cute!

---

Mimi

on March 31, 2010 6:44 pm

Even more adorable than the cupcakes was the Adorable making them !

---
Leave Us Some Comment-Love