May 13, 2010
There is a date I mark on my calendar months in advance.
It's the Friday before Mother's Day at 10 am.
(I'd be there at 7 am if they'd let me)
The wait is excruciating.
It's the day the Tomato Lady parts with her plants she's been nursing from seedlings.
And I can carry them home and raise them as my own.
The enormity of the responsibility is not lost on me.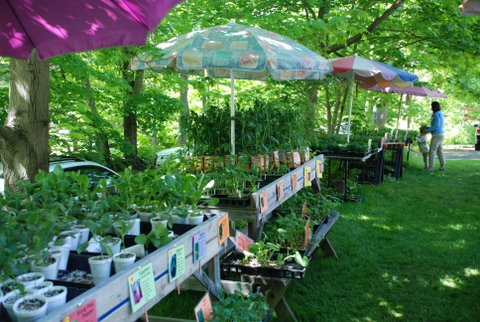 Better Boys, Jet Star, Mortgage Lifter, Sweet 100 Cherries, Celebrity, Super Fantastic – all the big names were there.
I hemmed and hawed and confined myself to 12 plants, and applauded my restraint all the way home.
And then planting…
This is my second year trying these red trays from Gardener's Supply. In the past, the squirrels ate the roots, so my logic was that these trays would make it more difficult for the squirrels to get to them. The red color is also supposed to stimulate growth. Last year I had my best crop yet (barring the fact that the adorables ate them before they turned red) so I'm not changing anything. You can find them here.
The green tomato ladders are also from Gardener's Supply and I've been using them for 4 years. They look so much better than the old cylinder things I had before. Click here to see them.
The adorables would like to know what time today the tomatoes will be ready.
I also have new gardening gloves to tell you about: meet Mud Glove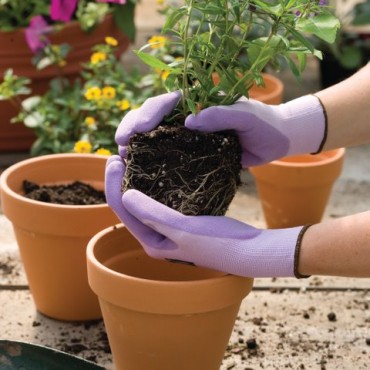 I love how clean my hands remain after a full day of digging around in the dirt.  I think you'll also love how they keep hands relatively cool too.  They also have cutey-patootie gloves for the adorables.
Giveaway:
You can win 5 pairs of Mud Gloves just by leaving a comment by Tuesday, May 18th and I'll choose the winner using Random.org on Wednesday, the 19th.
You can visit the Mud Glove store finder to locate these gloves near you.
A happy day to you!
Share this post
You might like...
Category: Garden
Tags: Gardeners Supply, Gardening Gloves, Mud Glove, tomato supports, tomatoes |
22 Comments »
Julie

on May 13, 2010 7:29 am

I'm trying to decide to take the tomato plunge this year or not. & if I do was thinking about those upside down hanging baskets. Has anyone used them? any success?

---

on May 13, 2010 10:06 am

I need those gloves! And it was a good thing I didn't get around to planting the same day you did as we just had a few inches of snow YESTERDAY. I'll have to be patient.

---

on May 13, 2010 10:08 am

Can't wait to see your gardens!

---

on May 13, 2010 12:54 pm

I soooooo want to start planting the garden, but here in MI we've been under a morning frost warning for over a week now! We are getting some fabulous rain though, so my herb pots are going gangbusters. Anyone have a favorite type of tomato that they just HAVE to plant every year? I'm looking for some new suggestions… (and I absolutely LOVE those gloves!)

---

Heidi Farmer

on May 13, 2010 1:06 pm

Julie – I haven't tried the upside down plants.. I'll be interested to hear.
Chelsea – I LOVE the Sungold Cherries – they are small orange cherry tomatoes and they taste super-sweet like candy. I'm planting 4 plants this year because my adorables can't get enough of them. They're the ones you see at all the Michigan farmer's markets in mid-August. I have to supplement our harvest because we can't get enough…

---

nancy

on May 13, 2010 1:20 pm

oh, I can't wait to plant up here in the NE! Your garden looks great!

---

on May 13, 2010 10:36 pm

I'd love some new gloves. Mine are so uncomfortable that I never wear them and you can really tell by how damaged my hands are.

I'm trying a cherry tomato in an upside down planter for the first time this year. I'll be reporting on how it goes on my blog, http://www.houndsinthekitchen.com.

---

on May 14, 2010 3:27 am

I can really use those gloves. We are planting numerous things this year, but the potatoes,tomatoes and peppers are my responsibility! Thanks
bleatham(at)gmail.com

---

Jenny

on May 14, 2010 8:10 am

I love the way those gloves look! I really need a pair as we're starting a garden so we can feed our 6 month old homemade fruits and veggies as opposed to ready made baby food.

---

gillette

on May 14, 2010 9:27 am

Your garden is amazing! Would love the gloves as mine are embarrassing.

---

Bridget

on May 14, 2010 11:42 am

I ♥ tomatoes too – and those gloves. Today is my first day on your blog. I may have to adopt "the adorables" for my gaggle of 3 adorable girls. love it.

---

Julie

on May 14, 2010 4:31 pm

The dog ate my old gloves! I really like the red trays…I may need some of those as well.

---

on May 14, 2010 6:09 pm

We have the tomato ladders also. They are wonderful. I have a friend with the topsy turvey and she swears by it. Apparently there is a strawberry version also that is great. I was just getting ready to place an order from Gardeners Supply!

---

on May 14, 2010 6:30 pm

I'd love a pair of those gloves!

---

RB

on May 14, 2010 8:15 pm

Would love to have all those tomato plants.

---

Jacquie

on May 15, 2010 4:03 pm

Wow! What neat gloves and such a pretty color too. I love garden gloves and am always looking for ones that fit well and are not so big and bulky. These would come in handy for this planting season.

---

Lethea Benson

on May 15, 2010 8:48 pm

Ahhh, the blessing of green growing things….A Happy you can't quite describe=)
Mud Gloves seems to be a really neat idea~haven't tried those but I do love Gardeners Supply!

---

Judy Riley

on May 17, 2010 7:22 am

Love working in the garden…but hate the messy fingernails that I have afterwards. These gloves might do the trick.
Thanks,

---

on May 17, 2010 9:04 pm

Thanx for the info Heidi =) I will look into the sungold cherries… My girlies love the baby tomatoes too =)

---

Schmidty

on May 18, 2010 6:05 am

Wow! Nice post! Beautiful plants! Love the stakes from gardeners supply. And ,….the gloves too! Thanks for a chance to win!

---

on May 18, 2010 2:21 pm

I just wore a hole through my gardening gloves. The tomatoes look good.

---

on July 13, 2010 6:11 pm

I was just checking out your site and found your tomatoes..wow that is so neat how you have them planted in the lil red things so the squirrels dont get them..I am going to have to tell my friend about that she is havin a hard time with those lil critters. thanks for the info!
chriscee

---
Leave Us Some Comment-Love