February 18, 2010
How many times have you heard those 3 precious words??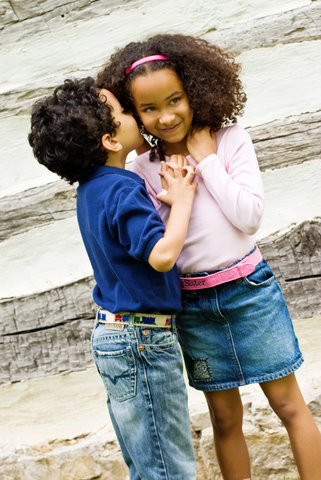 With Myself Belts, they really can.
A Velcro closure makes it really easy to whip on and off.
No fumbling with buckles (especially when nature calls and every second counts).
And they are wicked cute for your little prepsters.
Here are my adorables in their modeling debut (big tummies and all):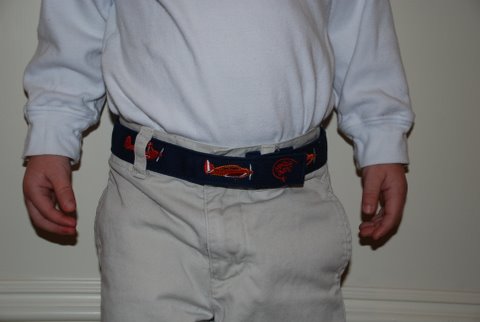 Younger adorable Boden, age 2.5, workin' it.
Elder adorable Sloan, age 4.5, giving a sideview, which he thought was important.  He's a beanpole, and this belt helps keep his pants on.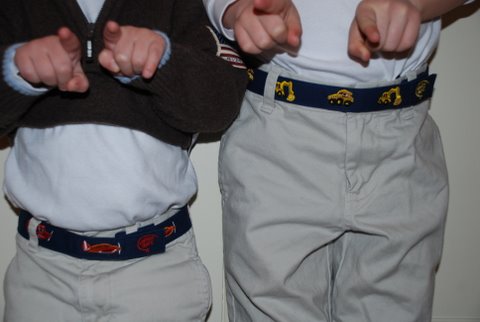 The disco brothers giving you the moves.
Giveaway
You can win one Myself Belt for your adorable just by leaving a comment by Tuesday, February 23rd and I'll choose the winner using Random.org on Wednesday, the 24th.
You can get an extra entry by emailing 5 of your friends about The Good Stuff Guide (or tweeting or leaving something about TGSG as your status update on Facebook).  As always, I trust ya!
***UPDATE*** Gillette won the belt!  Congrats!
Also, the nice folks at Myself Belts have offered you dear readers coupon code "GOODSTUFF" for 10% off on all products on their site through 3/15/10!  Thank you!
Don't miss their Olympic Belt!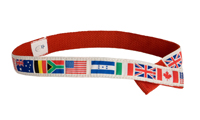 A little United Nations wrapped around every wearer.
Share this post
You might like...
Category: For Kids
Tags: Myself Belts |
13 Comments »
on February 18, 2010 9:18 am

I am in love with the Olympic belt! That is stellar!

---

Jenny Hout

on February 18, 2010 11:10 am

If I don't win one, I'm buying one! I haven't bought a belt for my girl yet because of the "rushing to the potty cause she was having too much fun to leave playtime to go sooner" situations, but is in need of one for a couple of pairs of pants she has.

These are waaaaaaaaaay cute!

---

susie

on February 18, 2010 12:46 pm

these are too cute! my son might just go nuts for the digger belt!!!

---

on February 18, 2010 3:02 pm

I've seen these somewhere before, and they're awesome! I have one twin whose pants just won't stay up. This would be helpful!

---

on February 18, 2010 4:21 pm

I love this concept.

---

Wehaf

on February 18, 2010 5:32 pm

What cute belts! Your little models are cute too.

---

on February 18, 2010 7:41 pm

Oh my goodness – disco moves! Love it! Such a clever product!

---

gillette

on February 19, 2010 9:09 am

If I don't win it…. I am going to the website and buying one or two. Wonder how large they come???

---

Sandi

on February 19, 2010 2:28 pm

Very cute belts! Love them.

---

on February 19, 2010 7:51 pm

Your little boys are so cute. The belts are a great idea. Love the pink striped one.

---

on February 21, 2010 11:41 pm

i would love to win this for my little girl. but if i don't win…i'm gonna buy her one.

---

on February 22, 2010 1:47 am

So very cool! Love em!

---

on February 22, 2010 7:27 pm

My 5 year old son would like to win a belt like this!

---
Leave Us Some Comment-Love