November 4, 2010
***I dug this out of the archives for today.  The same is true this year: every week I buy a 12-pack of Honeycrisp and a 12-pack of Granny Smiths from Costco and every week they are gone.  They have been dee-licious this year, just like the last!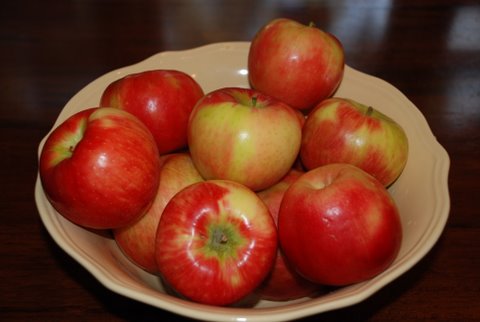 These are Honeycrisp apples  – a newish variety that's a cross between the Macoun and the Honeygold.  They are deee-lish and the adorables, the Running Man, and I have been eating them like candy.
So our contraption that peels, cores, and slices them has been getting a real workout lately.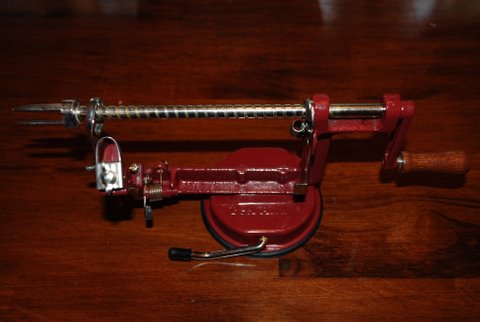 Looks a little scary, doesn't it?
Start by sliding the lever (with the black rubber tip) over and the unit is completely secure on any surface.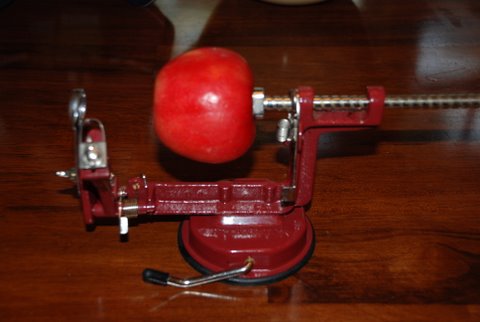 Then you prong the apple right in the center of the core.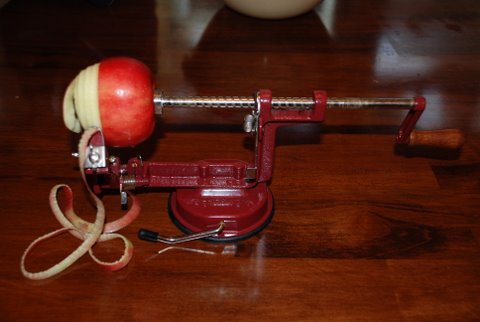 Next you call over your adorable to turn the handle.  The apple is peeled into teeny strips like this.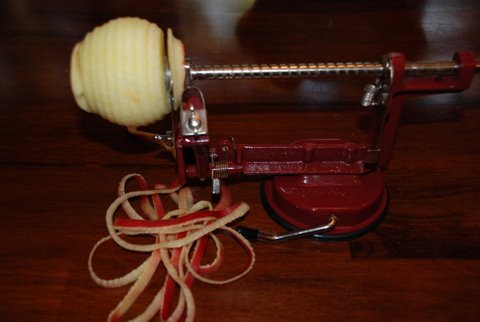 While you are cranking, there's something traveling through the center that is slicing and coring the apple at the same time.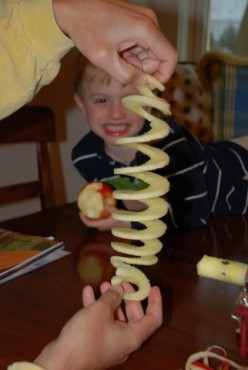 So, with a 1-minute investment, you end up with an apple peeled, cored, and sliced.  Thanks to the Running Man for the demonstration.
And then we eat it all up and repeat the process.
Can't tell you how handy this little thing is come pie-making time. 6-8 apples peeled, cored and sliced in about 7 minutes, or 15 with "help" from the adorables.

Share this post
You might like...
Category: Kitchen Gadgets
Tags: apple peeler, apples |
6 Comments »
on October 8, 2009 11:21 am

LOVE these apples – the are simply the best!

Where's your pie recipe? Post that and maybe I'll get he apple peeler. Could you post a gluten free recipe even?

---

on October 8, 2009 3:59 pm

This seriously makes me want one of these! I love how it slices the apple!

---

Julie

on October 9, 2009 6:51 am

My best friends has one of these and we use it for our annual pie baking marathon – after we do our annual family apple picking outing. We usually end up making about 10 pies in one evening. However her's has an attachment that secures it to the underside of the countertop. How is this one at securing to the tabletop? Do you ever have any troubles when you are turning that it comes up?
My husband LOVES honeycrisp. We discovered them about 3 years ago and now he is a honeycrisp snob. In the fall, he won't eat anything else.

---

Katie Fisher

on October 10, 2009 8:57 pm

best apples on the planet!!!!

---

on October 13, 2009 8:33 am

We can eat a bag of these like candy in my house. I have that contraption and I NEVER USE it. THanks Heidi, it is coming out this week! Totally forgot about it!

---

jeff

on November 5, 2010 9:28 am

now we will have to bake pies this weekend- thanks

---
Leave Us Some Comment-Love