April 25, 2013
written by Cathy Baker, mom of two sweet tweens, who think I'm the best mom ever for getting them this slackline!
Several weeks ago, I was browsing through my favorite magazine, Disney's Family Fun, when I spotted this little thing called the Gibbon Slackline! I was immediately awed and knew that our family would *love* it!
The simplest way to describe it is…well, think tight-rope walking merged with the trampoline. Oh, yah, it's fun! The Gibbon Slackline website says this about it:
Slacklining is the act of balancing along a narrow, flexible piece of webbing which is low to the ground and usually anchored between two trees.  Originating in the climbing world, slacklining has evolved into a cross trainer, backyard activity and sport all of its own.
Boy was I right! My girls were so happy when it arrived in the mail and I showed it to them! It was too cold to set up that day and they could not wait til Saturday morning for us to set it up!
And let me tell you, set up took only 10 minutes, and I think 5 of those were spent deciding which two trees to put the ropes between! It was *insanely easy* to set up!! They have a setup video on their website, and the tips are helpful, and allowed for a flawless setup!  They also have a very informative video too about tricks for getting started, think of this as slacklining 101, and trust me, it's very beneficial!
So, here are my girls on Day one.  We spent most of the day falling off.  It's challenging. But it's a fun challenging.  Definitely working on their balance!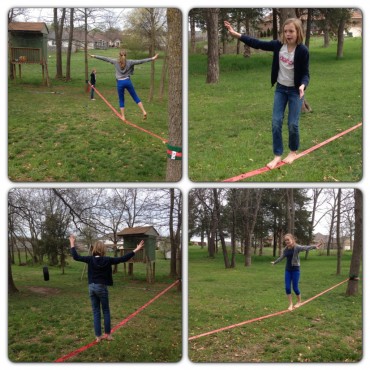 And on day two, my husband added this rope above them.  They liked this, because it gave them the opportunity to stay on the slackline longer.  And try knew things like bouncing up and down like on a trampoline. And passing each other in opposite directions, and getting on the rope with lots of friends.  Even with the extra  rope, it still takes a lot of balance.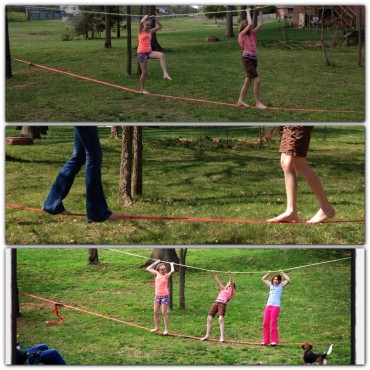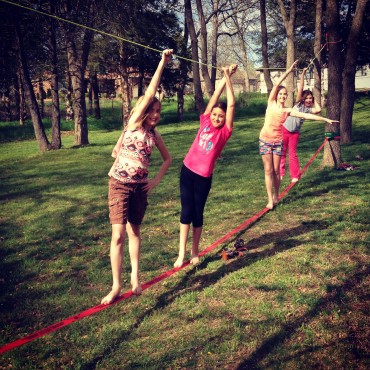 And it's a fun place to just hang out too. And eat ice-cream from the ice-cream man. Does anyone else still have the ice-cream man visit their neighborhood?!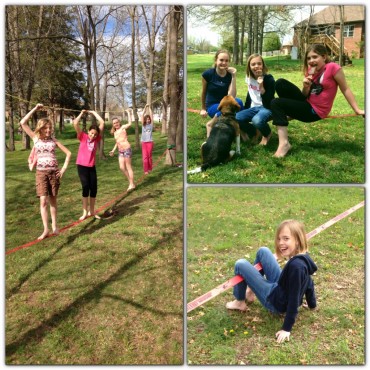 Kids as young as 6 were having fun on the rope (the box has recommended age of 5+) and my husband and I were laughing as we tried it too!  Here's me…with my legs wobbling like a bowling pin that can't decide if it wants to fall over or not (they say this is normal and will go away as the muscles in your leg strengthen!)…
And if you don't have trees, or want to use this inside?! Well, they have created these slackrack stands that you can use for it.  Think birthday parties, backyard summertime fun, a new fun way to exercise.
Special thanks to Gibbon Slackline for giving me the opportunity to test out this amazing product! We are in love. I definitely see slackling being a regular part of our summer, and it's so easy to take up and set down, it's definitely going along on all our camping trips too! (psst… it took my husband and I an entire 5 minutes to get it rolled back up! Yes, it's easy!)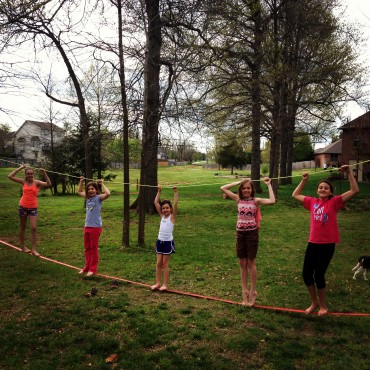 Oh, and I asked my girls what they liked about it. My youngest said, "1. It's fun. 2. It's fun. and 3. Oh yay, it's fun!" and my oldest said, "1. It's challenging. 2. It's lots of fun!" We all give it a double thumbs up! I hope your family enjoys it as much as ours!
You can purchase slacklines direclty through Gibbon Slackline, and they also have them available to purchase through amazon.

Share this post
You might like...
Category: For Kids, Outdoor, Outdoor Space, Playrooms, Random and Fun, Toys and Gift Ideas
Tags: Gibbon Slacklines, outdoor play |
3 Comments »
Marykate

on April 25, 2013 7:05 am

So fun! Mom love that you got on too! I get on the trampoline with my crew and I have to say it is really fun. Kids cant have all the fun!

---

Heidi farmer

on April 25, 2013 1:13 pm

This looks so awesome!! How much are they? A Great birthday party event!

---

on April 26, 2013 3:21 pm

Love this! What a great review!! Looks like a must for my kiddos this summer Thanks for sharing, Cathy! You're always such an inspiration as a mother!!

---
Leave Us Some Comment-Love