October 11, 2010
A very happy Monday to you!
Today's giveaway is such a great solution and I love the sneaky part of it too…
Meet BOX4BLOX – a brilliant organizing solution for your multitudes of Legos!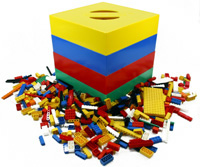 Okay, here's the sneaky part: your adorable *thinks* this is a gift for him/her, but in fact, it's a gift for *YOU*!
This cut-away photo shows the brilliance: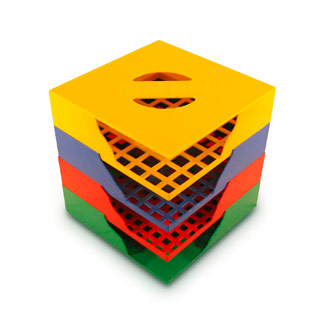 You stack these multi-colored bins and start dumping your Legos in the top, yellow bin. Keep shakin'.
The grid automatically sorts the pieces into sizes: the largest can't fit through the grid, so they stay on top, the smallest make it all the way to the green bin at the bottom as they fall through the grids.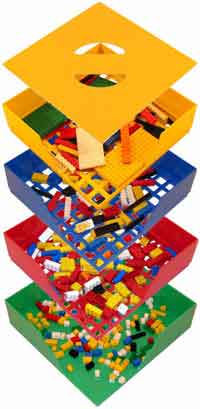 And your result is a clean stack of sorted Legos.
I'll just sit here quietly while you recover…
Ready?
Giveaway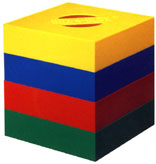 You can win one Box4Blox ($39.95) simply by leaving a comment by Friday, October 15th.  I'll choose the winners using Random.org on Saturday.
Because I just LOVE comments, here's how to gain extra entries (please leave them as separate entries):
Do you subscribe by email or RSS to The Good Stuff Guide? I love my subscribers, so you get an extra entry. Wahoo!
Email 5 of your friends about The Good Stuff Guide and tell them what a rockin' website this is.  We'd love to have them join us!
"Like" The Good Stuff Guide on Facebook and receive the latest news and your chance at additional giveaways. (I LIKE you too!)
Good luck!
Many thanks to BOX4BLOX for this great giveaway! Another brilliant holiday gift idea!!  If you visit the BOX4BLOX website, I highly recommend the 50 second video on the main page (with the great New Zealand accent).

Share this post
You might like...
Category: Organizing, Playrooms, Toys and Gift Ideas
Tags: Box4Blox, Lego Storage, Monday giveaway |
119 Comments »
Theresa

on October 15, 2010 12:40 pm

How clever!

---

Valerie S

on October 15, 2010 1:21 pm

That is like the coolest thing I've every seen! Kudos to the person who thought of that.

---

Valerie S

on October 15, 2010 1:21 pm

I subscribe in google reader.

---

Melanie B

on October 15, 2010 1:41 pm

Perfect! I feel like my son's legos are breeding and multiplying all over my little apartment and this would be a great "game" to corral all of them!

---

Melissa Mori

on October 15, 2010 2:55 pm

Great idea! Truly ingenious!

---

Melissa Mori

on October 15, 2010 2:55 pm

I liked you on FB

---

Melissa Mori

on October 15, 2010 2:56 pm

I am a subscriber to The Good Stuff!

---

Julie G

on October 15, 2010 5:35 pm

I am so OCD, I love it! The perfect solution to never being able to find the tiny pieces of lego.

---

Michele OKane

on October 15, 2010 5:50 pm

We're heading toward becoming a Lego house, so knowing about storage solutions early on will help a lot!

---

Kendra Kirk

on October 15, 2010 5:54 pm

I love this thing! I just discovered your site through Moneywise Moms…I will have to check it out more.

---

Kendra Kirk

on October 15, 2010 5:55 pm

I just "liked" you on fb. Thanks.

---

Mel

on October 15, 2010 7:30 pm

Want it! Cool organizer.

---

on October 15, 2010 8:05 pm

This would be so cool especially if I can actually get the kids to pick up the Legos!

---

Martha

on October 15, 2010 11:45 pm

Just liked you on FB. Thank you.

---

Martha

on October 15, 2010 11:46 pm

email subscriber

---

Amy

on October 16, 2010 1:00 pm

Just heard about your site, LOVE IT. Hope to get in on the giveaway as I have THREE LEGO-LOVIN boys!!

---

Amy

on October 16, 2010 1:02 pm

FYI for other moms of lego enthusiasts: we have the boys pick up their own legos – they sort by color. Even the smallest kid can do that! We have a bin for each of the major colors, and orange/green/purple share a bin. We also have a bin of "guys" and their stuff, and one for wheels. This works well and inspires creativity! Even cleaning up inspires creativity, because they see pieces they want to use. Hope someone finds this helpful.

We want the box4blox for the grey and black pieces, which are now so numerous it's no longer fun to dig through and find what you need.

Happy Building!

---

Melissa Pace

on March 10, 2011 12:08 pm

Wow! I love this! I also loved all the comments about the lego's, it s great to see that I am not the only one going crazy trying to figure out the best way to organize lego's. Can't wait to get this box, the scar on my foot will be my only memory of our unorganized lego's!!!! Email subscriber and friends on facebook

---

Bonnie

on September 13, 2011 11:06 am

My basement floor is literally wall-to-wall Legos and it is a huge hazard to navigate through. Why the mess? Because no sooner are they all collected into their large storage tubs than they get dumped out and spread around again by the kids in search of that one specific piece – usually a small one. This sorter would be so AWESOME! If they were sorted and stored by size, it would eliminate the need for dumping and searching through 75% of the blocks. I Would LOVE This!!!!!

---
Leave Us Some Comment-Love