June 7, 2010
A very happy Giveaway Monday to you!
I need to introduce you to Briggs & Riley's new line of luggage, the BRX, perfect for families that need exceptionally functional pieces that are lightweight, rugged and durable(!).
With the airlines imposing fees for checked baggage, I make it my special project to pack our family of 4 into 2 carry-ons, and for this reason, I'll be talking about the Briggs & Riley BRX Explore 22 Upright here…
This weekend I flew solo to Michigan for Girl's Weekend (more on that tomorrow) and I was pleased as punch with my new carry-on.
Here I am entertaining myself during a layover (I'm sure my fellow gate mates were slightly curious why I was photographing my luggage):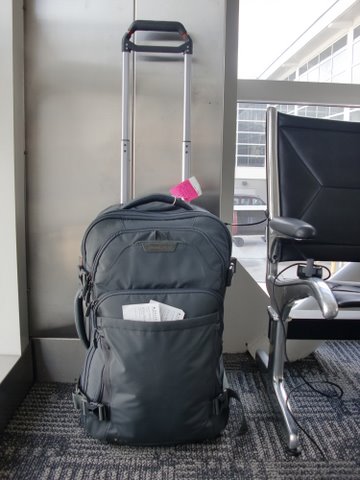 This is a very well thought-out and designed carry-on.  There is literally a place for everything.  I love the exterior open pocket for my tickets (I'm always losing them in my purse), magazines, etc.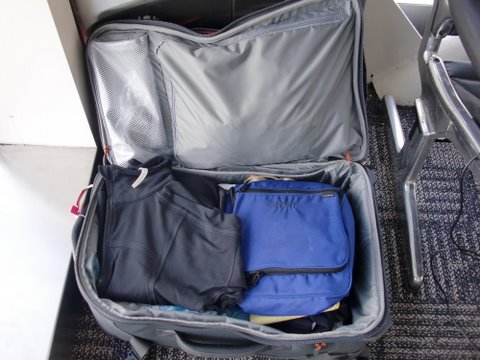 Inside, a roomy compartment for clothes, dob kits, and shoes.  (Those are my dirty clothes making the lid pocket bulge.)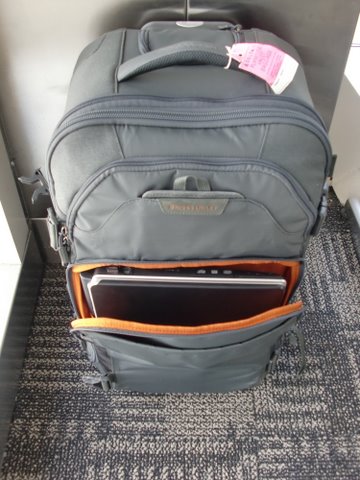 But my all-time favorite feature of this bag is the padded laptop spot in the front pocket.  Obviously, I'll only use this when I'm carrying my bag on board, but I'm thrilled I don't have to carry it in a separate bag.
But never mind my babbling, here are the real features:
Weighs only 7.0 lbs
The Outsider® handle system allows for more interior space.  Bars are on the outside for a spacious flat packing surface inside.
Easy pack main compartment with wide nylon compression panels keep your gear flat and neat
Inside top lid features wet/dry pocket and essentials compartment for additional organization
Quick access front pockets and two exterior, zippered front pockets offer space for accessory items
Expandable slash pocket perfect for light jacket, guide books or maps
Tapered zip expansion keeps bag lightweight while maximizing carry-on capacity
Front zip compartment stores up to a 16″ laptop(!)
Simple as that® lifetime warranty even covers airline damage
Here's the happy news:
Giveaway
You can win a Briggs & Riley Explore 22 Upright ($290) just by leaving a comment by Friday, June 11th and I'll choose the winner using Random.org on Saturday, the 12th.  You can even pick your color: slate, blue or amber.
Here's how to gain extra entries:
Do you subscribe by email or RSS to The Good Stuff Guide? I love my subscribers, so you get an extra entry. Wahoo!
Email 5 of your friends about The Good Stuff Guide and tell them what a rockin' website this is.  We'd love to have them join us!
Become a Facebook fan of The Good Stuff Guide and receive the latest news and your chance at additional giveaways.
(Feel free to do them all – that's a total of 4 entries!)
Good luck!
Many thanks to Briggs & Riley for this incredible giveaway!  I'm also most grateful for the sample I received.
If you are not the lucky winner, you can always find your Briggs & Riley BRX Explore 22
luggage at Amazon (free shipping too!).

Share this post
You might like...
Category: Brilliant
Tags: Briggs & Riley, carry-on luggage, explore 22 Upright |
61 Comments »
Brad

on June 11, 2010 12:08 pm

B & R is the only luggage I buy!

---

on June 11, 2010 1:21 pm

I'll take a blue one please and I've subscribed.

---

Travis

on June 11, 2010 1:23 pm

This would be a great addition to my luggage family!

---

on June 11, 2010 1:29 pm

I've had a total of 4 different B&R models. They are by far the best, and the company stands behind their stuff. Love to add this one to my collection!!

---

Justin R

on June 11, 2010 1:49 pm

I subscribed to the email list and am a fan of The Good Stuff Guide on Facebook… I LOVE BRIGGS & RILEY and need a 22″ carryon—it's the one basic I'm missing.

---

Lisa M

on June 11, 2010 2:45 pm

I love the Briggs and Riley bags I have! I could use some for my husband as he's jealous!!!

---

Ellen

on June 11, 2010 8:33 pm

This would be great for some upcoming trips!

---

Ellen

on June 11, 2010 8:33 pm

I subscribe via email.

---

Ellen

on June 11, 2010 8:34 pm

I am a FB fan.

---

on June 11, 2010 9:12 pm

These are the best cases I have ever seen, I have been a user of the transend cases for years but the BRX look more casual less structured for my lifestyle!

---

Andrea

on June 15, 2010 6:55 pm

Love this bag!!!

---
Leave Us Some Comment-Love