October 4, 2011
Written by Contributing Writer, Sarah Farthing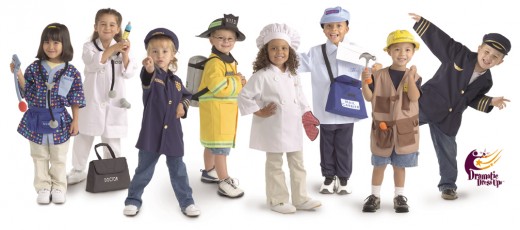 This is the perfect time of year to think about gifting your kids a dress-up bin.  Whether it's for an upcoming holiday, their next birthday or a gift-giving occasion even further down the road, now is the time to snag some great deals on costumes.  When my boys were still babies I started combing the after-Halloween sales for size 4/6 costumes.  I bought 4-5 costumes each year for well under $10 (often for under $5!) and also picked up some great accessories.  The 'community helper' outfits like those pictured above are wonderful for pre-school dress up!  I found the best deals on Halloween Day and November 1st each year.
Last Christmas our boys got 3 gifts each from Santa and the one combined gift they got from Mom and Dad was a huge chest of costumes for dress up that I had collected over the last 4 years.  It was a big hit and so economical to piece together over time with sale items!
Have a Bright Idea you think we would love?  E-mail heidi@thegoodstuffguide.com
Share this post
You might like...
Category: Activities, Brilliant
2 Comments »
Heidi Farmer

on October 4, 2011 9:38 am

I, too, search out costumes on clearance after Halloween. Now that we've amassed a small collection, I just ask my boys to choose from those for their Day-Of-Halloween costume. Have to admit, by the evening, they usually grab their favorite sports jersey and coordinating helmet, stick, ball, etc and they are good to go. This makes running from house to house super-easy (and yes, The Running Man and I end up carrying all the props!).

---

Mama Nolte

on October 4, 2011 7:11 pm

I love it when kids can play 'pretend' all year using their costume box. They can try out what it is like to 'be' all types of characters/community leaders and build a basic core knowledge of language and concepts concerning careers and make-believe characters.

---
Leave Us Some Comment-Love