November 3, 2011
Written by Contributing Writer, Sarah Farthing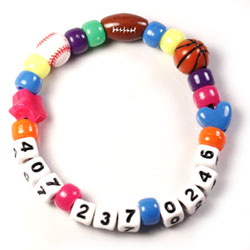 My friend brought over two phone number bracelets one day that she made for our boys and I love them! What a great idea. I was so touched that she took the time to sort through the numbers of my cell phone number, including area code, twice! (Stock photo above, not my number!) I have seen ID bracelets advertised before for allergy and medical indications. I've also heard of temporary tattoos that you can personalize with your phone number and other information for use in crowded public places like theme parks, etc… This bracelet idea is fantastic because it is removable and reusable! Not only that, it is simple to put together yourself with a few inexpensive supplies from a craft store.  My friend found the beads she used at Hobby Lobby.
I keep our bracelets in my purse and it's so easy to pull them out at the entrance to a museum or when we're on a field trip. The boys have my cell phone number memorized but in a real emergency who knows what they'll remember; even adults can forget their own phone numbers in an emergency! Every time I slip these bracelets on them (wrists or ankles) I remind them about our stranger rules and how to spot a safe adult if they get lost. They don't have to come up with my number, they only have to remember to point to it!
Today's Bright Idea came from Jen, mom of Austin (8) and Kamden (3), from Lawrence, KS!
Have a Bright Idea you think we would love? E-mail heidi@thegoodstuffguide.com

Share this post
You might like...
Category: Brilliant
18 Comments »
Heidi Farmer

on November 3, 2011 8:01 am

Going to Disney World next week, and I'm making these with my cell phone number today!!

---

Mama Nolte

on November 3, 2011 10:58 am

This would be a great idea for seniors with memory loss if they can in any way get out into the world alone.
Thanks for this bright idea!

---

Melissa Stoddard

on November 8, 2011 6:34 pm

Love this idea! I need to pass this along. ; )

---

Lesli C

on November 8, 2011 7:27 pm

I just love this idea~! I sent this to my friends as well-smart and simple!

---

Renee Hawthorne

on July 10, 2012 10:44 pm

Where do you purchase the number beads?? I've looked everywhere.

Thanks
Renee

---

Marina

on July 13, 2012 2:10 pm

Well I have wanted to make bracelets for five years. And I have never been able to find number beads at any store or online. I will try hobby lobby now. I hope I find some finally. Before all my children are grown up!

---

Karen

on July 23, 2012 2:07 pm

Thought of this years ago, but never able to find numeric beads.

---

on July 24, 2012 6:54 am

Fabulous idea. We are going to Disney soon as well. I just found the number beads on Amazon!

---

Nancy Donahue

on September 20, 2012 12:03 am

What a great ideal, smart mom who thought this up.

---

Tammy

on September 28, 2012 10:44 pm

I found the beads on amazon. good price and great quality.
http://www.amazon.com/gp/product/B0056RHG7M/ref=oh_details_o00_s00_i00

---

on October 20, 2012 9:22 pm

Having never made a bracelet before could youtell me , besides the beads,what other supplies i would need

Thanx

---

Wanda

on January 20, 2013 11:58 am

number beads at hobby lobby

---

on February 2, 2013 5:33 pm

wonderful wonderful idea.

---

on February 2, 2013 5:34 pm

wonderful idea.

---

Dawn

on June 9, 2013 1:02 pm

you can find at the Monkey Shop on ESTY 😉

---

on September 23, 2013 10:20 am

You can order on whatsthafuss@madeitmyself.com

---

Amanda

on June 12, 2015 3:59 pm

Great idea! I have been wondering how to make them. I have no clue on what to buy or how to create it and put it together. Any tips or instructions?

---

on August 6, 2015 12:16 pm

Wow! What a great idea!

---
Leave Us Some Comment-Love