November 29, 2011
I'm so excited to share this *BRILLIANT* family Christmas tradition with you, written by Cathy Baker, of Missouri, who writes Moments on the Journey.  Now read on – you have 2 days before December 1st!
Cathy writes:
I have several Christmas traditions I enjoy doing with my girls, but one of my favorites is our mini Christmas stockings.  Our last house was a split level, so the mini stockings hung on the railing…all 24 of them.  (I bought them from Oriental Trading.) Our new home doesn't have a railing, so…I bought little suction cups and put the stockings in my window, as you can see here.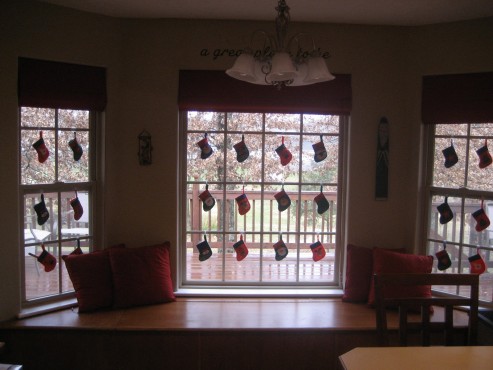 Depending on the year and if we are traveling, it is either our countdown to Christmas or it's our countdown to leave for our trip.
We have an activity for each day. I simply wanted to be purposeful about slowing down and enjoying time together, as a family, during the hustle and bustle of the season.  Some of the slips of paper said things like:
·         Sip hot cocoa (with marshmallows, whipped topping and sprinkles) by the fire (one of my favorites!).
·         Drive around and look at Christmas lights.
·         Wear Santa hats and play a board game.
·         Buy candy cane ice cream.
·         Watch a Christmas movie.
·         String popcorn.
·         Put together a puzzle.
·         Bake Christmas cookies (one night).
·         Decorate cookies (next night).
·         Sit by the Christmas tree and sing Christmas carols.
·         Go for a walk in freshly fallen snow.
Now as my girls are growing, not only do I want to slow down during the season, I've also been thinking about how I can instill the generosity of the season into them.  So my new plan is to do one day of our 'fun' activities, followed by a random act of kindness the next day. So in the stockings this year, I am going to include some of the following:
·         Tape candy canes and coins to outside of vending machines.
·         Drop off toys to local toy drive.
·         Take hot cocoa to your teachers today.
·         Find an online organization and make a donation.
·         Maybe we'll go ring bells for Salvation Army.
·         Maybe we'll pay for the person's order in the car behind us at the drive-thru.
·         Maybe we'll deliver treats to their daddy's work. Or our local firemen.
One additional tip, I don't fill all the stockings with the ideas at the beginning of the month…I do have all the slips printed up, but then I only put 3-4 days in at a time. This allows me to plan around the weather and our ever changing schedule! (i.e., obviously we don't want to drive around and look at lights in a snow storm!)
I don't know if they look more forward to the stockings or if I do…it's definitely a toss up! But I do know we're going on eight years of mini-stockings and we all still love them! And I also know these years will not last forever. But I do plan to add some cash into the stockings in their teen years…that should stretch out the joy for a few more years!
What is a favorite Christmas tradition your family enjoys?
And share your ideas below for what you'll be including on your list – let's make it easy for all of us!
If you have a great idea to share, email heidi@thegoodstuffguide.com!
CHRISTMAS RANDOM ACTS OF KINDNESS
1.  Take Hot Cocoa to your teachers
2.  2nd Saturday
3.  Leave a present for the mailman
4.  Take someone special a shake or frosty
5.  Bake cookies for daddy to take to work just 'cuz
6.  Leave Happy Notes and Candy Canes on Cars
7.  Leave change and mini candy canes at vending machines
8.  Leave Christmas treats in cart for next shopper
9.  Shop for family for Christmas for 2nd Saturday
10. Deliver Christmas treats to neighbors.
11. Pay for car behind us in drive thru.
12. Send card to someone
13. Treats for the librarians. Leave money to pay overdue fines.
14. Hide dollars in the dollar store.
15. Send e-cards
16. Leave quarters at the laundry mat
17. Take Christmas books up to NICU
18. Send someone who is struggling some money
19. Hand out presents at park (color books/crayons?)
20. Pass out silly bandz to every kid you see
21. Plugging meters downtown
22. Ring Salvation Army Bells
23. Donate something to a Children's Charity
24. Leave a big tip for someone.

Share this post
You might like...
Category: Activities, Holidays
5 Comments »
Beth

on November 29, 2011 7:50 am

This is awesome!

---

Heidi Farmer

on November 29, 2011 9:20 am

I agree! I especially love the idea of giving in this. I was going to donate toys to Toys for Tots, and I think I might break this up over several days – perhaps even a treasure hunt to find the Toys for Tots boxes?

---

Heidi Farmer

on November 29, 2011 10:08 am

Should have added that I'm using an old advent house we have, instead of the stockings. Even a bowl would work with a slip of paper with that day's activity!

---

Cheryl

on November 29, 2011 4:03 pm

Brilliant! Am digging out my advent calendar from last year tonight!!

---

on November 29, 2011 8:04 pm

We started our countdown today…hot cocoa to their teachers!

---
Leave Us Some Comment-Love