October 13, 2009
I have my last annuals still going strong in my garden and I finally cut some to enjoy indoors.  I have two favorite things that make flowers so easy to show off inside.
The first is Easy Arranger:
And all you do is: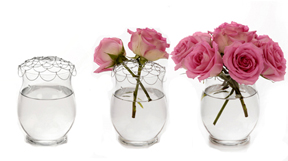 Place this wire grid over the opening of the vase, arrange your flowers and you're done!
I can grow flowers, but I am not capable of creating a flower arrangement – even with a store-bought bouquet.  It's the sorry truth.  This little baby saves me.
Thank you Easy Arranger for letting me give one away!  (Enter comment below.)
_____________________________________________
The second little beauty is CakeVase.  I had never seen anything like it, but now I'm hooked.
You can create this: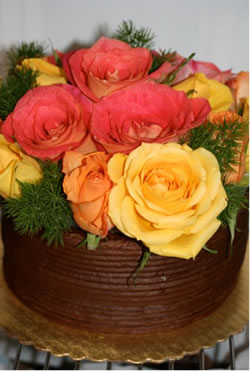 or this: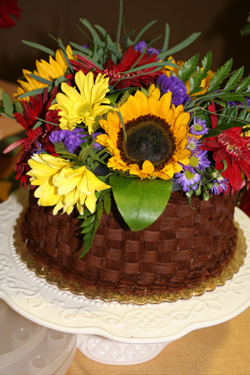 with the help of CakeVase.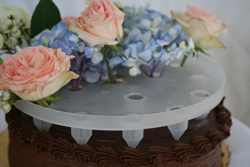 You either bake or buy a  6 or 8 inch round cake.  Then place CakeVase onto the top.  Add a little water and your cut flowers (even a store-bought bouquet!) and VOILA:  A gorgeous creation.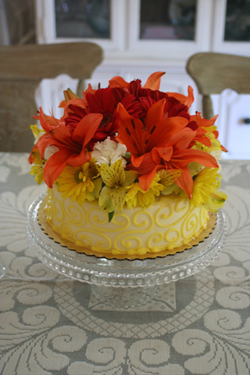 Have you ever seen anything more brilliant?
Enter a comment below to win a set of 3. You can also find them at Amazon.
Just leave a comment by Saturday, October 17th and I'll choose 2 lucky people: one for the CakeVase and one for the Easy Arranger. Good luck and have a great day!

Share this post
You might like...
Category: Brilliant, Garden
Tags: CakeVase, Easy Arranger, easy entertaining |
12 Comments »
marla

on October 13, 2009 10:02 am

I want this!!!

---

on October 13, 2009 11:15 am

Those are awesome!

---

Lynsi G

on October 13, 2009 12:53 pm

I have never seen the easy arranger or the cake vase before. Both are brilliant for people who aren't so craftsy (like me).

---

Sue

on October 13, 2009 4:21 pm

CakeVase is awesome! I am a klutz with cake decorating, and this product does it all FOR me! And it's for more than just cakes too!

---

on October 13, 2009 5:36 pm

I love the Easy Arranger, because I've never seen anything like it before! Thanks for sharing!

---

Kara

on October 13, 2009 6:41 pm

I wish i would have came up with this idea! Very neat; and would be great for a wedding cake! I will keep this in mind when I get married (years down the road) thanks for sharing!!

---

Julie

on October 14, 2009 7:06 am

Count me in. These items look easy and wonderful!

---

Noreen

on October 14, 2009 9:52 am

Both are soooo cool! I've seen flowers arranged around a cake but never on top like that. Still edible?

---

Heidi Farmer

on October 14, 2009 11:03 am

Yes! You just lift the Cake Vase off and cake is ready to go!

---

Lucy

on October 15, 2009 9:35 pm

These are both BRILLIANT! Anything that helps me look slightly like a domestic goddess is a MUST!

---

Jenny

on October 16, 2009 9:39 pm

Holy cow!! Both are so awesome!! I suck at flower arrangements!

---

marla

on October 17, 2009 8:40 am

Do the cakes come with????

---
Leave Us Some Comment-Love