January 9, 2012
We live on chili in the winter!  I cook up a huge pot over the weekend – it only gets better after a few days in the fridge.   After our busy days with sports and after-school activities, I can have dinner on the table in about 5 minutes – thank you microwave!  And this is seriously healthy – there isn't a bad thing in it.  If you are doing Adkins or South Beach, just skip the corn.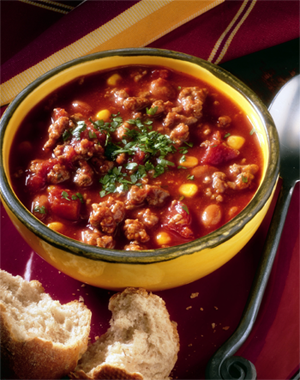 Team Farmer's Seriously Healthy 4-Bean Chili
Serves a crowd (or 1 family for a week)
INGREDIENTS:
1 Head of Celery, chopped
2 Green Peppers, chopped
2 Red Peppers, chopped
1 Sweet Onion, chopped
1 bunch of Cilantro or Parsley, chopped
1-2 Jalepenos, chopped (optional)
1 large can of Petite Diced Tomatoes
2 cans of Del Monte Petite Diced Tomatoes with Zesty Jalepenos
1 large can of Black Beans
1 large can of Red Kidney Beans
1 can of Pinto Beans
1 can of Dark Red Kidney Beans
2 cans of Super Sweet Corn (or 1 frozen bag)
Chili Powder to taste (around 4 or so tablespoons)
Red Pepper Flakes to taste (optional, if not using fresh jalepenos)
1-2 pounds of Ground Beef or Turkey
TOPPINGS:
Mexican Cheese
Crushed Tortilla Chips
or White Rice underneath for an especially hearty meal
DIRECTIONS:
Using your largest stockpot, cut up celery, peppers, onion, cilantro or parsley, jalepenos and place in pot over medium heat.  Add cans of tomatoes, beans, and corn.  Add chili powder and Red Pepper Flakes.  Add meat last after you have adjusted seasonings.  Cook on medium to low heat until all meat is thoroughly cooked.  Serve topped with cheese and crushed tortilla chips.  The Running Man loves his served over white rice.
Share this post
You might like...
Category: Cookin'
2 Comments »
on January 11, 2012 12:11 am

Just pinned this! I've been looking for a good recipe that wouldn't take all day! Interesting that you cook the meat in the chili rather than cooking it first. Can't wait to give this a try!

---

Heidi Farmer

on January 11, 2012 8:47 am

Yes, I've done it both ways, but I find this to be even easier (read: lazy!) and I like the taste a little better. But it works either way!

---
Leave Us Some Comment-Love