November 27, 2013
Here's a variation on a classic my dad is making this year: Apple Cider and Cinnamon Cranberry Sauce with a hint of orange peel.  Make this at least 24 hours ahead for best results!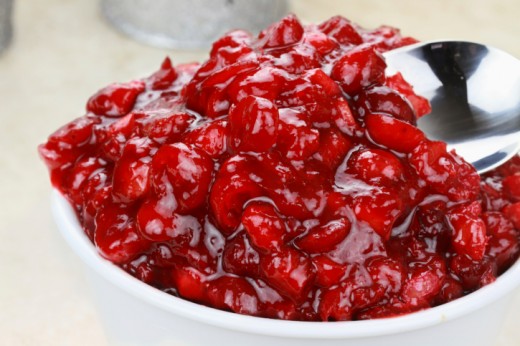 3 cups apple cider

3/4 cup white sugar

4 cinnamon sticks
1 tablespoon grated orange zest

12 whole cloves

2 1/2 cups fresh cranberries
Directions
Combine the apple cider, sugar, cinnamon sticks, orange zest, and cloves in a large saucepan. Bring to a boil over high heat. Turn heat to low; simmer until sugar is dissolved and the flavors are blended, 10 to 15 minutes.
Stir cranberries into the saucepan, turn heat to high, and bring to a boil. Cook, stirring constantly, until cranberries begin to pop, 5 to 10 minutes. Reduce heat to low, and cook until sauce begins to thicken, about 5 minutes. Remove cinnamon sticks and cloves.
Cover and place in fridge for at least 24 hours for flavors to develop, but not more than 3 days ahead.
This is a cross between a recipe in Williams-Sonoma Thanksgiving book and Allrecipes.com.  I tasted my dad's and it is DEE-LISH!
Do you have a special recipe for Cranberries?

Share this post
You might like...
1 Comment »
Marykate

on November 27, 2013 6:53 am

I am making this. Even though I am not hosting! I have fallen for Trader Joes dried cranberries with orange and the flavor combination is divine. Thank you!

---
Leave Us Some Comment-Love