September 27, 2012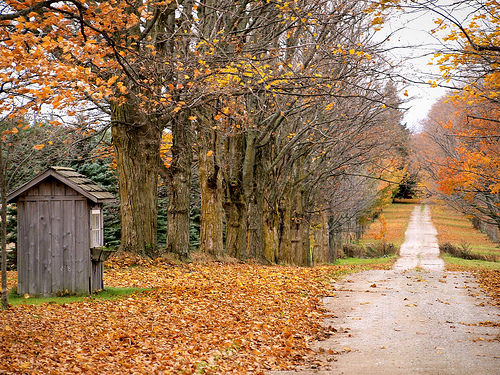 Now that fall has arrived (though it doesn't quite look like this yet), the kidorables are in school full day (sorry – can't wipe the smile from my face for that!), and all the back-to-school hoopla – meetings, class coffees, PTA responsiblities, etc – have died down, it's time to get to my list.
Heidi's To-Do List:
1) Get in, look at, and clean out every closet.
Oh my goodness, have we accumulated stuff since we moved in 8 years ago.  My goal is to spend 15-20 minutes every day on this.  Just a little bit at a time.
And purge, purge, purge.
2) Tame the Toys!
Here's the thing: my kidorables don't even play with toys anymore.  It's sports at our house, 24/7.  Pair holidays and birthdays with the fact that I was receiving several toys a week for a while to "test", we have too many toys!
I need a good place to donate these – Goodwill no longer accepts plastic.  Any ideas?
Also, be on alert for a mom-to-mom sale in my front yard soon!
Now just to convince the boys that they don't really play with the toys any more…
3) Photo Books
About 3.5 years ago, I suddenly stopped making photo books.  The grandparents had always received them for Christmas, the Running Man for Father's Day, and then just the random book to document our lives.
Then abruptly, I just stopped.
Yesterday, I heard my younger adorable (who was only 1 when the books stopped), say to himself as he was rummaging through the books, "Nope, I'm not in that one.  Nope, I'm not in that one.  Nope, I'm not in that one."
Until he got way down in the pile and found one that he was in.
(Kinda felt like a terrible mom right then…)
So I think I'll start with one for him first, then the grandparents, then get back on the ball for The Running Man.  I do, after all, have until June for him.
I really do like My Publisher the best for these books.  Their software is pretty easy, the quality of the books is very high, and they always have sales to help with the price.  My plan is to make the book and then hold off buying it until they advertise a really great sale.  P.S.  I don't have any relationship with My Publisher, I just like them.
4) Get into a real regime for working out
I have no excuses now, so it's time to get to it!
What's on your list?  What are you working on?

Share this post
You might like...
Category: For Moms, Mission Control
2 Comments »
Jen

on September 27, 2012 10:07 am

A) how has it been 8 years already?!?!? You were just planning when we met:) B) I felt that way and then I messed up the pretty days I had planned and made number 2:) C) before everyone is up best way to start the day, you'll be grateful at the end of the day when you see how much you got done:):)

---

on September 29, 2012 9:48 am

I need to get caught up on my photo books too! I sat down to do it this past summer, had great intentions of making a huge dent in it …and then discovered my external hard drive where I stored them had crashed! Thankfully we found a way to rescue most of the pictures! But now, Must.Get.Pictures.Printed.Up!

As for toy donations – a local childrens/womens shelter might be interested in them. If you can find a teen mom program – they often have incentives where teen moms can earn free toys/diapers/clothes for their babies/toddlers – in exchange for attending classes/etc.

---
Leave Us Some Comment-Love