May 18, 2011
No Heidis were injured in the making of this post.
Get ready for randomness, friends….
1. My eldest started full gear for hockey this spring.  While most of you are enjoying the warm weather, I'm grabbing our winter coats to bundle up for the rink.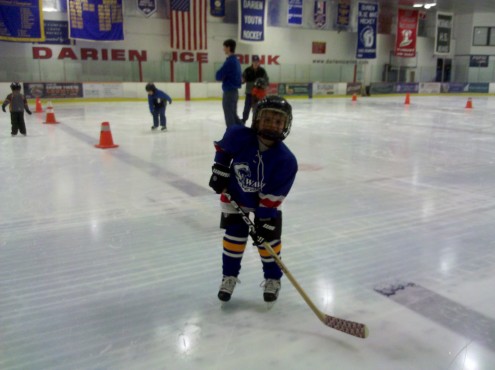 This boy is totally and completely geeked to be playing.  Let me tell you, there are a lot of pieces going on there.  And this is just the start for me…
Younger adorable is skating too.  I could eat him up he's so cute.
2.  In addition to hockey, we also started full pad lacrosse (which of course is slightly different equipment – I've been hoarding coupons to Sports Authority)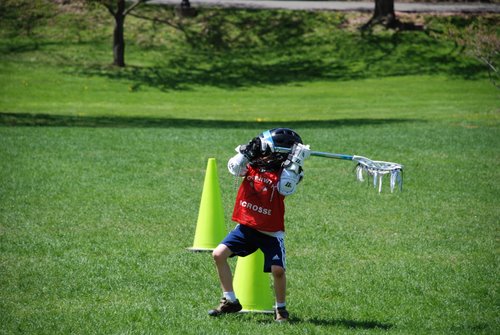 Notice the knees – try as I might I can NOT get those knees clean.  I've tried soaking them in the bath and scrubbing them with baby wipes, they will not come clean.  Ideas?
Younger adorable digs the playground next to Lacrosse practice.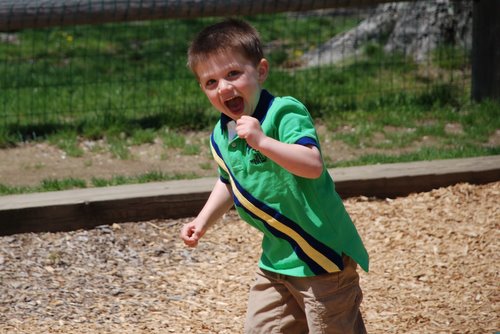 3.  We're also playing golf (1X per week) and soccer (2X for elder and 1X for younger) and starting tennis soon.  Can you say overscheduled?
4.  As I was touring through random homes online (I'm an MLS stalker), I found the most profound, drop-dead amazing laundry room I've ever seen.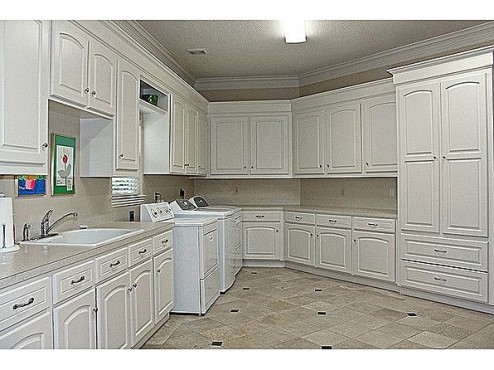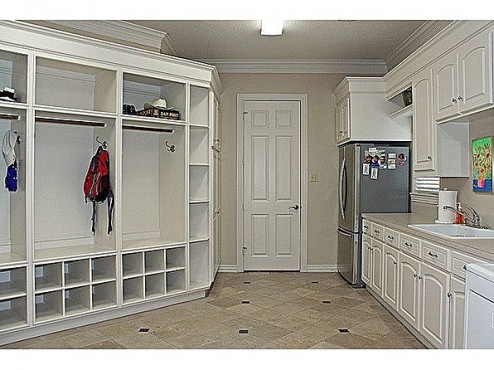 Be still my heart, because you are racing like Secretariat.  You'll see this again sometime when I've added to my folder of fabulous rooms.
5.  Speaking of, we watched Secretariat for our Sunday Family Movie Night.  Every one of us loved it.   I highly recommend it for all ages, though we did fast-forward a couple of emotional scenes that tend to bore the adorables.
6. My boys are still allowing me to dress them in matching shirts.  This makes me crazy happy.  Sometimes they even come out already matched.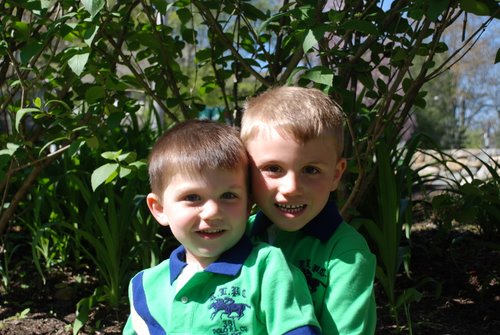 I know I have a limited window with this.
7. My planters are rocking my world this spring.  It stopped raining for 5 minutes today and I ran out to take these: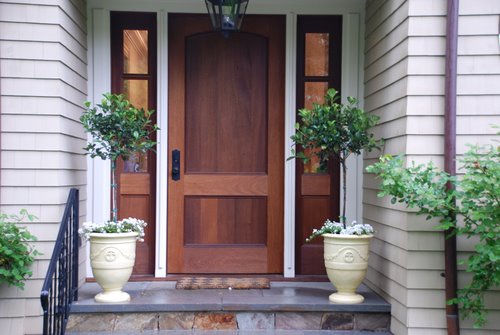 I found these Gardenia trees at Costco for $29.99 and I couldn't resist.  Of course I needed new planters and *luckily* I found these Toulon planters at Ballard Designs.  (These are the medium size).  Then I planted various creeping white annuals on top and instantly you have a Happy Heidi.  Elder adorable has the chore of watering them daily – I'm terrible at this. He's done a good job so far.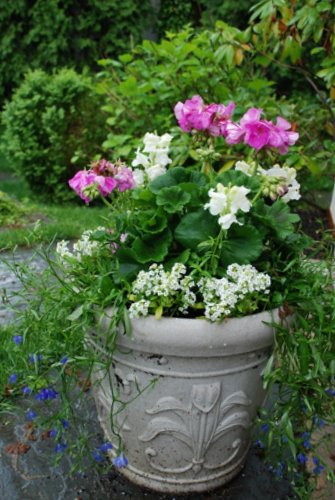 These are the planters in the backyard: they consist of pink geraniums (1 big one), 3 white snapdragons, 3 "Big Blue" Lobelia and 6 white Alyssum packed in there like sardines.  It's love, friends.
8.  I've had the most obnoxious urge to make these Chocolate Oatmeal Big Ole' Hunk a Love.  So far I've resisted, but I can't guarantee I'll hold out for much longer.
What's new with you?

Share this post
You might like...
Category: Garden, Mission Control
8 Comments »
sf

on May 18, 2011 8:29 am

love the sports pictures and videos. Amazed at how well kids do sports at such a young age.

---

on May 18, 2011 8:41 am

1.Fun post! 2.Grandma would love a photo of #6. 3.Can't believe how big the boys are since I last saw them. 4. Love the planters on the porch. 5. That laundry room is to die for and do you suppose there are two dryers? 6. Soft and Scrub on the knees. 7. Can't wait to see you next Saturday!!!

---

on May 18, 2011 3:41 pm

wow… you guys should take more on- you might get bored…

That laundry room is amazing… I can't even speak.

---

Erika

on May 18, 2011 5:09 pm

You are one busy lady! Love the front step/greens!!

---

on May 18, 2011 11:45 pm

What a fun post! That laundry room is a.ma.zing! Just a few of my 'next house' wish list items are: sink in the laundry room, an extra fridge for bulk purchases (and all the milk we go through in a week!), and 'lockers' for my kids' things. I don't even need a laundry room quite this big – but wow! I certainly would not turn it down!
Your boys are adorable! How do you keep up with that that jam-packed schedule?
Love the planters – especially the gardenia trees.

---

Marykate

on May 19, 2011 8:29 am

Great fun post!! Love your planters – so pretty. And the boys – well you know we love them!!

---

Debbieohio

on May 19, 2011 5:13 pm

LOVE the photos, Heidi!

I just forwarded them to Corrie, Julie, and Katie so that they can keep up with how the boys are growing up…so big now! So glad, too, I checked out the recipe at the end -Julie and Audrey and (our) Heidi are coming this weekend and we might just have to try this one out!

Your schedule sounds like Corrie's and her boys. They are into every sport available and imaginable, plus piano and chess. And I think it's not going to get less or fewer anytime soon!

Hi to Running Man!!

---

on May 20, 2011 7:13 pm

Really wanting those cookies right now!

---
Leave Us Some Comment-Love