October 12, 2009
This is a Happy Day! I've been so excited for this all weekend and now we're here. Yes, excited for a Monday – it's true.
Navy, white. This is my favorite color combo.
And now I've found my favorite new handbag: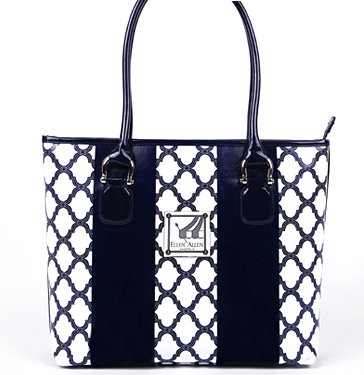 Isn't she beautiful??
Classic, timeless, elegant.
And durable: it's made of silk-screened fabric coated with TPU so it can be wiped clean.  Lots of interior pockets too.
And here's the thing, I'm going to give it to you (it will be such sweet parting at the Post Office next Monday).
And all you have to do is leave a comment by Friday, October 16th.  I'll use Random.org and alert the winner on Saturday.
After you're done, check out Ellen Allen's website: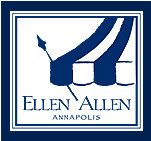 Ellen Allen of Annapolis is a stylish mom of 2 who created her handbags to provide function and flexibility for us.  Influenced by her hometown, her designs are classic and vibrant, and embody the spirit of Maryland shore living.
Thank you Ellen Allen!
***UPDATE: Megan #7 won the handbag!!  Congrats to her!***

Share this post
You might like...
Category: For Moms
Tags: ellen allen, giveaway, handbag |
40 Comments »
on October 12, 2009 9:08 am

How cute! The last thing I need is another handbag but I can still win simply by wanting…right?

---

on October 12, 2009 9:10 am

What a great handbag! If my friends were to see my sporting this beauty they would definitely be jealous. I'm going to look at her website right now….

---

Noreen

on October 12, 2009 9:12 am

Love this bag!!!! I also love your blog – am having so much fun reading it!!! Thanks!

Noreen (Biebel's friend)

---

Brad

on October 12, 2009 9:13 am

I know my wife can always use a new one.

---

Bethany

on October 12, 2009 9:19 am

Love the bag!!! Love that it was designed by a mom for a mom!! So stylish, too!

---

on October 12, 2009 9:25 am

What a gorgeous bag – different to all the others around too. And it seems very versatile – perfect!

---

Megan

on October 12, 2009 9:54 am

Love it!!! And anything created by super moms I am all for!

---

on October 12, 2009 9:58 am

I'll take it Lord knows I need all of the "stylish" things I can
get

---

Erin

on October 12, 2009 10:15 am

Who doesn't love to win something? Adorable, stylish, and versitle:) I'll take it.

---

on October 12, 2009 10:33 am

Wow. Love it! I definitely need a new bag!

---

Erica

on October 12, 2009 10:35 am

I think that now that I'm becoming a mom it's time to have a fabulous new bag to hold all the new goodies. Not to mention, it's beautiful!

---

on October 12, 2009 10:46 am

Super Cute Heidi! You have such great taste and good ideas – keep 'em coming girl!!!! I LOVE lots of pockets – I seem to fill them all!!!!

---

Susan K

on October 12, 2009 10:47 am

Can a Canadian win? If so please count me in -that is gorgeous!

---

Amy Nowak

on October 12, 2009 12:54 pm

What a classic looking bag. I can never have enough handbags!

---

on October 12, 2009 1:25 pm

I love that bag! Mine is getting totally worn down so it's time for a new one. I'm going to check out her website to see what other treasures there are.

---

Sarah

on October 12, 2009 1:48 pm

Love it!

---

Jenny

on October 12, 2009 1:49 pm

LOVE IT! It's been years since I got a new bag! I hope I win! Blue/white would go with everything I own too! I am so checking out her site!

---

Jill

on October 12, 2009 2:13 pm

Love it!

---

CMT

on October 12, 2009 2:50 pm

That bag is perfect for me! I want it!

---

Sandi

on October 12, 2009 3:03 pm

Oh Baby! Love this bag. I just spilled a mixture of pizza flavored goldfish and choc. chips in my bag. I need a new one bad!

---

Michelle

on October 12, 2009 5:38 pm

Very cute bag, and you can truly never have too many! Love the site by the way!

---

Kara Kimmen

on October 12, 2009 6:44 pm

Heidi; I work at the TreeHouse and have been obsessed with your site ever since you wrote a blog about the TreeHouse. I check your site everyday to see what new thing you've decided to share and I am absolutely excited about this bag! (fingers crossed!) PS: we are featuring your blog in our newsletter, i will be sure to send you a copy!

---

on October 12, 2009 6:45 pm

What a fun classic spin on a bag!

---

rita h

on October 12, 2009 8:51 pm

Beautiful bag!

---

on October 12, 2009 9:56 pm

What a silly, silly question. WHO wants a new HANDBAG??!! ME, for sure! My current bag is in tatters and in sore need of replacement. We spend our life from the coast of Maine to the Delaware shore and the beaches of North Carolina. This nautically essenced bag wants to be MINE!! Seriously, though, beautiful craftsmanship, Ellen Allen.

---

Cara Davies

on October 13, 2009 12:20 am

It's time to put away the diaper bag and get something fun!!!

---

on October 13, 2009 12:53 am

Super cute bag! Enter me for sure.

---

Julie

on October 13, 2009 6:37 am

I probably shouldn't, but I will. =) Thanks for the contest.

---

Lulu

on October 13, 2009 10:09 am

Could definitely use a new bag!!!

---

Yvonne

on October 13, 2009 10:24 am

This bag looks great. I really need a new one

---

Rachel

on October 13, 2009 12:04 pm

Cute bag!

---

Lynsi G

on October 13, 2009 12:51 pm

I would love a new handbag… maybe it would detract from the spit up stains on my shirts these days.

---

on October 13, 2009 2:50 pm

Joy and I will share this bag if we win! I will get it all week and she can have it on weekends! Ha! What a giveaway!!

---

Mimi

on October 14, 2009 5:13 am

A perfect tote for all my "good stuff"; and it wipes clean so you can take it everywhere you go ! Love pictures of your happy times with the Adorables.

---

on October 14, 2009 9:48 pm

Great bag! Great blog! Thanks for the inspiration.

---

Pat

on October 15, 2009 3:59 am

looks great

---

Joy G

on October 15, 2009 4:55 pm

I will try and share with Katie!

---

on October 15, 2009 5:29 pm

I love it! Navy and white are such classic colors that go with anything. Good luck ladies!

---

Kara

on October 15, 2009 7:19 pm

We find out the winner in TWO days 😀 i'm SOOO excited!

---

on October 16, 2009 10:17 am

Changing your handbag is a great way to spice up your wardrobe! Black and white can be paired with practically anything. Don't forget that your black and white clothes can be equally versatile. Next time you pull out your favorite black and white skirt, leave boring black or white tops behind. Pair it with a pop of color for a chic and sophisticated look. You now have a completely different looking outfit!

---
Leave Us Some Comment-Love