January 25, 2012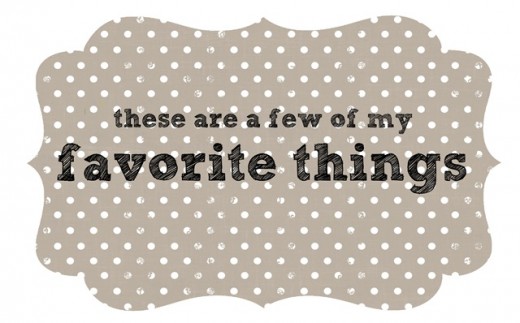 I'm a simple girl with simple tastes and here's what's working for me right now:
1) Favorite Cup: Twist cap plastic tumblers with a straw to enjoy my daily Diet Coke (found them for $4 at Home Goods/TJ Maxx).  Love that they go from home to car to hockey/tennis/swimming/soccer/lacrosse practice and back.  Really too bad they don't refill themselves.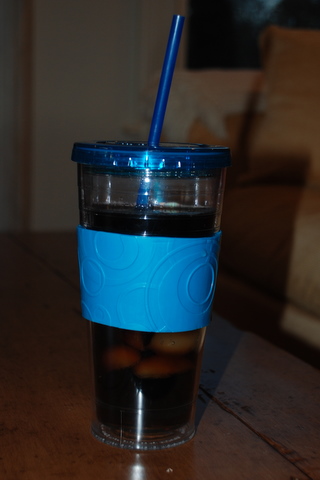 2) Favorite Snack: Marcona Almonds from Spain (think between a macadamia and a cashew= devine; I find mine at Costco) and chocolate chips.  I recommend a ratio of 2 chips per almond, in case you were wondering.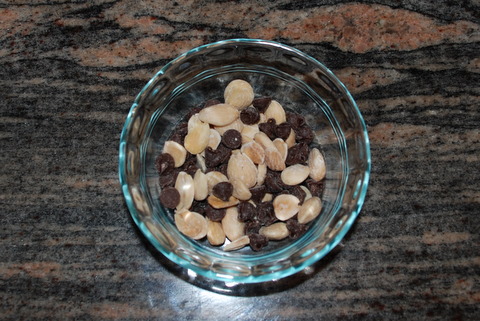 3) Favorite Healthy Lunch: My youngest adorable asked me to roll his Red Pepper strip in ham, and you know what?? He was onto something!  Add sliced avocado for an even bigger treat.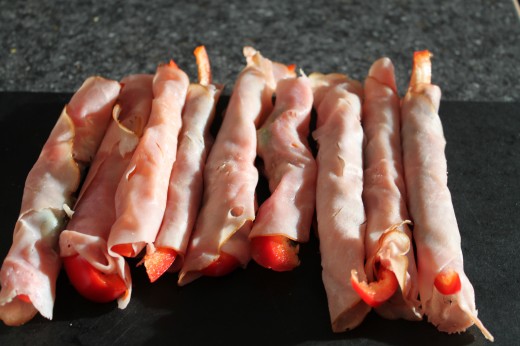 4) Favorite unHealthy Lunch: Chunky Peanut Butter and whipped honey (from Trader Joe's) sandwich; Nachos.  It's a tie.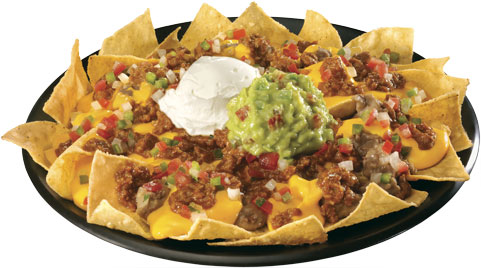 Why, oh why, can't this be healthy??  I prefer shredded cheese to this sauce though.  I mean, as long as we're talking about it.
5) Favorite Workout: a girlie movie, a mat, 5-lb weights, a medicine ball and a bosu ball.  I put on movies the Running Man will have no part of, and spend an hour making myself sweat.  You know what?  I look forward to it every morning.  We'll see how long it lasts…. But it's working for now.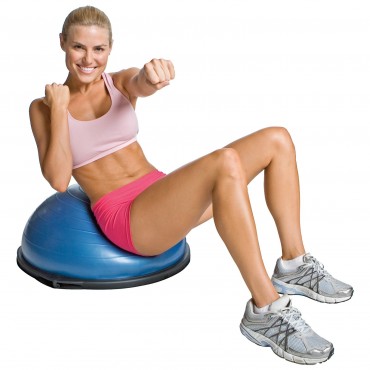 (Let's just pretend for a minute that this girl is me.  Pretty please, will you do that for me?)
So what are your favorites?  Please do me a favor and copy and paste the following into the comments and add yours!  I need some new ideas!
1) Favorite Kitchen thing:
2) Favorite Snack:
3) Favorite Healthy Lunch:
4) Favorite unHealthy Lunch:
5) Favorite Workout:
You rock! Have a great day!
Share this post
You might like...
Category: Brilliant
5 Comments »
Jen

on January 25, 2012 8:20 am

Heidi I'm loving this! Here's some of mine . . .
1) Favorite Kitchen thing: wine aerator that goes in the wine bottle- instantly makes any mommy juice taste better!
2) Favorite Snack: oatmeal squares cereal dry
3) Favorite Healthy Lunch: Green monster smoothie (2 bananas, 2 huge hands of fresh spinach, 2 pieces of celery, protein powder, and a cup of frozen mangos) even the mini me loves it!
4) Favorite unHealthy Lunch: Def chili cheese fries from the bowling ally:)
5) Favorite Workout: Post c section so I'm not working out much these days- but I'm loving my work out (oops I mean daily uniform) from lululemon!!

---

Marykate Wurster

on January 25, 2012 12:29 pm

This is fun!

Here you go –

1) Favorite Kitchen thing: my coffee maker because, well, I just love coffee.

2) Favorite Snack: trader joes organic mini cheddar cheese crackers – I buy them for the kids wink wink, they are my go to snack.

3) Favorite Healthy Lunch: salad – most any kind. j'adore.

4) Favorite unHealthy Lunch: new england clam chowder or pizza

5) Favorite Workout: yoga – I am obsessed! And ice skating with my friend Heidi!

---

Heidi Farmer

on January 25, 2012 12:56 pm

Oooh! Oooh! Marykate – I should have included our skating – it was too much fun!
@ Jen – I'm emailing you!

---

cecilia weaver styles

on January 26, 2012 8:01 am

1) george foreman grill love fixing things on it or my cuisinart griddler 2)favorite snack :apples and banannas 3)fav healthy lunch grill chicken in salad with light oil an vinger 4)fav unhealthy lunch :anything ITALIAN FAV WORKOUT :dancing (zumba)or skating

---

cecilia styles

on January 26, 2012 8:17 am

1)fav kitchen thing :cuisinart griddle cooks great 2)fav snack :apples an banannas 3)fav healthy lunch : grilled chicken with salad light oil an vinger dressing 4) fav unhealthy lunch :anything Italian 5)fav workout : zumba an skating

---
Leave Us Some Comment-Love