January 26, 2012

Written by Contributing Writer, Sarah Farthing
World geography is not just for elementary school anymore! Preschoolers are ready, and often eager, to learn about the world… the whole wide world!  We moved into a new house when our boys were 3 and it was the perfect time to explore their natural interest in geography.
I started in the bathroom: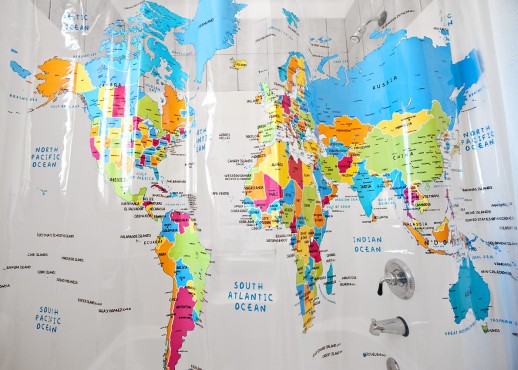 This shower curtain from Target is fantastic!  Not only can I tell at a glance if entire bottles of Mr. Bubbles and body wash are being emptied in lieu of appropriate bathing practices… we can talk about countries and continents in the shower, while we dry off and when we brush our teeth! I also love these colors and the bathroom is so bright and fun with orange, lime green and bright blue towels. Win-win!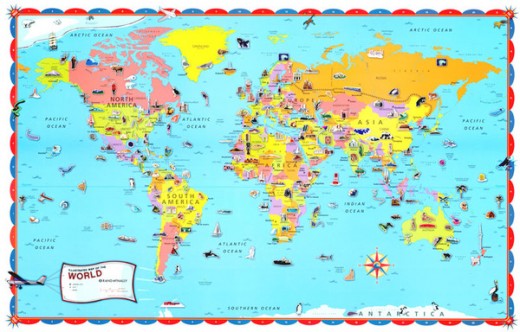 The shower curtain went over so well that I had some maps my brother and sister-in-law gave our boys mounted so they wouldn't curl up on us as we explored our world.   Conveniently, the maps slide right behind our couch for storage when we're not looking at them.  Every time a new or different part of the world is mentioned in a book, song or movie- the boys race to pull out the maps!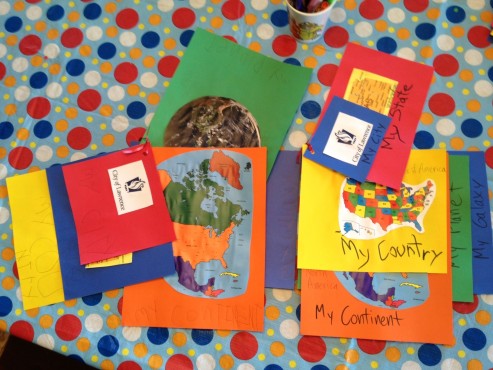 I got this idea from Kid World Citizen for the My Place in the World project.  I did modify it slightly: I printed images for my kids to glue and we didn't stop at 'My Planet' (how could we?), we added our galaxy and the universe! What a great visual this is to help kids understand the relationship between cities, states, countries, continents… I just loved this idea!
How do you teach geography to your adorables?
Share this post
You might like...
Category: Activities, Gear
Tags: map activities, maps for kids, teaching geography |
6 Comments »
Heidi Farmer

on January 26, 2012 7:54 am

I love these ideas! My younger adorable gets so confused with all the different classifications of where he lives. I think this project would really help him understand. Love the maps under the couch idea too!

---

Joan Huhn

on January 26, 2012 9:01 am

I want that shower curtain! I teach preschool and use a US map and world map to talk about various topics. When a child goes on a trip, we put a sticky on the map where he traveled. We learn the states (yes, preschoolers can learn them), and we figure out where we are in the world, in the country, in the state, and in the city.

---

on January 26, 2012 3:59 pm

Love to see the projects in action:). I need that shower curtain!!!! What a fun idea!:)

---

jeff

on January 27, 2012 9:37 am

Nice parenting and sounds like a fun way to teach/learn

---

Rachel C

on January 27, 2012 6:32 pm

We have that curtain from Target too – love it! the kids learn and ask a lot of questions about it all the time, and I'm learning too (geography was never my best subject!)

---

on February 13, 2012 10:21 am

Oooh, perfect!I am going to check out Target- maybe they will still have it on-line!:)

---
Leave Us Some Comment-Love