November 2, 2009
Another Monday, another giveaway!
Dirt Devil launched this new handheld vaccuum: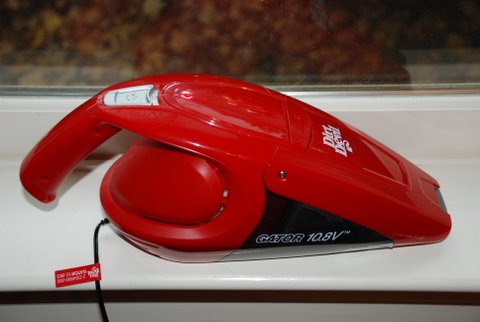 Meet the Gator: seriously powerful, seriously small, and (my personal favorite) no annoying charge stand.  You just plug in to charge (think cell phones) and go.
My kitchen requires the use of one these handhelds 3 times every day – my adorables are wicked messy come mealtime.   But the question is: why am I or the Running Man the one cleaning up after them??!?  That's a good project for them (that's just a note to self).
Anyway, you can win this little beauty just by leaving a comment by Friday, November 6th.  I'll choose the winner on Saturday the 7th using Random.org and alert the winner by email.
Good luck my friends!
If you are not the lucky winner, you can always find it on Amazon.
Share this post
You might like...
Category: Kitchen Gadgets
Tags: Dirt Devil, Gator, handheld vacs |
19 Comments »
Noreen

on November 2, 2009 9:33 am

What a great idea to get the kids in the action of cleaning up with this adorable and stylish gadget! Thanks for the idea and for entering me in the drawing!

---

Lynsi G

on November 2, 2009 9:33 am

I love your Monday giveaways. This would be a wonderful thing after mealtimes and cleaning out the minivan. I'm hoping I'm the lucky winner.

---

Sarah

on November 2, 2009 10:43 am

My handheld is seriously overworked and on it's last leg! Have a good Monday!

---

Katie F.

on November 2, 2009 10:50 am

i am in for this one.

---

susie

on November 2, 2009 3:58 pm

this looks handy! much better than a broom and a dustpan that i use!

---

on November 2, 2009 5:29 pm

I want it! Me me me! I love that this does not have a charging station. There is NEVER a good place for those.

---

on November 3, 2009 8:34 am

Before my last one died, it was my favorite kitchen appliance!

---

on November 3, 2009 9:05 am

I can certainly use this with my boys spilling food daily!

---

Laurie B.

on November 3, 2009 9:25 am

Have you seen my kitchen floor? That would be great to have on hand!

---

on November 3, 2009 10:42 am

Awesome, totally could use one of these right now!!!

http://chanisbaby.blogspot.com

---

on November 3, 2009 12:24 pm

Looks especially good for lots of areas in the house. For people on the move, it could offer a quick, easy clean-up for cars !

---

on November 3, 2009 2:27 pm

Sign me up. I've got messy eaters too!

---

Julie

on November 3, 2009 5:46 pm

Yes please. Great way to keep the new kitchen tidy and looking great!

---

on November 3, 2009 10:13 pm

Oooooh ooooh pick me!!!! That would be a life saver – I would totally throw away my little dust pan and sweeper I use after EVERY meal and snack for my little ones- this would add some fun in doing it – I think even the kids could use it!!!!!

---

on November 3, 2009 11:01 pm

Oh man do I love a clean giveaway!!! My dust buster is on it's last leg, but it's my best friend. This little gator looks like it's got some love to give! (or pick up!)

---

patty

on November 4, 2009 12:29 pm

my dustbuster just died an ugly death, and now i know what i'll be getting to replace it loving your website!

---

K.C.

on November 4, 2009 5:06 pm

It may be a bad sign that my first thought was, "OMG. Can it fit in my purse so I can take it with me everywhere I go?!?!"

---

on November 5, 2009 4:10 pm

what a wonderful gadget!

---

on November 5, 2009 8:22 pm

Sweet giveaway! I would love to win!

---
Leave Us Some Comment-Love