May 19, 2011
Written by Contributing Writer, Sarah Farthing

Part of my computer routine every day involves checking in with a short list of blogs that I follow. Some blogs I read for their touching stories, some for simple updates on family and friends, others to enjoy incredible amateur photography…whatever the reason that brings me there, if I'm visiting daily that means I'm hooked!
I found 'the macs' about six months ago and I was immediately taken with the inviting look and layout of Jess's blog. It was really striking at first glance (her photos are just gorgeous!) and the more I visited the more I liked the entire design of her site. That design is the work of Danielle Moss Graphic Design & Photography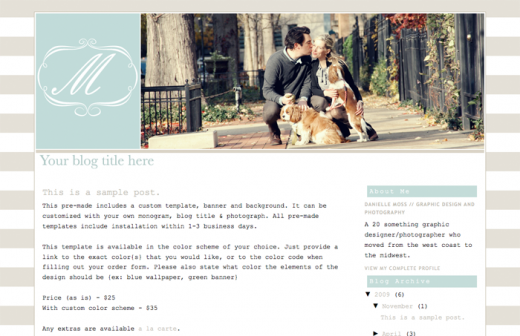 I looked around Danielle's website and her pre-made blog templates are wonderful! They are very affordable (pre-made templates at $25-$35!) and the difference it makes in the look and feel of your personal space in a growing blogosphere is fantastic.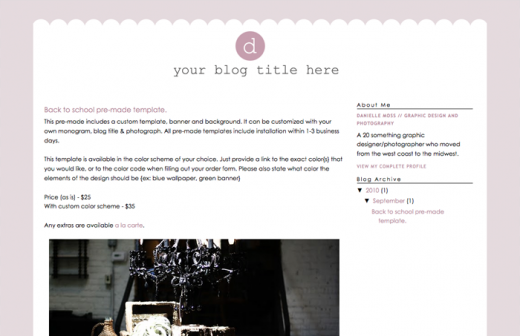 Take a look at all Danielle Moss Photography & Design has to offer and decide what you would want Danielle to do for you because you have a chance to win $40 toward her services! For a template that Danielle already has, make your color choices and turnaround will be under one week. Or you could use your $40 credit toward a full custom blog design! You might also want help with a logo, design or blog site for your small business and Danielle can do it all.
Whatever your graphic design needs are, here's your chance to get help!
Giveaway
One lucky winner can win a $40 blog makeover by Danielle Moss Photography & Design simply by leaving a comment by Tuesday, May 24th and we'll choose the winner on Wednesday using Random.org.
Because we just LOVE comments, here's how to gain extra entries (please leave them as separate entries):
1. Do you subscribe by email or RSS to The Good Stuff Guide? I love my subscribers, so you get an extra entry. Wahoo!
2. Email 5 of your friends about The Good Stuff Guide and tell them what a rockin' website this is. We'd love to have them join us!
3. "Like" The Good Stuff Guide on Facebook and receive the latest news and your chance at additional giveaways. (I LIKE you too!)
4. "Share" any recent post from The Good Stuff Guide on your Facebook wall by clicking 'Share' under our Facebook posts with links to The Good Stuff Guide site. This makes a visit to our site just a click away for all your Facebook friends – the more the merrier…
(Feel free to do them all – that's a total of 5 entries!)
Good luck!

Share this post
You might like...
Category: Brilliant
15 Comments »
on May 19, 2011 9:48 am

Cool giveaway! I've been wanting to start another blog (a hyperlocal one for my town), but I need a nice design. I love how Danielle incorporates photography into her simple blog headers.

---

on May 19, 2011 9:49 am

I'm subscribed through RSS reader.

---

on May 19, 2011 9:49 am

I already Like you on FB.

---

on May 19, 2011 6:49 pm

Would love, love, love this!

---

on May 19, 2011 11:22 pm

I am in desperate need of a blog makeover, thanks for hosting!
-Sara
supersavingsense @ hotmail.com

---

on May 20, 2011 2:16 am

Cool giveaway! My blog needs some help!
bleatham*at*gmail.com

---

on May 20, 2011 2:16 am

email subscriber
bleatham*AT*gmail.com

---

on May 20, 2011 2:18 am

I "Like" The Good Stuff Guide on Facebook (shelly L)
bleatham*at*gmail.com

---

on May 20, 2011 2:19 am

shared giveaway on FB too!
bleatham*at*gmail.com

---

RLR

on May 23, 2011 10:36 pm

Blog makeover?!? How did I not see this one sooner?

---

RLR

on May 23, 2011 10:37 pm

I'm a subscriber!

---

RLR

on May 23, 2011 10:39 pm

Shared the post about photography tips on FB. Now I'm saving up for a new lens!

---

on June 5, 2011 12:53 pm

Sarah–who won this giveaway?

---

Heidi Farmer

on June 5, 2011 10:11 pm

Sorry Gina! We announced on the Facebook page – it was Lucky #10 RLR!!

---

on July 21, 2011 12:51 pm

The blog makeover is complete! Go to http://momsmagic.blogspot.com to check it out!
Danielle has been great to work with, and I am amazed at how far things have come from the original image I selected!

---
Leave Us Some Comment-Love