August 11, 2011
I love, love, LOVE today's Giveaway!
Developed by a mom (yeah!) for sending special voice messages to her adorable at school, this Talkatoo is clearly a winner: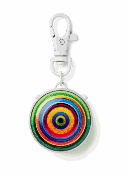 Available as either a clip or a pendant in each of these adorable designs: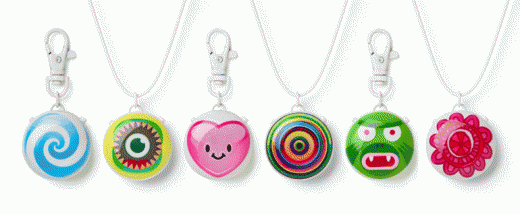 Here's how it works:
30 seconds of recording time
Unlimited re-recording
Lock-out switch protects messages
Clip for hooking to backpacks, lunchboxes, belt loops, etc.
Replaceable button cell battery
High gloss, scratch resistant ink graphics, applied to both sides of pendant
Meets or exceeds ASTM Toy Safety Standard F963
I must confess that I'm terrible at remembering to include sweet little notes in my adorable's lunchboxes, (and ahem, only 1 can read), so I think this is much better!
And if you weren't already sold, get a load of this…
"You're helping to make a difference in a child's life. For every Talkatoo™ you buy on this website, we will donate a Talkatoo™ to K.I.D.S. (Kids in Distressed Situations, Inc). K.I.D.S., in cooperation with Operation Homefront, will forward donations of talkatoo products to children with a parent serving abroad in our military. These children struggle with separation and face significant challenges and stress. Thanks to your support we can bring these children a smile, some warmth, or make their day a little brighter."
In addition, the kind folks at Talkatoo have provided a coupon code: use GSG1115 for 15% off, before September 15th.
Giveaway
You can win one Talkatoo of your choice ($16.95) just by leaving a comment by Tuesday, August 16th and I'll choose the winner using Random.org on Wednesday, the 17th.
Because I just LOVE comments, here's how to gain extra entries (please leave them as separate entries):
1. Do you subscribe by email or RSS to The Good Stuff Guide? I love my subscribers, so you get an extra entry. Wahoo!
2. Email 5 of your friends about The Good Stuff Guide and tell them what a rockin' website this is. We'd love to have them join us!
3. "Like" The Good Stuff Guide on Facebook and receive the latest news and your chance at additional giveaways. (I LIKE you too!)
4. "Share" any recent post from The Good Stuff Guide on your Facebook wall by clicking 'Share' under our Facebook posts with links to The Good Stuff Guide site.  This makes a visit to our site just a click away for all your Facebook friends – the more the merrier…
(Feel free to do them all – that's a total of 5 entries!)
Good luck!

Share this post
You might like...
Category: Gear
89 Comments »
Aprille

on August 12, 2011 2:44 pm

I now subscribe via e-mail!

---

Aprille

on August 12, 2011 2:45 pm

I LIKE the Good Stuff Guide on FB!

---

Chelsea

on August 12, 2011 8:04 pm

My daughter would adore this!!!

---

Chelsea

on August 12, 2011 8:05 pm

I'm an email subscriber

---

Chelsea

on August 12, 2011 8:05 pm

I "love" you on FB!

---

Chelsea

on August 12, 2011 8:06 pm

I shared this post on my wall (but I secretly hope no one else will enter!) 😉

---

JuIie

on August 12, 2011 9:36 pm

FB fan

---

on August 12, 2011 11:59 pm

With my son heading to Kindergarten this year, I think the Talkatoo would be so fun for him!

---

on August 12, 2011 11:59 pm

Also like you on FB.

---

Mimi

on August 13, 2011 12:17 am

Great idea !

---

Mimi

on August 13, 2011 12:18 am

Nice to keep in touch with adorables.

---

Julie G.

on August 13, 2011 8:21 am

Email subscriber

---

Julie G.

on August 13, 2011 8:22 am

This is so cool! The boys would love thes!

---

nan

on August 13, 2011 12:14 pm

would love this
nannypanpan at gmail.com

---

nan

on August 13, 2011 12:14 pm

rss subscriber

---

nan

on August 13, 2011 12:15 pm

e-mail
nannypanpan at gmail.com

---

Evy

on August 13, 2011 11:06 pm

So cute!

---

Heather

on August 14, 2011 7:45 am

What an amazing invention and great way for children to feel secure! Love this product!!

---

Heather

on August 14, 2011 7:46 am

Love the fb site

---

Heather

on August 14, 2011 7:47 am

This is a great site. Gonna share on fb for all my friends

---

katie

on August 14, 2011 8:58 am

great idea!

---

Jamie Newman

on August 14, 2011 4:14 pm

Aww, my little guy has separation anxiety, he needs this!

---

Jamie Newman

on August 14, 2011 4:14 pm

FB fan!!!

---

Jamie Newman

on August 14, 2011 4:14 pm

Email subscriber!

---

Colleen Gallagher

on August 14, 2011 8:20 pm

adorable

---

RLR

on August 15, 2011 2:25 am

This would be great for my forgetful kiddo!!!

---

RLR

on August 15, 2011 2:26 am

You're in my reader!

---

RLR

on August 15, 2011 2:27 am

Facebook fan

---

Kellie

on August 15, 2011 10:37 pm

I love this idea! As a former Kindergarten teacher and a Mom, I think Talkatoos are fabulous!!

---

Kellie

on August 15, 2011 10:38 pm

FB Fan! :0)

---

Chani M

on August 16, 2011 2:49 am

What an adorable idea!

---

Chani M

on August 16, 2011 2:50 am

Fb fan

---

Guillermo

on August 16, 2011 4:43 pm

Brilliant!

---

Guillermo

on August 16, 2011 4:44 pm

email subscriber

---

Guillermo

on August 16, 2011 4:44 pm

emailed friends

---

Guillermo

on August 16, 2011 4:45 pm

liked on fb

---

Sandi

on August 16, 2011 6:18 pm

My 1st grader would love this!

---

Sandi

on August 16, 2011 6:18 pm

I like you on facebook.

---

Sandi

on August 16, 2011 6:19 pm

Just e-mailed 5 friends.

---
Leave Us Some Comment-Love