August 10, 2011
Are you quaking in your boots yet?
Or your flip-flops since its 95 degrees outside?
For our first day you need to meet the yubo deluxe lunchbox system: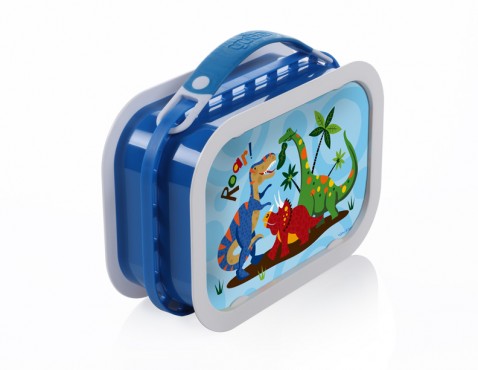 This cute little lunchbox packs quite the little engineering feat: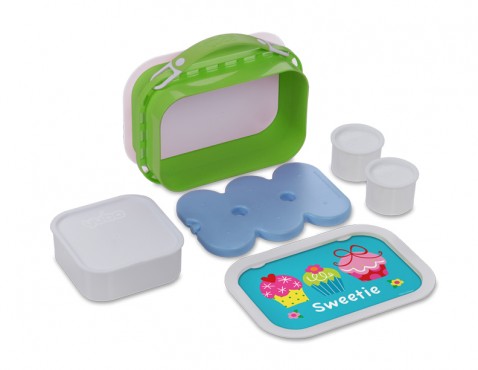 You snap off the lid and inside these food storage containers and an ice pack fit perfectly.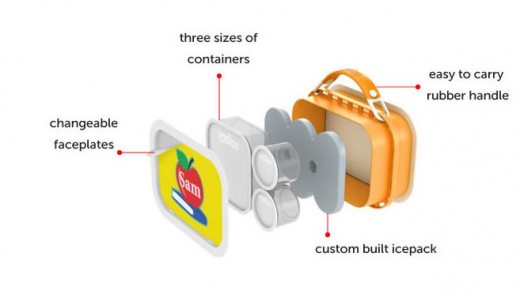 You can customize and change out the faceplates – even monogram it too!  The food containers also come in different sizes, so you can create your storage container puzzle any which way you'd like.
And this is just for fun: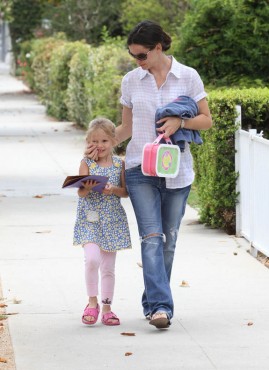 That's Jennifer Garner and her daughter Violet with her yubo…
Giveaway
You can win one yubo lunchbox ($30) just by leaving a comment by Tuesday, August 16th and I'll choose the winner using Random.org on Wednesday, the 17th.
Because I just LOVE comments, here's how to gain extra entries (please leave them as separate entries):
1. Do you subscribe by email or RSS to The Good Stuff Guide? I love my subscribers, so you get an extra entry. Wahoo!
2. Email 5 of your friends about The Good Stuff Guide and tell them what a rockin' website this is. We'd love to have them join us!
3. "Like" The Good Stuff Guide on Facebook and receive the latest news and your chance at additional giveaways. (I LIKE you too!)
4. "Share" any recent post from The Good Stuff Guide on your Facebook wall by clicking 'Share' under our Facebook posts with links to The Good Stuff Guide site.  This makes a visit to our site just a click away for all your Facebook friends – the more the merrier…
(Feel free to do them all – that's a total of 5 entries!)
Good luck!

Share this post
You might like...
Category: Gear
98 Comments »
Jennifer

on August 12, 2011 12:32 pm

I like you on fb!

---

Jennifer

on August 12, 2011 12:33 pm

Shared your giveaway on my fb page!

---

Rita

on August 12, 2011 12:39 pm

Love these!

---

Jennifer

on August 12, 2011 12:49 pm

Subscribed via google reader.

---

Melanie

on August 12, 2011 1:22 pm

would LOVE to win this for my son! He is just starting preschool and needs to bring a lunch and I think this is the perfect idea!

---

Susan

on August 12, 2011 2:03 pm

Would love this for my younger one!

---

Vivian

on August 12, 2011 2:26 pm

Super cute!!! <3

---

Vivian

on August 12, 2011 2:28 pm

Email subscriber!

---

Vivian

on August 12, 2011 2:32 pm

Let friends know!

---

Vivian

on August 12, 2011 2:33 pm

Facebook loved!

---

Aprille

on August 12, 2011 2:37 pm

I am now an e-mail subscriber!

---

Aprille

on August 12, 2011 2:38 pm

I have been eyeing these… just a little expensive.

---

Aprille

on August 12, 2011 2:39 pm

I Like you on FB!

---

Chelsea

on August 12, 2011 8:02 pm

This is exactly what I'm looking for!

---

Chelsea

on August 12, 2011 8:02 pm

I'm an email subscriber

---

Chelsea

on August 12, 2011 8:03 pm

I totally "like" you on FB (and off of FB too!!!)

---

Julie

on August 12, 2011 9:38 pm

FB fan!!

---

on August 12, 2011 11:56 pm

This is the coolest lunchbox!

---

on August 12, 2011 11:56 pm

Also like you on FB.

---

Sommer Emery

on August 13, 2011 12:50 pm

I want one of these for my son SO bad!!! I hope I win this!

---

Sommer Emery

on August 13, 2011 12:51 pm

I subscribe by RSS

---

Sommer Emery

on August 13, 2011 12:55 pm

I "Liked" you on Facebook!

---

Sommer Emery

on August 13, 2011 12:57 pm

I "Shared" a post on Facebook!

---

Evy

on August 13, 2011 11:04 pm

My kindergarten kid would love one of these!

---

Evy

on August 13, 2011 11:07 pm

Just liked you on facebook. So glad you like me too.

---

Jules Greenaway

on August 14, 2011 9:20 am

Oh boy, oh boy, oh boy… This would be so great for my adorable for when he starts school…

---

Jules Greenaway

on August 14, 2011 9:20 am

I'm an email subscriber…

---

Jules Greenaway

on August 14, 2011 9:20 am

As well as a FB fan…

---

Jamie Newman

on August 14, 2011 4:13 pm

Very cute!

---

Jamie Newman

on August 14, 2011 4:13 pm

Im a FB fan!

---

Jamie Newman

on August 14, 2011 4:13 pm

Email subscriber too!!

---

Colleen Gallagher

on August 14, 2011 8:21 pm

My daughter would love it

---

Jodi

on August 15, 2011 9:27 am

My daughter would love this

---

Jodi

on August 15, 2011 9:28 am

I liked the Good stuff on fb

---

on August 15, 2011 11:00 am

I like you. I follow you. I subscribe to you. I told 5 friends about you! Sign me up to win!

---

on August 15, 2011 11:37 pm

this would be great for my daughter
tbarrettno1 at gmail dot com

---

on August 15, 2011 11:37 pm

email subscriber
tbarrettno1 at gmail dot com

---

on August 15, 2011 11:38 pm

like on facebook
tbarrettno1 at gmail dot com

---

on August 16, 2011 12:20 am

I love that the face plates change! How cute!

---

on August 16, 2011 12:21 am

I subscribe by RSS – goes to my reader at sentmyway@gmail.com

---

on August 16, 2011 12:22 am

I like you on FB – I'm Michelle Joyce – sentmyway@gmail.com

---

on August 16, 2011 12:23 am

I shared on my blog page bc it has more followers – Thingssentmyway – sentmyway@gmail.com
http://www.facebook.com/permalink.php?story_fbid=234751123228901&id=167260469970329

---

Chani M

on August 16, 2011 2:44 am

My three year old is starting preschool this year, he would LOVE this!

---

Chani M

on August 16, 2011 2:44 am

Fb fan

---

Guillermo

on August 16, 2011 4:37 pm

It has all the essential components of a lunchbox (and more)!

---

Guillermo

on August 16, 2011 4:39 pm

email subscriber

---

Guillermo

on August 16, 2011 4:42 pm

emailed friends

---

Guillermo

on August 16, 2011 4:42 pm

liked on facebook

---
Leave Us Some Comment-Love