May 26, 2011
Written by Contributing Writer, Sarah Farthing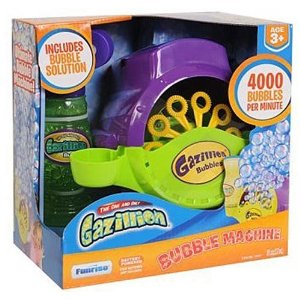 Spring is here!  Flowers are blooming, kites are soaring and bubbles are floating!  At least around our yard they are.  We have dropped our fair share of bubble wands so deep in the bottle they can't be retrieved, we've spilled the contents of more refill bottles than I can count and we've soaked each other more than once with the giant bubble wands in colorful tubes.
What a wonderful experience it is to plug in our Gazillion Bubble Machine instead and enjoy a steady stream of bubbles without the mess and disappointment!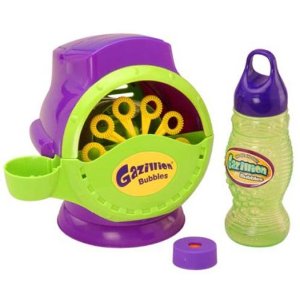 I never thought much about bubble quality before now but I'm here to say there really is a difference between Gazillion Bubbles and all the ones we've spilled before.   Not only do the sturdy bubbles linger, this machine very easily accommodates and entertains a sizeable group of kids with bubble play.
Here's your chance to get in on the bubble fun: Funrise Toys is hosting the third annual "Ultimate Gazillion Bubbles Photo Contest!"  The contest runs until July 22, 2011 and the Grand Prize winner will receive a $1,000 Toys 'R Us Gift Card along with a 'Summer Fun Package' of Gazillion products.  The Summer Fun Package is valued at approximately $100! In addition, monthly prizes of $250 gift cards and bubble prizes will be given away!
"They say a picture is worth a thousand words, but yours can actually be worth $1,000!"
Need a bubble machine to set up that perfect picture for the contest?  Win one here!
Giveaway
One lucky winner can win a Gazillion Bubble Machine
simply by leaving a comment by Tuesday, May 31st! Winner will be chose Wednesday using Random.org.
Because we just LOVE comments, here's how to gain extra entries (please leave them as separate entries):
1. Do you subscribe by email or RSS to The Good Stuff Guide? We love our subscribers, so you get an extra entry. Wahoo!
2. Email 5 of your friends about The Good Stuff Guide and tell them what a rockin' website this is. We'd love to have them join us!
3. "Like" The Good Stuff Guide on Facebook and receive the latest news and your chance at additional giveaways. (I LIKE you too!)
4. "Share" any recent post from The Good Stuff Guide on your Facebook wall by clicking 'Share' under our Facebook posts with links to The Good Stuff Guide site.  This makes a visit to our site just a click away for all your Facebook friends – the more the merrier…
Good Luck!
Share this post
You might like...
Category: Activities, Toys and Gift Ideas
90 Comments »
Pauline Milner

on May 27, 2011 9:09 am

I am a fan of yours on Facebook.

Facebook ID: Pauline Milner Pike

---

Brooke

on May 27, 2011 10:03 am

I would love to win this bubble machine!

---

Brooke

on May 27, 2011 10:03 am

I also like you on Facebook!

---

Brooke

on May 27, 2011 10:03 am

I get your daily email

---

Stacy Smith

on May 27, 2011 10:09 am

My Lil' Man would LOVE this as part of his 2nd birthday party gift & festivities for him & all his guests-not to mention the parents would love too! Awesome giveaway! Thanx for the opportunity for good stuff GSG! 😉

---

Kaijsa

on May 27, 2011 11:00 am

I love bubbles!

---

Kaijsa

on May 27, 2011 11:00 am

Email subscriber!

---

Kaijsa

on May 27, 2011 11:01 am

Like you on Facebook!

---

Kaijsa

on May 27, 2011 11:02 am

Shared this giveaway on FB!

---

gillette

on May 27, 2011 11:29 am

I have some adorable photographs of my grand-daughter with a bubble machine. I would love to own one.

---

gillette

on May 27, 2011 11:30 am

I am an email subscriber ….. where do we purchase one if we aren't lucky enough to win? I would like one for each of my grandchildren!

---

Rachel C

on May 27, 2011 12:35 pm

Fun! My kids would love this

---

Rachel C

on May 27, 2011 12:36 pm

email subscriber

---

on May 27, 2011 8:00 pm

My kids are bubbles freaks! haha Would love it.

---

on May 27, 2011 8:00 pm

I "Like" you on Facebook!

---

Julie G.

on May 27, 2011 8:51 pm

I subscribe via email.

---

Julie G.

on May 27, 2011 8:52 pm

We love bubbles!!! Please, please!!!

---

on May 27, 2011 11:25 pm

I would love to win this for my son!

---

on May 27, 2011 11:26 pm

I subscribe via rss.

---

on May 27, 2011 11:26 pm

like you on facebook

---

nan

on May 28, 2011 11:12 am

we'd love this for summer fun
nannypanpan at gmail.com

---

nan

on May 28, 2011 11:13 am

e-mail
nannypanpan at gmail.com

---

Jessica Crump

on May 28, 2011 12:38 pm

My boys love bubbles. We have another bubble machine that keeps them busy for quite awhile would love another.

---

Jessica Crump

on May 28, 2011 12:38 pm

I subscribe via email.

---

Jessica Crump

on May 28, 2011 12:39 pm

I like you on facebook.

---

Jessica Crump

on May 28, 2011 12:39 pm

I will share a post on facebook.

---

Jessica Crump

on May 28, 2011 12:40 pm

Emailing 5 friends.

---

Mimi

on May 28, 2011 3:49 pm

Bubbles are such fun !

---

Mimi

on May 28, 2011 3:50 pm

Finally time for outside activities.

---

Jenny

on May 29, 2011 3:47 pm

This bubble machine looks awesome for my 2 and 4 year olds!

---

Jenny

on May 29, 2011 3:48 pm

My 2 and 4 year olds love bubbles – they would love it!

---

Jenny

on May 29, 2011 3:49 pm

I like you on FB too!

---

cecilia styles

on May 29, 2011 4:51 pm

my grandaughter loves bubbles any where any kind this is perfect I also do ,and I liked you on face book already .thanks

---

cecilia styles

on May 29, 2011 4:53 pm

grandaughter loves bubbles any where any size any kind this is perfect so do I ,also I already like you on fb ,thanks

---

Michelle

on May 30, 2011 7:37 am

My 2 year old just loves bubbles. He doesn't talk much but he sure can say "bubbles!"

---

Jackie J.

on May 31, 2011 2:17 pm

The perfect entertainment for all ages. We love bubbles!

---

Jackie J.

on May 31, 2011 2:18 pm

i am an email subscriber.

---

Valerie S

on May 31, 2011 4:48 pm

My kids would love this.

---

Valerie S

on May 31, 2011 4:48 pm

rss subscriber

---

Valerie S

on May 31, 2011 4:49 pm

like you on fb

---
Leave Us Some Comment-Love