May 17, 2011
Due to new Facebook rules that make no sense to me (why don't they want the extra traffic/why do they care/what is a giveaway possibly hurting???), we're not allowed to run giveaways there anymore under the direct threat that they will shut our pages down.  So… we're moving it here:
Facebook only Giveaway today!!
Win a selection of *funny* Knock Knock office supplies. Winner will be chosen at random.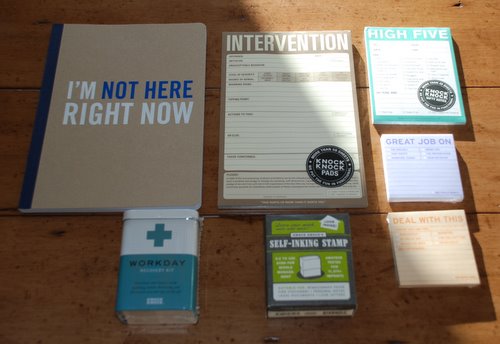 To enter, answer this question: What home projects do you have on your to-do list? You can also "Share" ANY recent post from The Good Stuff Guide on your Facebook wall for an extra entry! (Let us know you did so in the comments…)
Here were the first 14 comments – add yours in the comment section.
Share this post
You might like...
Category: Mission Control
27 Comments »
Julie R.

on May 17, 2011 2:16 pm

l have to do something with that backyard of ours. Such a slope – I really don't like it….however haven't done anything about it yet either.
(VERY weird about FB not wanting giveaways on your page – oh well.)

---

Kim B.

on May 17, 2011 3:22 pm

Bummer about fb. I have little crafts to finish; a hair band/bow holder, organize my craft supplies and make a robot bookcase for my son.

---

Mary Henry

on May 17, 2011 4:08 pm

Putting some of those pull-out shelves in my pantry. (Like the ones that Sarah wrote about a few months ago. I didn't share this on FB, but I did email it to my husband, so he could know what I wanted for my birthday.) Also we are getting stuff ready for our yard sale next Friday and Saturday!

---

Sara

on May 17, 2011 5:16 pm

House painting, exterior. They started today….scrape, scrape, scrape.

---

on May 17, 2011 5:52 pm

We have so many! At the top of the list though is building a craft cabinet, turning half of my china cabinet into a menu/chalk station and refinishing a dresser to share with my husband! ( i love knock knock! my absolute favorite… 😉 )

---

Nan

on May 17, 2011 5:57 pm

Decluttering, rearranging and painting my study; planting moonflowers; cleaning the carpet…and that is just the tip of the iceberg!

---

Nan

on May 17, 2011 5:59 pm

PS: Shared your post about fave Etsy stores too!

---

Valerie S

on May 17, 2011 6:31 pm

We have a converted garage that really needs some paint and cleaning up!

---

Jamie

on May 17, 2011 8:07 pm

Cleaning out the closets, cleaning out the cupboards, pretty much cleaning everything and throwing out JUNK!

---

Jamie

on May 17, 2011 8:12 pm

I shared the photo tips on facebook!

---

Arlee

on May 17, 2011 9:09 pm

we are reorganinzing the kitchen drawers and cabinets.

---

RLR

on May 17, 2011 9:20 pm

I'm in the midst of a huge closet-purging and decluttering project. My side of the garage is full of our un-needed items that will be part of a fundraising garage sale in a few weeks!

---

Katie

on May 17, 2011 9:36 pm

I desperately need to unpack the boxes that were "stored" in the dining room after we moved LAST JULY.

---

Becka

on May 17, 2011 10:03 pm

Having just recently gotten married for the first time at the age of 45, my to-do list is still full of finding places (including good homes) for some of the many duplicate items my new hubby & I have in our small combined home! (Needless to say, we did NOT register anywhere for fear of having even MORE stuff to deal with!) Working full time while getting adjusted to married life & caring for my pre-nup dog & cat as well as our new addition, a one-year-old Vizsla – Labrador mix — well, let me just say, there's never a dull moment at OUR house! Anything I can find to help me stay organized the better, and I absolutely ADORE Knock Knock!! Their stuff is witty as well as useful, and how can you not love a company on Electric Avenue?!

---

nan

on May 17, 2011 11:12 pm

i need to clean and organize my basement
nannypanpan at gmail.com

---

Kaelin

on May 18, 2011 2:51 am

organizing all my financial papers

---

Kaelin

on May 18, 2011 2:53 am

http://www.thegoodstuffguide.com/home-tour-friday-pool-house/
shared on facebook

---

Kaelin

on May 18, 2011 2:53 am

http://www.facebook.com/profile.php?id=1582650032

---

Christine

on May 18, 2011 4:46 am

I need to organize my bookshelf, clean out and organize my clothes / closet, and do some gardening.

---

Ty

on May 18, 2011 7:37 am

I have two bathrooms in my 1970s built home that are literally falling down around us! Have got to get the courage to start…..

---

judy

on May 18, 2011 8:08 am

Go through boxes and boxes of photos and get them organized….I'm not a scrapper.

---

Brooke

on May 18, 2011 10:10 am

Oh the things I have to do in my house in progress total renovation….on the top of the list is get closets put in, unpack and organize the kitchen, new bedding for the master bedroom, the list goes on and on!

---

Vivian A.

on May 18, 2011 10:19 am

Been so busy, my to-do list is pretty simple.
1. Operation – Clean.
😉

---

susi

on May 18, 2011 12:43 pm

i'm trying to get on top of some spring cleaning : ) that along with some organization here and there. looking to collect a bunch of our old kids stuff to donate too!

---

Marykate

on May 19, 2011 8:20 am

paint the fireplace!! clean the porch and deck and organize the garage.

---

Jessica Crump

on May 21, 2011 10:29 am

Changing one boys room into a bedroom and the other into a playroom.

---

Jessica Crump

on May 21, 2011 10:30 am

I will share a post on facebook as well.

---
Leave Us Some Comment-Love