December 18, 2013
Another GREAT Giveaway!
Meet the Shark Steam and Spray mop: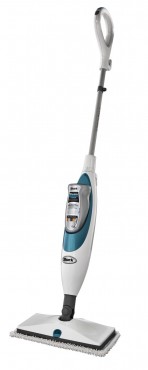 This new mop just may make you enjoy getting your floors clean!  By combing the power of super-heated steam with a gentle, Steam Energized Cleanser for the first time, it eliminates the need for multiple floor cleaning products. When energized with steam, Shark's cleaner brings cleaning to an even higher level leaving floors cleaner than with a Swiffer® WetJet or the traditional mop and bucket.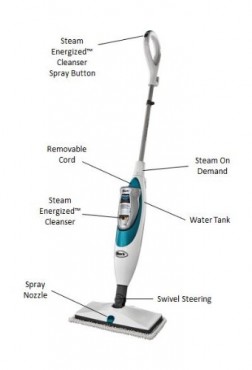 The Shark cleaning solution is biodegradable, non-toxic and safe for children and pets. The Shark® Steam & Spray™ Mop also offers 99.9% sanitization, killing germs and bacteria with no residue left behind.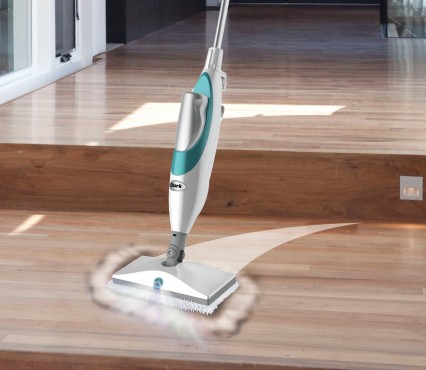 I like the bristles on the mop for serious-scrubbing action.
And you can win one!
One lucky, lucky winner will win a Shark Steam and Spray mop ($139 value) simply by leaving a comment by Tuesday, December 24th. We'll choose the winner using Random.org and announce it!  (The winner's mop will arrive in early January)
 GIVEAWAY INSTRUCTIONS….
Because we just LOVE comments, here's how to gain extra entries (please leave them as separate entries):
1. Do you subscribe by email or RSS to The Good Stuff Guide? We love our subscribers, so you get an extra entry. Wahoo!
2. Email 5 of your friends about The Good Stuff Guide and tell them what a rockin' website this is. We'd love to have them join us!
3. "Like" The Good Stuff Guide on Facebook and receive the latest news. (We LIKE you too!)
4. "Share" this post from The Good Stuff Guide on your Facebook wall by clicking 'Share' under our Facebook posts with links to The Good Stuff Guide site.
5. "Pin" any of The Good Stuff Guide's photos to one of your pinterest boards!
6. Follow @goodstuffguide on twitter and tweet this article with the following the hashtags #GSGgiveaway
(Feel free to do them all – that's a total of 6 entries! Are you feeling lucky?!)
Good Luck!
Share this post
You might like...
Category: Brilliant, Mission Control, Random and Fun
42 Comments »
Erica K

on December 18, 2013 2:38 pm

It's amazing how much I want and don't want that! If I win do I actually have to mop?

---

Erica K

on December 18, 2013 2:38 pm

Of course I like you on FB!

---

Julie R.

on December 18, 2013 4:20 pm

yes please I would like it

---

Julie R.

on December 18, 2013 4:20 pm

I'm an email subscriber

---

Julie R.

on December 18, 2013 4:21 pm

I also like you on FB =)

---

Jenny Hout

on December 18, 2013 8:12 pm

I hate mopping too. Maybe this would make it quicker!

---

Jules Greenaway

on December 18, 2013 8:59 pm

I'm a clean freak & would love this!! You know what's funny? If my hubby got me this, I'd kill him, but if I won it, I'd do a little dance!! 😉

---

Jules Greenaway

on December 18, 2013 9:00 pm

I'm an email subscriber!!

---

Jules Greenaway

on December 18, 2013 9:00 pm

I always like you on FB!!

---

sara

on December 18, 2013 11:04 pm

subscribe rss

---

sara

on December 18, 2013 11:04 pm

liked GSG on FB
sara peterson davis

---

sara

on December 18, 2013 11:05 pm

follow twitter and tweet https://twitter.com/SaraMama/status/413520385922326528

---

Christine

on December 19, 2013 2:29 am

I would love to enter! Need to get some serious cleaning done, lol.

---

Christine

on December 19, 2013 2:30 am

I'm an email subscriber 😀

---

Julie Godfrey

on December 19, 2013 7:08 am

I am an email subscriber.

---

Julie Godfrey

on December 19, 2013 7:09 am

I could really use this mop with three boys in the house! Thanks!

---

Heather Thomas

on December 19, 2013 1:41 pm

I'm an email subscriber

---

Heather Thomas

on December 19, 2013 1:41 pm

I like your page on FB

---

Heather Thomas

on December 19, 2013 1:42 pm

I pinned on Pinterest

---

Heather Thomas

on December 19, 2013 1:42 pm

I emailed 5 friends about GSG

---

Heather Thomas

on December 19, 2013 1:43 pm

I shared the post on FB

---

on December 19, 2013 2:59 pm

Looks like a great way to clean all my tile floors……
Thanks for the opportunity.

---

on December 19, 2013 3:00 pm

Would love to share this with my daughter and daughter in law too.

---

on December 19, 2013 3:00 pm

I'm an email subscriber…love the ideas.

---

on December 19, 2013 3:01 pm

Our homes get dirty even when the kids grow up and the company leaves?????

---

on December 19, 2013 3:02 pm

This is my last attempt for a really good idea give away….

---

Amanda Starr

on December 19, 2013 6:11 pm

Subscribe by email

---

Amanda Starr

on December 19, 2013 6:12 pm

"Like" The Good Stuff Guide on Facebook

---

Laurie B

on December 20, 2013 7:13 am

I have heard good things about these and would love to try it out! Happy mopping.

---

Laurie B

on December 20, 2013 7:14 am

I'm an email subscriber too.

---

Laurie B

on December 20, 2013 7:15 am

And Facebook.

---

Nannypanpan

on December 21, 2013 10:08 pm

I would love this

---

Nannypanpan

on December 21, 2013 10:09 pm

Email
Nannypanpan@gmail.com

---

Tabathia B

on December 22, 2013 8:58 pm

I would love to win

tbarrettno1 at gmail dot com

---

Tabathia B

on December 23, 2013 2:11 pm

like on facebook

---

Tabathia B

on December 23, 2013 2:12 pm

email subscriber

---

Rachel C

on December 24, 2013 11:24 am

I could really use this at my house!

---

Rachel C

on December 24, 2013 11:24 am

email subscriber

---

Kaijsa

on December 19, 2014 12:36 am

This would be awesome!

---

Kaijsa

on December 19, 2014 12:37 am

Email subscriber!

---

Kaijsa

on December 19, 2014 12:37 am

Liked on Facebook

---

Kaijsa

on December 19, 2014 12:39 am

I see now this is old. Ho hum. No giveaways this year?

---
Leave Us Some Comment-Love