December 19, 2013
Written By Cathy Baker, mom of a ten-and-a half-year-old, and a twelve-and-a half-year-old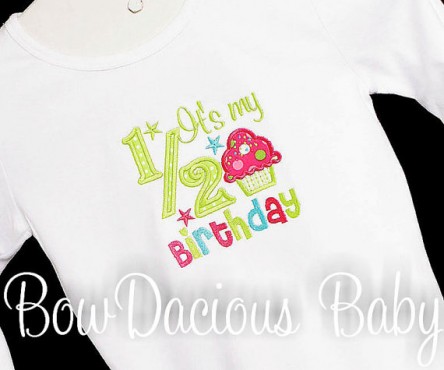 Find this adorable shirt on etsy!
Do you celebrate half birthdays in your house? We do! Because when you are a kid, it's cool to add the 'half' to your birthday.  I'm not sure when it starts becoming un-cool to have half-birthdays, but trust me — I don't go around bragging about being 39-and-a half! So as long as it's still fun… we're adding a few extra smiles to our ordinary days!
Today my daughter turns twelve-and-a half-year-old — Since she's in 7th grade, I'm just putting some pre-packaged cupcakes, with a little note, in her lunch to share with her friends at the lunch table.
Here are some other ideas on how we've 'celebrated' in the past —
When she was in elementary school, we often brought in birthday treats to share with the class, since she has a summer birthday.
I've ordered pizza and had them put half in one box and half in the other – then I had birthday girl open the box to get the first piece. "Mom, they only gave us half a pizza!" Me: "Oh, they must have known it was your half birthday!"
I've bought a cake and cut it in half and served just half a cake for dessert.
We've just stopped and got ice cream.
And I always try to make a big deal of 'the half' with the words I say. "Now that you are twelve-and-a half…" "Well, since you are twelve-and-a half…" 
It's nothing fancy, just an acknowledgement – like I said, extra smiles to an otherwise ordinary day.  And truth be told, there is a good chance I will send them a card when they turn 39-and-a-half! Do you think it will make them smile then?

Share this post
You might like...
Category: Random and Fun
Tags: birthdays, family fun |
7 Comments »
Marykate

on December 19, 2013 7:10 am

We celebrate half birthdays as well! And then sometimes "unbirthdays" just because! We usually do cupcakes or ice cream and a song. I think they relish any oppurtunity to celebrate anything – and so do I!

---

Marykate

on December 19, 2013 7:11 am

And love the idea of the halfs – half a pizza etc – so great!

---

Joanne

on December 20, 2013 7:19 am

I will be 60 and 1/2 on St Patty's Day. It's always been easy to remember so I did it with my kids too. Some people think it's stupid at my age but I don't care what they think! And that's what keeps me young!! Maybe I'll have 1/2 green cake this year! Thnx for the idea!

---

on December 20, 2013 9:10 am

Joanne – LOVE! Maybe I should start celebrating my half-birthdays too… lets see on Aug 14 I will be 40 and a half!

---

on December 20, 2013 11:31 am

Love it! My sons' birthdays are 4 days apart in February (plus 2 years), so we always have a combined b-day party…in August. Why? We have a spacious back yard, but the house is relatively small, so despite living in SoCal, we get rain in February and with the sheer amount of guests coming, I wouldn't be able to move the party inside. So, half birthdays in August it is. 1 huge party, tons of people, all outside. On their actual b-days in Feb. we keep it a family-affair (Legoland / Disneyland/etc.)

---

Joanne

on December 22, 2013 8:38 am

Cathy- so that means your birthday is on Valentine's Day! Wow- you have a lot to celebrate!!

---

Heidi Farmer

on December 23, 2013 8:24 am

Funny! We always celebrate the 1/2 birthdays too. Frankly, my elder son's is so easy to remember: December 2nd. My younger son's 1/2 is March 2nd, and I always seem to miss it. Poor kid – I owe him big time! Setting the date in my calendar now!!

---
Leave Us Some Comment-Love