November 17, 2010
It's time, it's time!
It's a great time to order your Holiday cards and work on getting them addressed over the Thanksgiving holiday (at least try, that is).
And this year, despite how much I love the look of square holiday cards, I do NOT love the extra postage required to mail them.
(oh that was an unhappy day when I figured that out last year.  Not to mention the Running Man's sad look too.)
So 5 X 7 it is for me this year!
tinyprints has a brand new site that is quite impressive.   When I sorted on the left sidebar that I wanted 1 photo, on a flat card, in a 5 X 7 format, that left me a mere 362 cards to choose from.  Oh the decisions!  And then of those 362 cards, they often each come in 4 or 5 colors.  But luckily, I know I can't go wrong!
Here are a few of my favorites: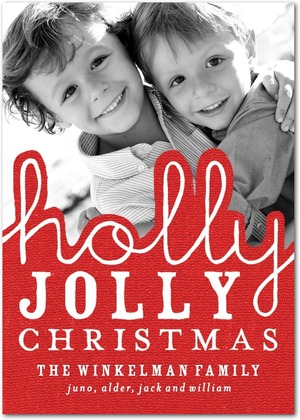 The Nostalgic Cutout.  I have, however, seen this on every tinyprints print ad this season.  And with good reason – it's happy and simple.  And those boys are pretty stinkin' cute.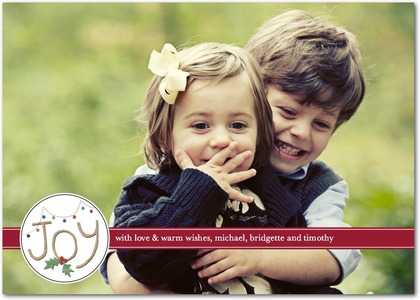 So Much Joy – Again simplistic and happy.  Question: can you choose which adorables to put on your card?
Deer Decal – am I only choosing the cards with the cutest adorables?  Perhaps it was the sand that caught my eye.  Yes, I know I need to submit my own photo!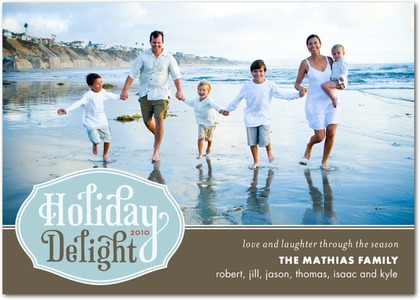 Antique Sign – I just love this "Holiday Delight" graphic.  Cute family too.  Comes in red also, but I love the snowy effect of this blue.
Be sure to use TPCHEER for 10% off orders of $49 and over.  Or, another code: HOLAFF for $15 off any holiday order of $99 or more OR $20 off any holiday order of $149 or more. Try them both to see which saves you more!
Click below to get started!!
This post contains an affiliate link.  Thanks ever so much for supporting The Good Stuff Guide!!  And the best part: it costs you nothing to do so.

Share this post
You might like...
Category: Holidays
Tags: holiday cards, tinyprints, tinyprints holiday cards |
4 Comments »
on November 17, 2010 9:40 am

Hooray! Thanks!

---

Mimi

on November 17, 2010 11:09 am

Can't wait to see which style you choose for this Christmas!

---

on November 18, 2010 11:33 am

These are the best cards. I made the same mistake with the square one!

---

on November 19, 2010 1:44 am

They also have a code to get free thanksgiving cards right now. FREETHX will get you all the thanksgiving cards you want, FREE! So long as they are sent to YOUR address. Just chose your card, personalize it (I didnt want to make seperate cards because I do not know if you can use the code more than once, so I made one generic card that I can send to all my family members), chose quantity, chose to send it to yourself (if you send it to others, you have to pay the postage price, but if you are getting numerous cards you dont want them all sent to 1 person!), use the code, and there you go! I got $60 worth of cards free.

---
Leave Us Some Comment-Love