November 25, 2011
Happy, Happy Home Tour Friday to Ya!  And Happy, happy Black Friday to you as well!
We're heading to the shores of beautiful Lake Ontario in Wellington, Canada to a cottage that has been in this family for 4 generations (these are some lucky descendants).  The entire extended family gather here every Canadian Thanksgiving to celebrate their heritage, their new home and their gratitude for each other.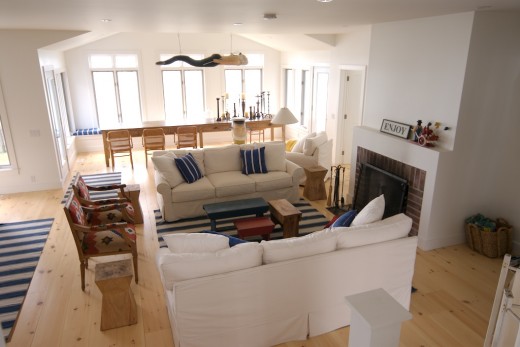 The cottage was completely rebuilt in 2004 as the original 1927 structure was in desperate need of repair as the harsh northern weather and passing of years finally took its toll.  The new space is open, clean, and superbly elegant.   The dining room table was once a lab table from an English school's science class and it seats 18.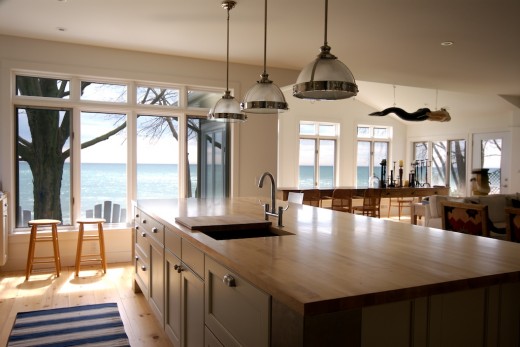 You can see the updated design elements here in the cabinet hardware and the light fixtures.  Hello view!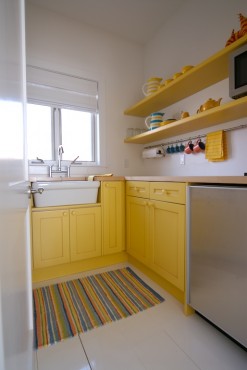 Yet, it captures the traditional easy living of the cottage lifestyle.  This is an additional kitchen found in the guest cottage.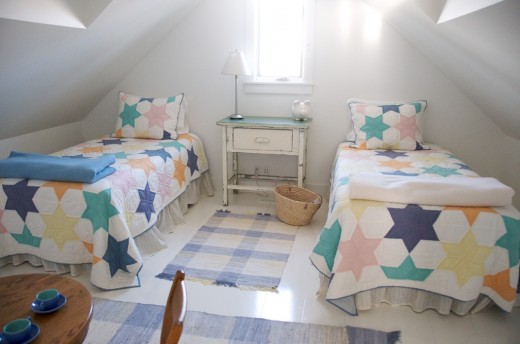 Did you know I used to be a quilter?  I just love the look of homemade quilts in cottages.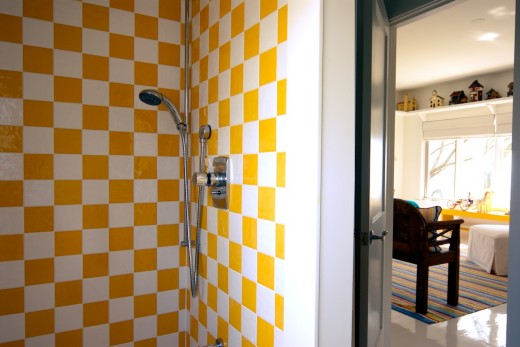 I love the particular shade of sunny yellow, and I love how it is repeated throughout the home.  I'm always so impressed when designers successfully adhere to a color palette throughout the home.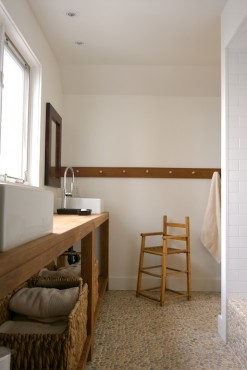 Stark, cool, beautiful.  Love the stone floor.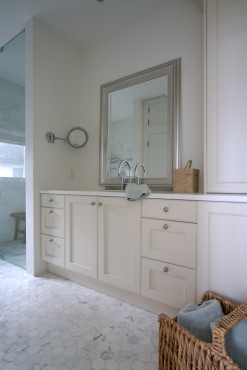 Another bathroom.  And again, I love the floor.
This chair is just so gorgeous.   Naturally, it is from the original home, which means it will be seriously hard to find one for yourself.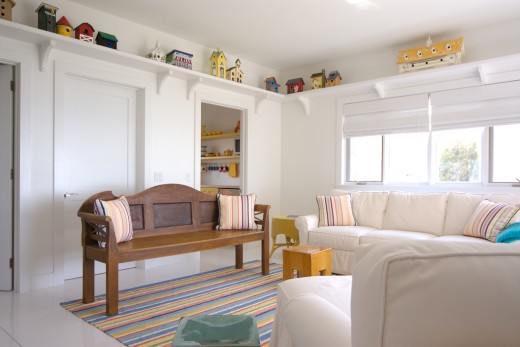 Okay, I saved this for last: this shelf that hangs over the entire perimeter of the room is so awesome!  I love the birdhouse collection here, but I'm also seeing stuffed animals, music boxes, train set, etc, etc.  I just adore this idea.
Special thanks to Joanne Hudson for letting me show off her Canadian cottage.  Joanne is a premier kitchen and bath designer based in Philadelphia, PA.  Check out more of her work at www.joannehudson.com.  She has a housewares area that is worth the look!
Have a wonderful weekend!  Hope you had a fabulous Thanksgiving.

Share this post
You might like...
Category: Home Tours
Tags: Home tour Friday, Lake Ontario home |
6 Comments »
marla

on November 20, 2011 9:02 am

What a happy, fun place!!

---

on November 20, 2011 11:01 am

I love the casual comfort! Absolutely beautiful.

---

joanne

on November 20, 2011 1:00 pm

I love this house and everything about it! I'm already plotting on where to get sunny yellow tiles from and thinking where in my house they will go!

---

jenny

on November 20, 2011 8:18 pm

Beautiful what a wonderful place. Gorgeous style.

---

Mary

on November 21, 2011 5:48 pm

That is so beautiful. It looks like you will have a wonderful time this weekend. Enjoy!

---

Jeff

on November 23, 2011 8:31 am

Great house, love clean elegance & of course, the view

---
Leave Us Some Comment-Love