October 15, 2010
Happy Home Tour Friday to you!  I hope you've had a great week.
Today we're headed to the Kip's Bay area of Manhattan to see a Show Home Kitchen.
It's well worth the tour!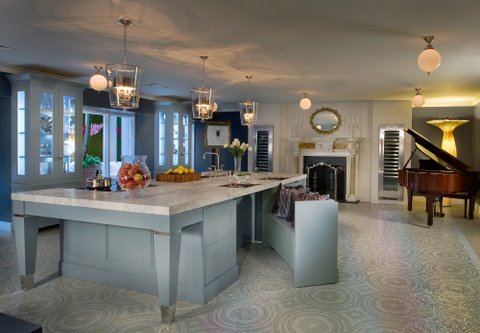 Here's the overall view of the gorgeousness.
The floor, the floor!  It's iridescent Italian glass mosaic.  Love the swirl!!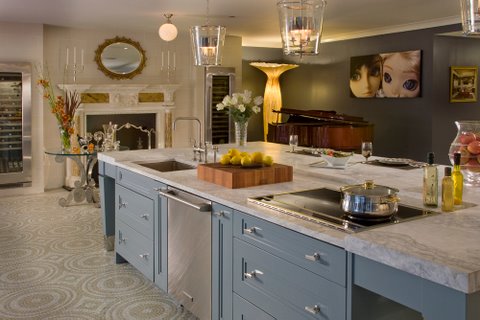 The central 12-ft. island features "dished" Calacatta Pueschetta marble around the induction cooktop with a prep sink conveniently nearby. On the opposite side, a banquet rolls out of the island for extra seating. Smoky blue cabinets feature stainless feet.  I love the smoky blue mixed with the stainless steel.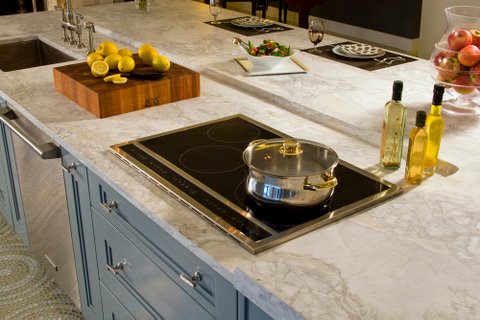 Here's a closeup of the island cooktop.  For more serious cooking, there's another cooktop you'll see in a sec.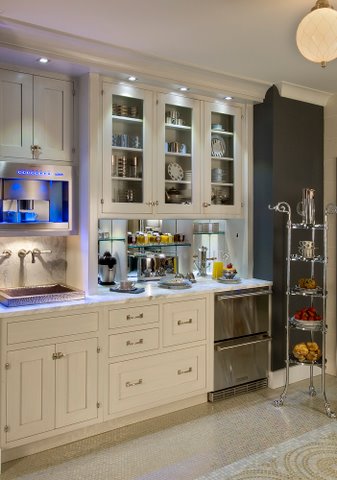 A mirrored continental breakfast bar incorporates a concealed mirrored appliance center, hidden at the touch of a switch by a drop-down marble panel.
It also has drawer refrigeration and a built-in coffee maker.  I just love the idea of these drawers for quick and easy fruit, veggies and hummus snacks for the adorables.
But my adorables would have that display tower knocked down in minutes.  It's so pretty though…
Illuminated three-sided tall glass-door cabinets showcase china and glassware.  Maybe seeing my china every day would induce me to use it!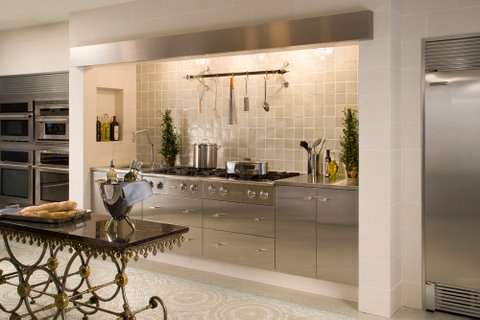 A custom cooking hearth by St. Charles of New York integrates stainless cabinetry, counters and sink with cooktops in a limestone-tiled alcove. Now that's something!
Make sure you notice the 4 wall ovens there.  A dream true come Thanksgiving time!
Special thanks to Karen Williams and Robert Schwartz, principals of St. Charles of New York for sharing this kitchen with us.
Have a great weekend!!

Share this post
You might like...
Category: Garden
Tags: home tour fridays, Kip's Bay kitchen, St. Charles of New York |
5 Comments »
on October 15, 2010 9:38 am

I love the grand piano in the kitchen. Never know when you might want to play a little tune in between prepping!

---

Joyce

on October 15, 2010 12:36 pm

I love the stainless cabinetry!!

---

Julie R.

on October 16, 2010 9:06 am

I love the roll out banquet seating – an idea that I might use someday. Who knows. The other stuff I can only dream of.

---

gillette

on October 16, 2010 11:10 am

My favorite kitchen EVER! I love the combination of the traditional and contemporary. What fabulous subtle color choices. Would love to know the resource for the hanging lights over the island.

---

on October 19, 2010 9:52 am

Marvelous home!! Everything looks spectacular. The things I was mostly interested in were the Wall Ovens. Where did you get those from?!

---
Leave Us Some Comment-Love