November 14, 2011
Written by Contributing Writer, Sarah Farthing
Appetizer season is upon us with holiday fun, gatherings with friends and family and big games to feed hungry sports fans during.  You will love this easy recipe: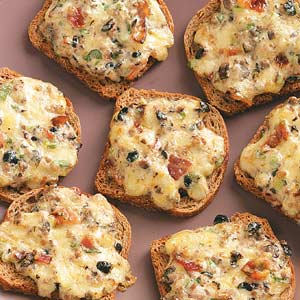 Hot Ryes
Ingredients:
1 cup finely grated Swiss cheese
1/4 cup cooked and crumbled bacon
1 4.5 oz can chopped ripe olives
1/4 cup minced green onions or chives
1 teaspoon Worcestershire Sauce
1/4 cup mayonnaise
1 loaf party rye bread
Directions:
Mix together all ingredients except bread.  Spread on party rye* and bake at 375 degrees for 10 or 15 minutes or until browned.
Makes approximately 36 hors d'oeuvres.
Note: These may be frozen after baking and reheated at party time!
After making these for years I really don't measure much anymore, just add ingredients in proportion to my liking until it seems about right.  Please, please do not shy away from trying these if you do not like some of the ingredients.  I am not a swiss cheese, olive or Mayonnaise lover and I devour these!
*I find loaves of party rye in the fancy cheese/appetizer section of my grocery store- they're not in the bread aisle. Also, when applying the mixture to each teensy bread slice, keep in mind the cheese will melt and help spread everything out, don't overload them!
Do you have a sure-fire recipe to share with us?! E-mail sarah@thegoodstuffguide.com
Share this post
You might like...
Category: Random and Fun
3 Comments »
Mollie

on November 15, 2011 9:21 am

I was just thinking of these yesterday when planning my Thanksgiving feast. Mmm…so good. And, incredibly easy!

---

Jenny H

on November 17, 2011 4:42 pm

I think you should make me some Sarah…so I can try it out….*grin*

---

Mama Nolte

on November 18, 2011 9:45 am

These are so good and really when I first tasted them, I wasn't sure what was in the filling but I knew I liked it! I make these often and they are always a big hit with a crowd.

---
Leave Us Some Comment-Love