June 26, 2013
If you live near the coast (in zones 6-9), you will want to plant some hydrangeas in your garden. I'm sorry to tell you what to do, but there it is.  The Running Man can't understand why I "waste space" on any other plants.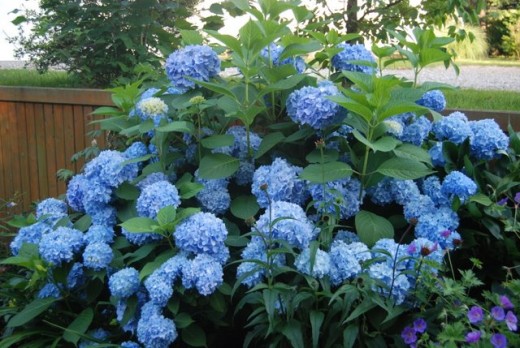 These blue beauties are "Endless Summer" and they bloom – you'll never guess – all summer long.  I can hack at these and give huge bouquets away to friends and family and they just keep on coming.  The flowers can get between 8-12 inches across.  They are whopper-size.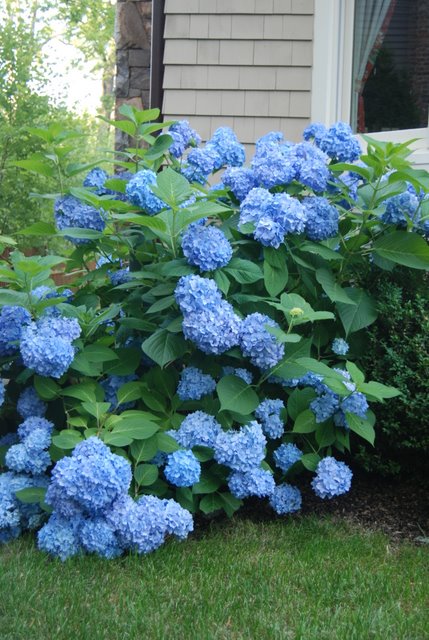 In our postage-stamp yard, I have 17 hydrangeas planted.
This "Endless Summer" variety can be either be blue or pink, depending on the composition of your soil.  Every spring, I mix aluminum sulfate (available at any garden center) with water and pour it directly on the plants.  My plants tend to be pinky/purple without the sulfate.  Every 2 weeks, more can be added to get just the right blue, but I'm usually proud of myself for getting around to the first application and quit there.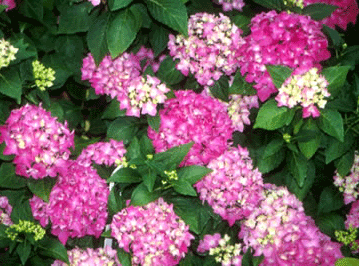 These pinky mopheads are called "Pia".  They are a dwarf variety and perfect for borders.  I have them interspersed with some leafy green hostas in one bed.
This is a one-year old "Annabelle", which explains why it looks a little bare.  In the coming years, it will be abundant with giant white gorgeous-ness.
Come fall, the blue "Everlasting Summer" turn a beautiful pinky blue as the remaining flowers age, and I cut them completely dry from the plant for indoor displays during the winter.  I'll show you when we get there…

Share this post
You might like...
Category: Garden
Tags: everlasting summer, hydrangeas |
6 Comments »
on July 23, 2009 1:44 am

WOW!! I am envious!!

---

on July 23, 2009 2:16 am

Hi Heidi,

Your photos are making me miss Nantucket more than ever!! Thank you for visiting my site. I am enjoying perusing yours.

Yes, let's both go to the conference next year.

Best, Jillian

---

on June 26, 2013 10:11 am

So beautiful. Okay, I'm definitely planting some in my yard this coming year.

---

Anne Schenendorf

on June 27, 2013 6:40 am

Heidi, my neighbor has these and I have to say, they are stunning! They have been on my mind lately and I love them. I'm so happy to find out there name as I keep forgetting to ask. I'm heading to the garden store today. Thanks!!! Happy Summer!!!

---

Anne Schenendorf

on June 27, 2013 6:40 am

Oops, typo…

---

Marykate

on June 27, 2013 7:15 am

One of the best things about the summer! I feel so lucky to have them in Pa and they are gorgeous. I have vases filled on tables all over the house and every visitor leaves with a bouquet too! And they are hardy – I don't do anything to them and they are glorious.

---
Leave Us Some Comment-Love