January 2, 2017
Written by Marykate O'Malley, mother of three wonderful children Gladwyne PA
I didn't know it would be our last Christmas picture with Santa. And if I did know would it have been any different. Maybe. Maybe not. I should have known last year looking at all the toddlers and preschoolers in line ahead of us. I should have known then that I was pushing it, really pushing it. And when all my cajoling and but it's a tradition or let's get a hot chocolate didn't work. I knew… my babies are growing.
I put away the photos today, years 2004 – 2015 all lining the piano. 2016 the year that never happened.
Because Santa pictures are for babies, and seeing Santa get off the train is also for babies, but thankfully not haunted houses, nor picking apples, nor gingerbread houses, and reading the Night before Christmas on the night before Christmas. We can still do these things.
I held the door for a father the other day, double stroller side by side, 2 wee little things bundled for the cold like mini Freddys' from A Christmas Story. He mumbled something about "I should have known when I bought this" as he maneuvered through a too small entryway. I remember those days, I said, and miss them. It really goes too fast I called back. It simply does.
But now I have 3 of the funniest quirkiest human beings on the planet who share the same goofy humor, and can watch the same movies as me, laugh at the same movies, and sometimes cry at the same movies. We can go for sushi or out to dinner and not require coloring books at the tables and go anywhere un-propped past that 15 minute window. Just us. No other entertainment needed.
My babies are growing. And if we did go this year…. well it gets a little weird at some point. With Middle Schoolers…  Yet still a part of me ached putting away those photographs and not seeing 2016.
My babies are growing. It goes too fast. The important thing is to remember that while it is happening. And to let go of Santa pictures because there are holiday concerts, and shows, and parties, and all kinds of merrymaking, and life keeps moving forward. The key is keeping step.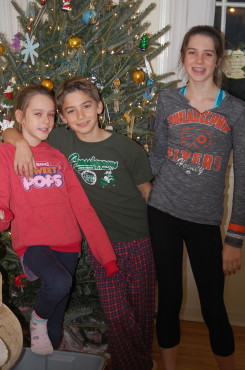 Share this post
You might like...
Category: Board Books, Brilliant, For Kids, For Moms, Girl Time, Holidays, Photography, Random and Fun, Travel, Wondermom Resources
2 Comments »
Joanne

on January 3, 2017 7:50 am

So beautifully written!!! I was just saying last night how cute Jamie is and how I know he won't always be doing these cute things. But I know he'll be doing other cute things as he grows…and I know because I'm watching Jacky and Seany change!!

---

Marykate

on January 8, 2017 10:56 pm

I hear you! Always this… I miss this, and also so wonderful wherever you are – in every phase. So beautiful watching them grow … into them! Sending love and hugs!! Thanks for your comment! XXOO

---
Leave Us Some Comment-Love