February 21, 2011
Happy President's Day to you!
I've been so excited to share the following with you, I just couldn't wait.
I saw this new Color-coordinated organization system from kimBO: be. organized. and it was LOVE! LOVE!
But don't pay attention to me, see for yourself – I know you'll love it!!  These colors!
1. Meet the Motherboard system:
These dry-erase boards (available in either 11.5 X 11 or 22 x 17, depending on your wall space) have a 4 point velcro mounting system so its a snap to install, and gentle on your walls. A dry erase pen with an optional velcro mount is also included.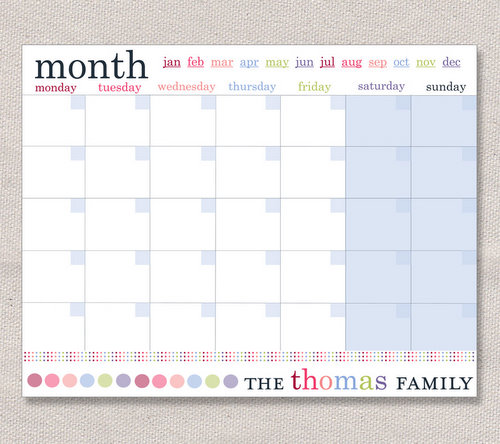 This is the Monthly view – perfect if you have a consistent weekly schedule, but just need to look ahead.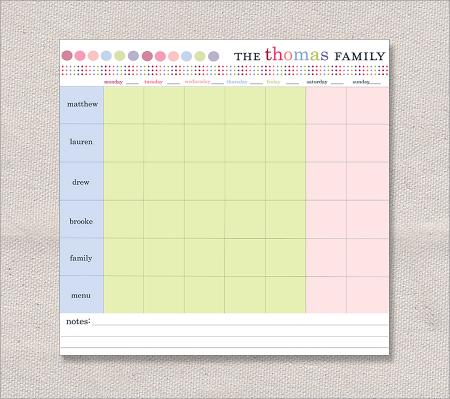 This weekly board is perfect for organizing your week at a glance: sports, playdates, appointments, meals – you can personalize the categories however you'd like!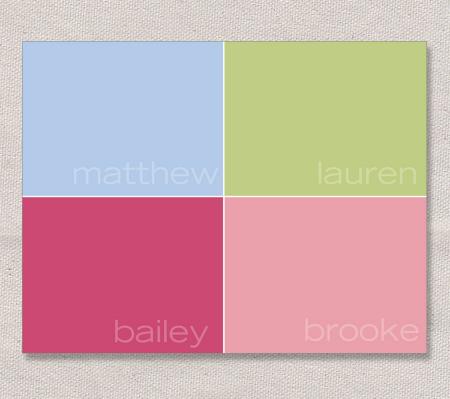 This dry-erase board is perfect for keeping track of little notes or things by person.  There are multitude of other board options here in the 22 X 17 size or here in the 11.5 X 11 size.
2. Coordinating Notepads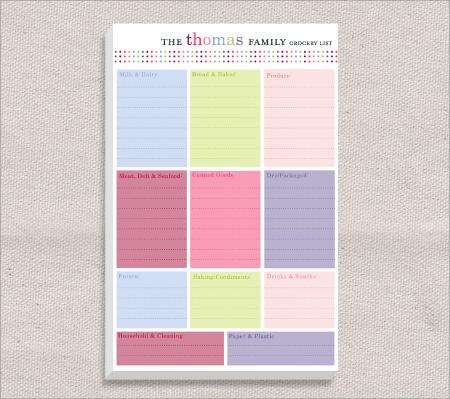 The *matching* grocery pad – not a dry-erase board, but a pad so you can take it directly to the store with you.  Now I want you too look at these categories – this is such a great grocery pad!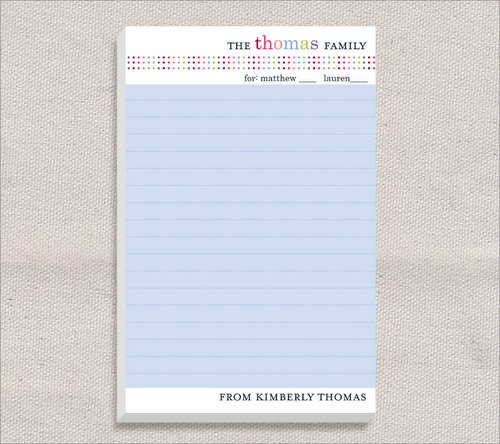 The Mom Pad – perfect for writing a quick permission slip or note for the teacher.
3. Deskpads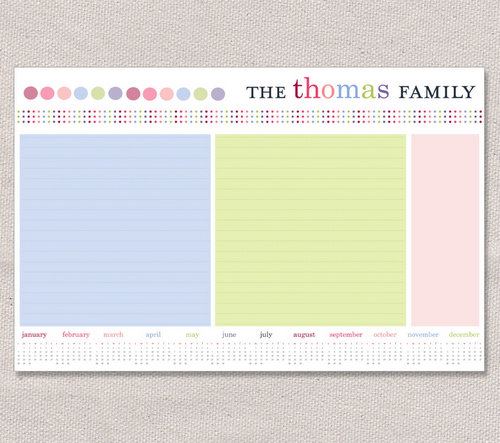 This 52-page Personalized Deskpad is large – 11 X 17 – and perfect for jotting all the incidental notes that come up through the day to keep your family moving.
Giveaway
One lucky, lucky winner can win a MotherBoard system (choice of 2 boards, 2 notepads and 1 deskpad) simply by leaving a comment by Friday, February 25th. I'll choose the winner using Random.org and announce it on Saturday.
Because I just LOVE comments, here's how to gain extra entries (please leave them as separate entries):
1. Do you subscribe by email or RSS to The Good Stuff Guide? I love my subscribers, so you get an extra entry. Wahoo!
2. Email 5 of your friends about The Good Stuff Guide and tell them what a rockin' website this is. We'd love to have them join us!
3. "Like" The Good Stuff Guide on Facebook and receive the latest news and your chance at additional giveaways. (I LIKE you too!)
Good luck!
Many thanks to mykimBO.com for this awesome giveaway!

Share this post
You might like...
Category: Mission Control
Tags: family calendar organization, kimBO |
81 Comments »
on February 22, 2011 11:52 am

Love this organization system–just signed up to receive your emails. Will also like on Facebook. Thanks!

---

Laura

on February 22, 2011 12:19 pm

Looks AWESOME! I'm an organizer so this is right up my alley!

---

on February 22, 2011 12:25 pm

Organize me! Please!

---

gillette

on February 22, 2011 2:48 pm

LOVE, love the look of these. Just wish they had holidays on them…. I know the holidays change but it would eliminate the need for an additional calendar with the holidays listed.

---

gillette

on February 22, 2011 2:49 pm

would love to win it for a present for one of my daughter-in-laws and then I would buy the other two one.

---

Mimi

on February 22, 2011 3:55 pm

Such a nice way to keep up to date !

---

Mimi

on February 22, 2011 3:57 pm

Another good opportunity to become more orderly.

---

judy riley

on February 22, 2011 4:38 pm

This looks great.

---

on February 22, 2011 5:32 pm

First time visiting this site…you have great stuff!

---

on February 22, 2011 5:35 pm

Just subscribed!!!

---

on February 22, 2011 5:38 pm

OK, just emailed my friends and told them to sign up too!!!

---

Lisa Stern

on February 22, 2011 6:28 pm

I would LOVE this… As a working mom, I could use all the help with organization that I can get!

---

Lisa Stern

on February 22, 2011 6:29 pm

I just liked you on facebook, too!

---

Linda

on February 22, 2011 7:10 pm

This is a dream come true! Hope I win!

---

Linda

on February 22, 2011 7:10 pm

I like you on fb

---

Linda

on February 22, 2011 7:10 pm

I'm an email subscriber

---

on February 22, 2011 10:11 pm

Oh, I need this! This is awesome!!!

---

on February 22, 2011 10:12 pm

FB Fan.

---

on February 22, 2011 10:12 pm

subscriber, too!

---

Lisa

on February 23, 2011 9:21 am

These are great! Love all of the organizational stuff you've been highlighting recently!

---

Lisa

on February 23, 2011 9:21 am

FB fan!

---

Lisa

on February 23, 2011 9:22 am

Email subscriber!

---

Colleen Gallagher

on February 23, 2011 10:34 am

Love this simple organization!! thx

---

nan

on February 23, 2011 12:52 pm

thanks for the chance
nannypanpan at sbcglobal.net

---

nan

on February 23, 2011 12:53 pm

e-mail subscriber
nannypanpan at sbcglobal.net

---

Virginia

on February 23, 2011 1:17 pm

Awesome products – so cute and useful!

---

on February 25, 2011 11:02 pm

Love this to give to busy daughters-in-law with teens who all play sports or ha e lessons of some sort everyday. They are busy "taxi cabs"! Need help organizing!

---

Jessica Crump

on February 26, 2011 5:10 am

I subscribe by email

---

Jessica Crump

on February 26, 2011 5:11 am

I like you on FB

---

Jessica Crump

on February 26, 2011 5:12 am

I emailed 5 friends

---

Jessica Crump

on February 26, 2011 5:13 am

I like on FB

---
Leave Us Some Comment-Love