April 4, 2011
Happy Giveaway Monday to you!
I have to share a new toy that my adorables just absolutely LOVED!
Meet Laser Pegs
: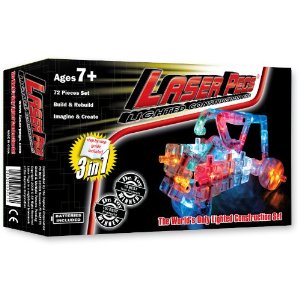 Think of these as Legos with a twist – a lighted magnificent spectromagic twist.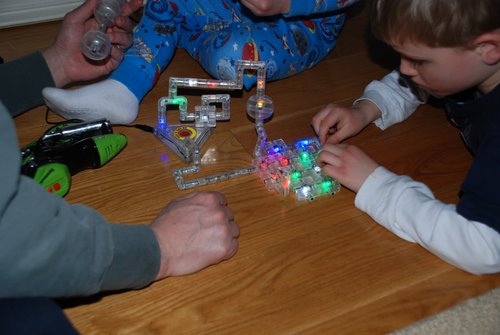 Here you see there are different components that fit together like pegs.  But their effect when you turn the light off is astounding: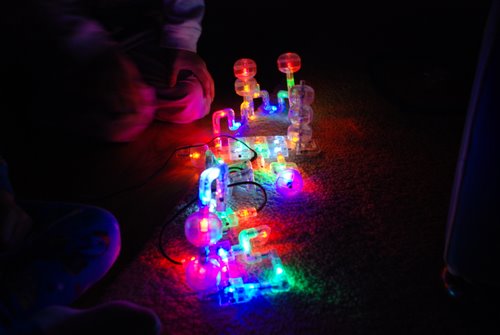 This is such a fun nighttime toy when the adorables are a little tired, but have zoned-in concentration.  It also helps to see the lights in the dark.
Though my adorables had just as much fun building these during the day and then racing into the closet to turn them on.
The adorables have been rapt with these since they arrived.  They are also a hit among our playdates this week.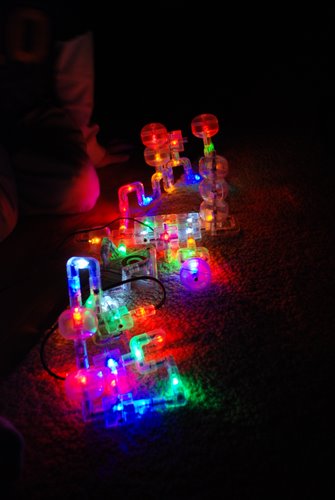 Reminds me of Disney World.
Note: the age recommendation on the box is 7 and up, and I think this is smart considering this toy involves electricity.  Having said this, with adult supervision (i.e. I handle all plugging into the wall), my 3.5-year-old is just as excited and capable to play with them.  There is also a battery option that doesn't require an electrical outlet.
Giveaway
One lucky, lucky winner can win a great set of Laser Pegs simply by leaving a comment by Friday, April 8th. I'll choose the winner using Random.org and announce it on Saturday.
Because I just LOVE comments, here's how to gain extra entries (please leave them as separate entries):
1. Do you subscribe by email or RSS to The Good Stuff Guide? I love my subscribers, so you get an extra entry. Wahoo!
2. Email 5 of your friends about The Good Stuff Guide and tell them what a rockin' website this is. We'd love to have them join us!
3. "Like" The Good Stuff Guide on Facebook and receive the latest news and your chance at additional giveaways. (I LIKE you too!)
*New*
4. "Share" any recent post from The Good Stuff Guide on your Facebook wall by clicking 'Share' under our Facebook posts with links to The Good Stuff Guide site.  This makes a visit to our site just a click away for all your Facebook friends – the more the merrier…
Good luck!

Share this post
You might like...
Category: Toys and Gift Ideas
Tags: Laser Pegs, Light-up Legos, Monday giveaway |
73 Comments »
Donnetta

on April 5, 2011 9:51 pm

I subscribe by email.

---

Donnetta

on April 5, 2011 9:51 pm

I like you on facebook.

---

miriam

on April 5, 2011 9:57 pm

love the toys that may keep our children up at night!

---

JAN SCHAUB

on April 6, 2011 10:05 am

I like you on facebook.

---

JAN SCHAUB

on April 6, 2011 10:05 am

I will tell 5 friends about your awesome site.

---

Jessica Crump

on April 6, 2011 10:06 am

I am an email subscriber

---

Jessica Crump

on April 6, 2011 10:06 am

I like you on facebook.

---

Jessica Crump

on April 6, 2011 10:07 am

I am emailing 5 friends about this site and all the awesome things you do!

---

Jenn

on April 6, 2011 12:40 pm

cool!

---

Jenn

on April 6, 2011 12:40 pm

email subscriber

---

Jenn

on April 6, 2011 12:40 pm

facebook fan

---

on April 6, 2011 1:51 pm

Who wouldn't love the Laser Pegs?

---

on April 6, 2011 1:52 pm

Awesome fun !

---

Laura

on April 7, 2011 12:54 pm

These look great!

---

Laura

on April 7, 2011 12:54 pm

I am an email subscriber!

---

Laura

on April 7, 2011 12:55 pm

I like you on FB too!

---

nan

on April 7, 2011 5:58 pm

looks cool

---

nan

on April 7, 2011 5:58 pm

e-mail
nannypanpan at sbcglobal.net

---

Jane

on April 7, 2011 10:24 pm

Where can you get these? Son has a bday party to go to this weekend…

---

Jane

on April 7, 2011 10:26 pm

What does it cost?

---

Heidi Farmer

on April 8, 2011 8:27 am

The only place I'm finding are online retailers, though some specialty toy stores may have them. They are relatively new. I don't think they are in ToysRUs, Target, etc yet. Price is a little high $35-50, which is why I appreciate Amazon discounts! Hope this helps!

---

on April 8, 2011 2:28 pm

Wow! This looks like an awesome set. Creativity, fun, concentration – all in a unique toy. I hope I'm in time to enter the contest!

---

Julie R.

on April 28, 2011 8:28 am

I didn't win your giveaway, but thanks for the gift idea. Bought these for a friend's boys – ages 7 and 9 – for Easter. Can't wait to hear how they liked them.

---
Leave Us Some Comment-Love