January 31, 2012
written by Cathy Baker, mom to 2 amazing girls, from Missouri
This is one of those ideas, that has been in my brain for so long, I'm not sure if it was an original idea, or if many years ago I heard about it and tucked it away to use in the future. It's probably the latter, but I have no idea who to give the credit to!
So, you know those 'calendar kiosks' you see this time of year in the mall? The ones with 50% or 75% discounts for 2012 calendars?  Well I'm telling you, this is the time to snatch up a few of their calendars!  I pretty much adore all puppy pictures…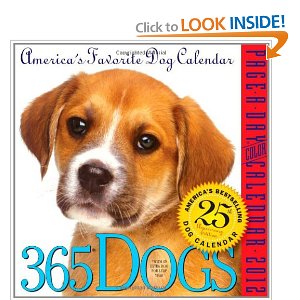 Here's the plan. You look for those day to day calenders where you can rip off a new sheet for each day. And when you find a fun kid-friendly one- you buy it!  Then, you tear off a sheet and slip it into your child's lunchbox.  It has been so much fun to put these into my girl's lunches.  They don't even have to match the correct date – in fact, even today, I put some of these stickers (snowman), from this 2010 Calendar, into their lunch box. I put a quick note on the back. And then I smile, as I imagine their smile opening their lunch box.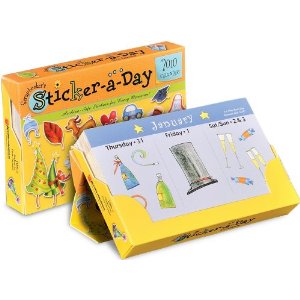 Look at some of these other fun ones I found at a quick amazon search…banagrams…one of my favorite games (you'd have to remember to keep a pencil in their lunchbox for this).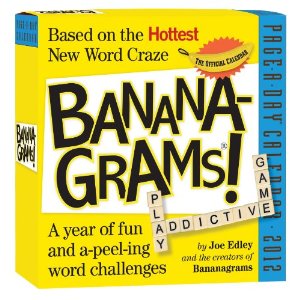 Or origami…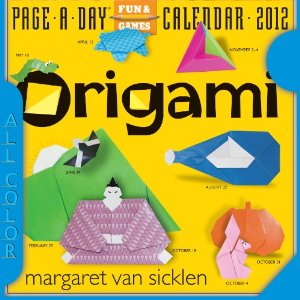 Or a Brain Teasers…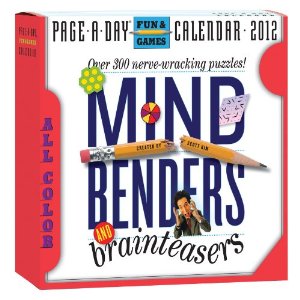 And while you are looking for a calendar to snatch up, you can print up some jokes to put in their lunchboxes. A quick google search of "lunch box jokes" will bring lots of options. To get you started, here are some cute printable ones I found at Sprik Space blog.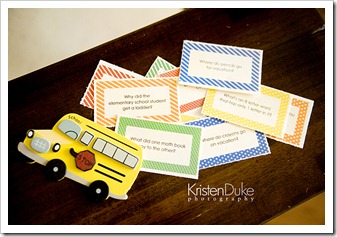 And don't forgot to put a quick note on the back of anything you put in their  lunch box! I love the idea of making my girl's smile, even when I'm not with them!

Share this post
You might like...
Category: Activities, For Kids
Tags: lunch box fun, lunch box ideas |
4 Comments »
Heidi Farmer

on January 31, 2012 8:46 am

Love, love, love this idea! Such a great way to use those cute calendars – my boys would love that. I also use these Mini Lunch notes: http://www.amazon.com/Mini-Lunch-Notes-Peagreen/dp/0811871053/ref=sr_1_1?ie=UTF8&qid=1328017478&sr=8-1
My favorite part is that they include stickers to dress up their food. my favorite is one that says "Eat Me First!" Not that they ever do, but at least I can try…

---

on January 31, 2012 6:15 pm

I remember my Mom putting notes in my lunch as far along as middle school and I loved it. My friends were jealous!

---

Mama Nolte

on January 31, 2012 8:42 pm

I remember my Mom writing on my wax paper sandwiches when I was in elementary school in the late 50′s! Knowing someone is thinking of you as you go about your busy day is heartwarming no matter how old you get!

---

on February 4, 2012 7:35 am

I haven't put notes in their lunch boxes in a while, but I do try to remember to put a fun napkin in there (and sometimes wrap a little piece of chocolate in there so I can tell if they actually used their napkin – if the chocolate is still there….). I pick up colorful party napkins – sometimes I even find them on clearance – or holiday-themed ones.
The last time I put a note in my son's lunch box, he wrote one back for me to find when I got ready to put the containers in the dishwasher. So sweet!
Thanks for the link for the lunch jokes – I'll do these soon, as my 2nd grader LOVES jokes!

---
Leave Us Some Comment-Love