March 29, 2011
Written by Contributing Writer,  Sarah Farthing
I know there are some delicious, inexpensive cookies available for purchase from fine stores; Eileen's Colossal Cookies (www.eileenscookies.com)  is one such store in my town and I do love their cookies!
Part of cookie enjoyment for me, however, is cookie making.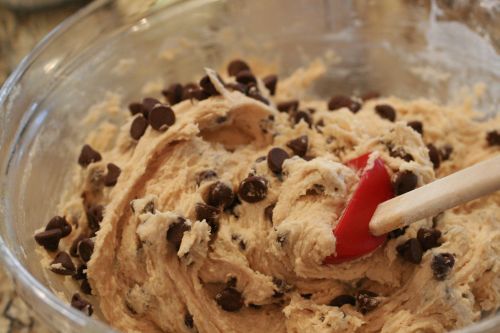 I hope that this basic, time-honored ritual between parent and child is more alive than the presence of Nestle dough packages in the refrigerated section of the grocery store indicates.  It is so easy, doesn't take much time and every batch reinforces that a little work earns you the sweet things in life.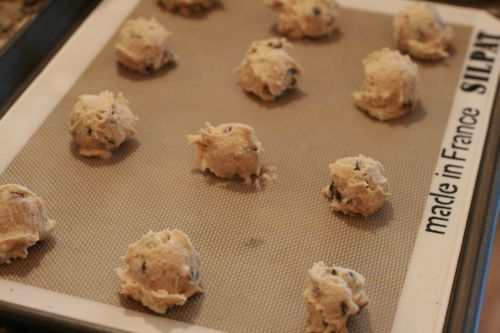 I am a soft cookie girl and my boys lean that way too.  My secret to lightening up the chocolate chip cookie recipe on the back of the Nestle Toll-House Morsels bag is to add a quarter cup of vanilla Jello pudding powder to my dry ingredients.  I don't subtract the amount of flour or anything else.  I just make that little addition and use the Silpat
liner in my cookie sheet and the uniformly golden, delicious, melt-in-your-mouth cookies that come out of the oven never last long on our counter!   If you do not have one of these cookie sheet liners, get one, they are worth the investment!
Do you still make cookies with your kids?  Any tips or tricks for the rest of us?

Share this post
You might like...
Category: Activities, Kitchen Gadgets
Tags: Making cookies, Silpat |
8 Comments »
on March 29, 2011 11:00 am

Oh I agree with you 100 percent. It's so sad that some kids don't even know you can bake/cook without a box mix. I have two girls and one boy and they all enjoy cooking with me. The biggest thing I had to learn was … it's going to be messy! And that's Ok. It all can be cleaned up. We have lots of fun in the kitchen. I've had to learn to give each child a specific role or otherwise there are some arguments about who gets to do what. But as long as each gets some of the dough, all is good! We're involved in 4-H and that organization is wonderful in helping kids in the kitchen. Think I will try your pudding trick next time. Thanks.

---

Mama Nolte

on March 29, 2011 1:56 pm

I love the idea that spending time with your children doing simple tasks together make fond memories.

---

Heidi Farmer

on March 29, 2011 2:01 pm

I keep meaning to make a big batch of cookies and drop them by the Fire station or the library or another community organization that deserves a thank you. And another bonus of this plan is they won't be around my kitchen to tempt me. And I can NEVER turn down a cookie.

---

Jenny Hout

on March 29, 2011 8:38 pm

Thank you Sarah for the jello pudding idea. I will try this! Yes my little girl and I cook together all the time. I can't cook anything without her "help" but I do love it and love her thrill of cooking. If anything I know she won't be a starving college student!

---

Susan

on March 30, 2011 9:25 pm

I agree on the chewy goodness factor! Using Crisco or half Crisco/half butter also makes them chewier because they stay thicker when baking. I also add a few tablespoons extra flour when we make ours. The drier the dough, the thicker/chewier they will be. I've also noticed that my new convection oven makes them chewier because they cook faster and crisp/brown on the outside without overcooking on the inside. Took me some getting used to in terms of temp/time adjustments, but the convection magic definitely works!

---

on March 31, 2011 6:29 pm

I have not tried using my convection oven when making cookies, but I sure use my silpat. There are also great recipes at http://www.silpat.org.

---

Annie

on April 1, 2011 6:11 pm

Mm…. it's a rainy, dreary day in Seattle and I think I'm going to have to mix up a batch of CC cookies to get through the afternoon.

---

on May 1, 2011 1:18 am

The best cookies come from the best ingredients. It is important to liberate ourselves and have great taste. That is one reason I founded Pointe Viven. http://www.facebook.com/pointe.viven

---
Leave Us Some Comment-Love