May 30, 2012
Written by Marykate Wurster, mom of 3, from Riverside, Connecticut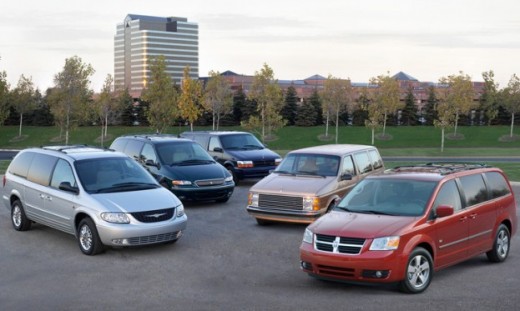 Okay, I said it. Not only do I drive a minivan. I love it. I think of it as a statement car. Some people drive Mercedes, others prefer a Porsche. I like a Town and Country with cupholders for all and a double DVD system. Give me a souped up minivan and I am like a child at Christmas – automatic doors, under floor storage, rear back up system, just thinking of it makes me giddy.
Minivans make statements like "I have 6 kids in the back, half of whom I have never seen before, I have snacks for all of them and even remembered the water bottles for soccer practice". Or a minivan may say "I've got McDonalds fries shoved under the backseat and the faint odor is a milkshake accident from last week that simply wouldn't come out". Other days a minivan says, "It is 8:20 a.m. and I have made 4 beds, fed and dressed 3 children, packed 3 lunches, 2 snacks, wrote a teacher note for a playdate, loaded the dishwasher and yes, we are on time for school." I am woman; hear my minivan peal out of the drive, with my kid's songs blasting through the open windows as we cruise off to soccer practice, in style.
Does anyone else share this minivan love? Don't be shy ladies, you are amongst friends.

Share this post
You might like...
Category: Brilliant
9 Comments »
Kim B.

on May 30, 2012 9:41 am

I fell in love with the minivan when we had our second child and I could get the infant car seat in easily and quickly, even with tiny parking spots. I LOVE, LOVE sliding doors. And as the kids have grown older I appreciate the second row captain chairs that are spaced far enough apart they can't touch each other.

---

Lindsay Pignataro

on May 30, 2012 11:04 am

I just got a new honda odessy. I just had my 2nd child 2 months ago and the new mini van 2 weeks after he was born. I was so thrilled! I love the automatic doors and getting the infant car seat in is a dream. Also my 2 year can get in and out by herself without me having to lift her. I will probably drive a minivan from now on! I love it!

---

Marykate Wurster

on May 30, 2012 4:27 pm

I hear you – the automatic doors are maybe my favorite feature. I open the doors when I pick up my kids at school and they race across the school lawn to them and finish with a leap inside – and every day I think, man I love those doors!

Heidi clued me into to headphones and so now on road trips my kids have head sets and a movie selection and I get to listen to "my" music the entire way – how wonderful!
Love the odessey by the way – a lot of space.

---

on May 30, 2012 11:08 pm

Love the minivan – sliding doors are the best! We have an older model, so don't have all of the coolest new features, but ours IS rockin' a hitch-mounted bike rack, so hopefully I get some cool points for that!

---

Marykate Wurster

on May 31, 2012 7:27 am

I need a bike rack!! Any you recommend? Last summer I crammed them between seats which didnt works so well….

---

Anne Schenendorf

on June 2, 2012 9:27 am

I am howling laughing again reading this. I have told two people about how funny it is and they both agree. The little twins behind me asleep in their unsouped explorer have no idea what they are missing. I was never someone who thought I couldn't live without a minivan but reading this made me really want one. I want dvd players attached to the car so little toes cant find the pause button. I want bucket seats before they start playing the Im not touching you game. The last thing that makes me salivate(proof Ive become such a mommy) is the under floor storage. Ah the possibilities…

---

Marykate Wurster

on June 3, 2012 12:36 pm

The under floor storage is brilliant. A friend and I (who will never drive a mini van) were having the "to minivan or not to minivan" talk and both decided that they need a rebranding campaign. Maybe it could be "this is not your mom's minivan" – someone should get started on this.

---

on June 5, 2012 10:17 pm

Marykate – I'm slow on the reply, so I hope you'll see this! We have a Yakima Doubledown 5. Right now, only three of our four bikes fit on it (one is too small), but we are hopeful that we'll have five to put on there someday (we are a family of four, but hoping to adopt our third child). We had a hitch put on our van, and the rack is hitch-mounted. We ordered ours through REI – but you can order directly from Yakima. Check out their online "which rack is right for my vehicle?" tool to get you going in the right direction. Also – we added the Deadlock kit – locks rack to hitch and bikes to rack.

---

Marykate Wurster

on June 11, 2012 9:50 am

Thanks for the bike rack info – checking it out now!! And wonderful news about adopting a child – such a miraculous and wonderful gift for everyone. I do hope it works out. All the best!

---
Leave Us Some Comment-Love