July 12, 2010
It's that time of year!
I'm nearing the end of my 2009-2010 momAgenda calendar and there's almost nothing I love more than moving into next year's calendar.
It must have something to do with fresh beginnings.  Using my best penmanship again (this lasts one week, tops).  The happy thought of finally getting my To Do lists completed.
With August fast approaching – sigh… – it's time to look forward to a new momAgenda calendar for 2010-2011.  Thanks to momAgenda, you have the opportunity to win one.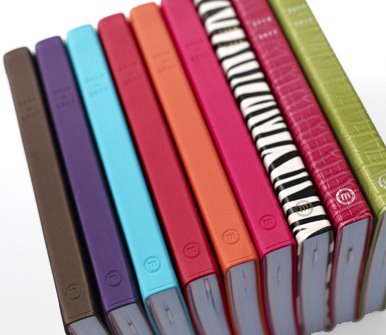 Look at all these gorgeous colors to choose from!
This year, I went with the Zebra print – my logic being that I could find it easily amid the clutter on my countertop.  (Already a concession to my goal of keeping the kitchen clean).  WAIT!  Just heard from momAgenda that the Zebra print is sold out for about a month, but there are tons of other colors to choose.
I just love my momAgenda (I think this will be my fifth year)!  I can see my whole week at once, and I put my to-do list directly in there, so I can check things off and keep track of how I'm doing.  There's lots of room for all of your adorable's activities too.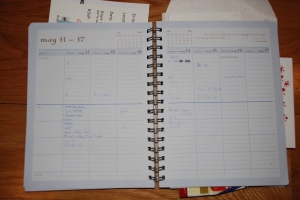 Here's mine – I'm moving from the spiral bound photoed here to the library binding.  I'll let you know…
Giveaway
You can win one momAgenda Daily Planner of your choice just by leaving a comment by Friday, July 16th and I'll choose the winner using Random.org on Saturday, the 17th.
Here's how to gain extra entries (please leave them as separate entries):
Do you subscribe by email or RSS to The Good Stuff Guide? I love my subscribers, so you get an extra entry. Wahoo!
Email 5 of your friends about The Good Stuff Guide and tell them what a rockin' website this is.  We'd love to have them join us!
"Like" The Good Stuff Guide on Facebook and receive the latest news and your chance at additional giveaways.
(Feel free to do them all – that's a total of 4 entries!)
Good luck!
What's your color are you choosing this year?
If you're not the lucky winner, be sure to order yours at…
While you're there, look at the Kitchen Folio and the School Years Organizer. You will be wow'ed!

Share this post
You might like...
Category: Brilliant
Tags: momAgenda, momAgenda calendar, Monday giveaway |
87 Comments »
on July 12, 2010 5:44 pm

I follow you via GFC.

---

on July 12, 2010 5:44 pm

I emailed 5 friends.

---

on July 12, 2010 5:45 pm

I am a FB follower.

---

Amy Nowak

on July 12, 2010 7:21 pm

I love it!

---

Noreen Marando

on July 12, 2010 10:04 pm

Best planner ever for moms!!! I'm going for pink this year! I'm on Facebook too!

---

erin

on July 13, 2010 12:33 am

I cannot live without my momAgenda. I've been using them for the past 5 years and they are the best! I'm on Facebook and RSS feed!

---

on July 13, 2010 1:21 am

Looks like a nice way to get organized …. and I need to get and keep organized. Always want to be, but just never seem to get there.

---

on July 13, 2010 7:30 am

I certainly can use all the organization tools I can get! I like the aqua blue version – to remind me of summertime all year long!

---

Judy Riley

on July 13, 2010 7:41 am

This looks great. I'm going to share the idea with Jenny.

---

Judy Riley

on July 13, 2010 7:41 am

Have to try again for this one. Thanks

---

Sue

on July 13, 2010 8:07 am

I really need one of those! I'm an email subscriber.

---

on July 13, 2010 9:38 am

Would love to have one of those. Thanks for the chance!

---

kathy

on July 13, 2010 10:56 am

Love the pink one!

---

kathy

on July 13, 2010 10:57 am

I am a subscriber

---

kathy

on July 13, 2010 10:57 am

and a facebook fan!

---

gillian schaadt

on July 13, 2010 10:59 am

help organizing is always good!

---

gillian schaadt

on July 13, 2010 11:00 am

subscriber too…

---

gillian schaadt

on July 13, 2010 11:00 am

and FB fan!!

---

Jules Greenaway

on July 13, 2010 11:01 am

Please, please, please pick me Random.org!!!! I'm organized, but WOW would this organize me even more…I'm getting excited just thinking about it!!!!

---

Jules Greenaway

on July 13, 2010 11:02 am

And if I don't get picked, I will be ordering one ASAP!!!! Thanks for the this one, first time I've heard of these planners…

---

Jill

on July 13, 2010 11:31 am

I need a new one too! Orange!

---

Amanda G.

on July 13, 2010 11:40 am

I would definitely love the orange one…but the zebra one is awesome too.

---

Amanda G.

on July 13, 2010 11:40 am

I am a Facebook Fan!

---

Amanda G.

on July 13, 2010 11:41 am

And, I'm a subscriber.

---

Amanda G.

on July 13, 2010 11:41 am

And I just e-mailed all of the women in my address book about The Good Stuff Guide!

---

Rachel C

on July 13, 2010 2:49 pm

Great giveaway – I bet lots of us could use one of these planners!

---

Rachel C

on July 13, 2010 2:50 pm

I'm an email subscriber

---

Lesli C

on July 13, 2010 4:04 pm

OOooooo I LOVE this!! I so need this! fingers (and toes!!) crossed!!

---

Lesli C

on July 13, 2010 4:05 pm

I'm a subscriber! We love you too!!

---

Lesli C

on July 13, 2010 4:06 pm

I like you on FB!

---

Lesli C

on July 13, 2010 4:10 pm

I emailed five friends!! Thanks for another great giveaway!!

---

on July 13, 2010 6:05 pm

I just stumbled upon your site and love it and liked you on my facebook …now I am gonna go shout out to all my peeps about you…they are going to enjoy your site!

---

on July 13, 2010 8:08 pm

I like the purple one.

---

Julie

on July 14, 2010 8:22 am

My favorite calendar that I have used for 5+ years is the "More Time for Moms" Family Organizer calendar. It hangs on the wall and has tons of room to write event details, great stickers to help highlight items (especially good for the hubby), a pocket in the back to hold b'day party invites, school notices, etc – but the thing that I love the MOST about it is that it is made of nice quality paper (not glossy) – so I can write on it with a pencil and erase.
http://www.moretimemoms.com/family_organizer_calendars.php

---

johanna

on July 15, 2010 7:02 am

GEtting your newsletter by email

---

johanna

on July 15, 2010 7:03 am

LOVE LOVE The orange one..so hermes like!

---

johanna

on July 15, 2010 10:54 am

like you on FB

---
Leave Us Some Comment-Love