June 28, 2010
Happy Giveaway Monday, ya'll!
Today is quick and sweet – how fun do these look?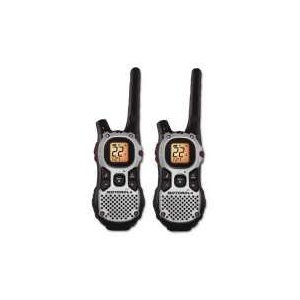 Okay when did they stop calling these walkie-talkies??
Meet the Motorola Talkabout MJ270R which features NOAA weather, flashlight and a 27-mile range.
That's some hefty distance.
I think these are meant for grown-ups, but I've never met an adorable who didn't love a little "Roger, Roger".
Giveaway
You can win a a pair of Motorola MJ270R Talkabout 2-Way Radios just by leaving a comment by Friday, July 2nd (WHOA!  July???) and I'll choose the winner using Random.org on Saturday, the 3rd.
Here's how to gain extra entries:
Do you subscribe by email or RSS to The Good Stuff Guide? I love my subscribers, so you get an extra entry. Wahoo!
Email 5 of your friends about The Good Stuff Guide and tell them what a rockin' website this is.  We'd love to have them join us!
Become a Facebook fan of The Good Stuff Guide and receive the latest news and your chance at additional giveaways.
(Feel free to do them all – that's a total of 4 entries!)
Good luck!
If you are not the lucky winner, you can find the Motorola MJ270R Two-Way Radio on Amazon.
Have a great week – lots of fun stuff planned here so check back…

Share this post
You might like...
Category: Gear
Tags: Monday giveaway, Motorola Talkabout 2-Way Radios, walkie-talkies |
61 Comments »
Schmidty

on June 29, 2010 10:08 pm

These would be perfect for camping/hiking trips!

---

Schmidty

on June 29, 2010 10:09 pm

I am a subscriber to your RSS feed.

---

Schmidty

on June 29, 2010 10:09 pm

I am one of your fans on facebook.

---

Julie

on June 30, 2010 9:48 am

Thanks for the chance to win!

---

Judy Riley

on June 30, 2010 9:56 am

What a great idea for the beach..and walking……wouldn't have to get sand in the cell phones.

---

Jules Greenaway

on June 30, 2010 12:30 pm

I LOOOOOOVE 2-way radios…so handy for the beach & even shopping!!!! Have I mentioned how much I love your site?

---

Jessica

on June 30, 2010 4:24 pm

This would be sooooo fun! Love your website!

---

on July 2, 2010 9:49 am

These would be perfect for camping/hiking trips!

---

Mayyasa

on July 8, 2010 9:49 am

Our two way radios died on us just recently – we could definitely use new ones!

---

Mayyasa

on July 8, 2010 9:50 am

Also a fan on FB

---

Mayyasa

on July 8, 2010 9:50 am

And a subscriber!!

---
Leave Us Some Comment-Love