June 14, 2012
I have been MIA of late.  And here is what has been happening:
My younger adorable "graduated" from preschool.  See the ONLY kiddo without a mortar?  That'd be him.  He has a stubborn streak a mile long.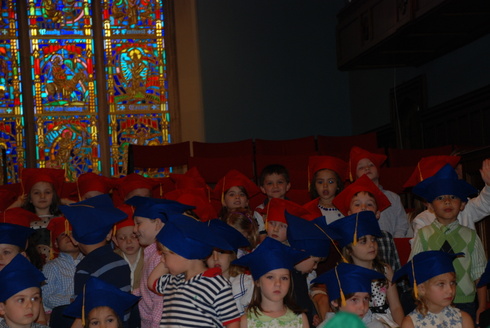 Happy little guy though..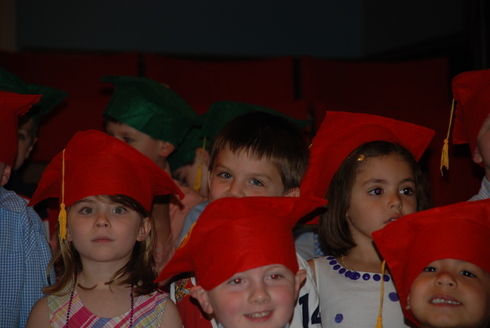 His Mimi arrived for the occasion.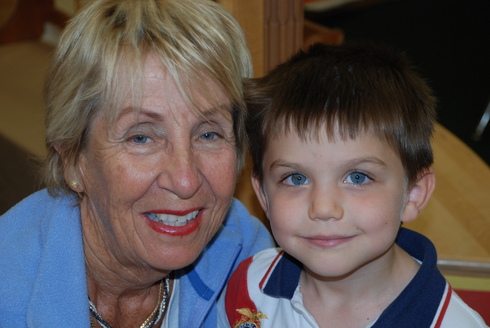 In addition to golf, baseball, and hockey, my older adorable has been playing lacrosse this spring.
See the kid in orange who has the ball?  Sloan is in white, #38, behind him and he isn't going to have that ball for long.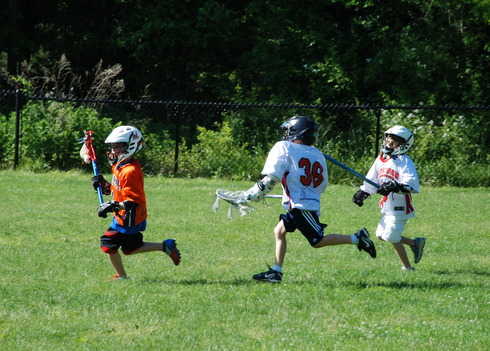 I absoutely love watching lacrosse.  It's infinitely better than sitting in a cold hockey rink!
Then our town's incredible, adorable Memorial Day Parade.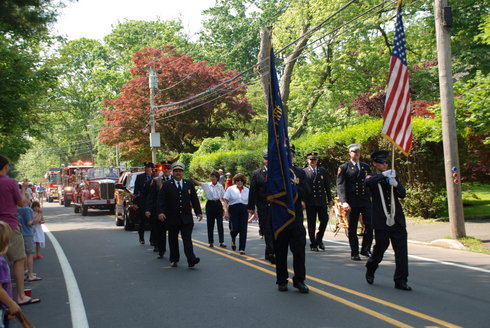 Sloan marched with his baseball team.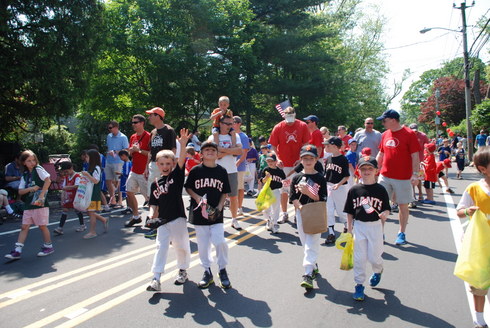 A friend emailed me this photo of Sloan and I just love the pure joy of this day.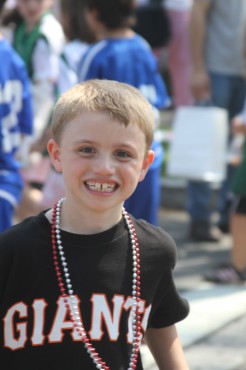 Running Man marched along as a coach.  Just love this man…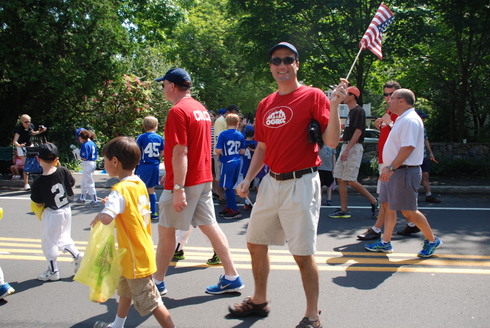 Then the big hullaboo was Sloan's 7th Olympic Birthday Party.  I played with fire and chose to hold it at our local park.  Sloan asked that all the girls be included too, so by the time we added some friends from other classes and the old playgroup, we were at 30 kids.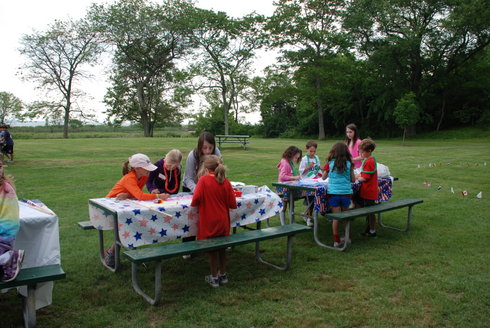 As the adorables were arriving, they were grouped into teams, each a different country, designated by different colored leis.  Each of the 5 teams (6 kids each) had a high school team leader.
They began by making their team flag – a white pillow case stapled to a wood dowel.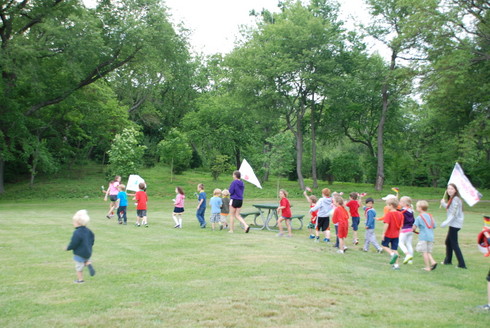 Then it was the Opening Ceremony Parade around the field to the Olympic theme song.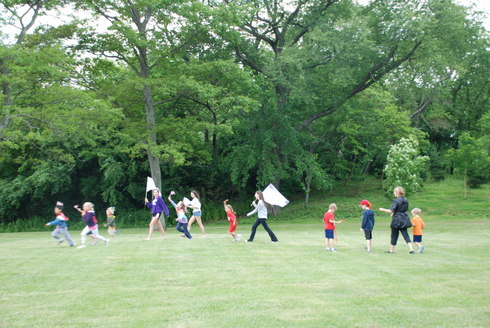 Then the National Anthem.  Could anyone possibly do this song better than Whitney Houston?!?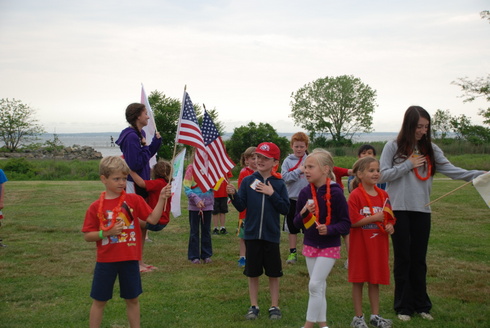 Then games!  Running Man was in his element here.  He called out the games and with the team leaders got everyone ready.  I managed the supplies and the camera.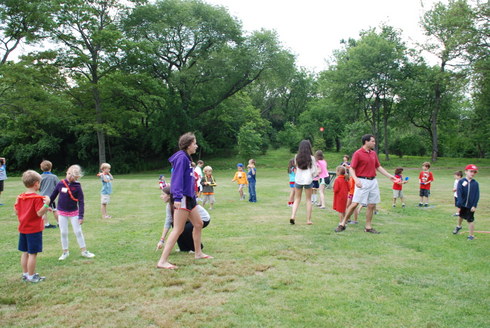 This was a discus throw.  The kids are standing where there discus landed.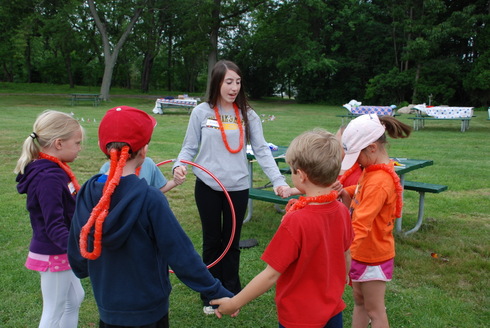 Hula Hoop contest where the kiddos stepped through the hoop while holding hands in a circle.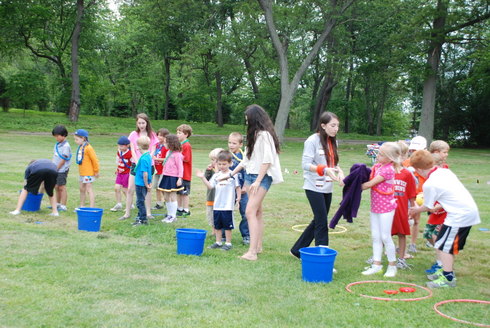 Sponge Race where the kiddos have to transfer water between 2 buckets.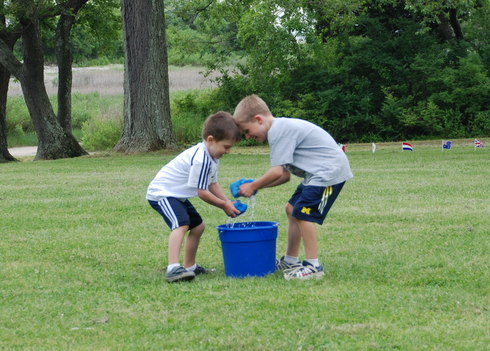 Ah, my boys!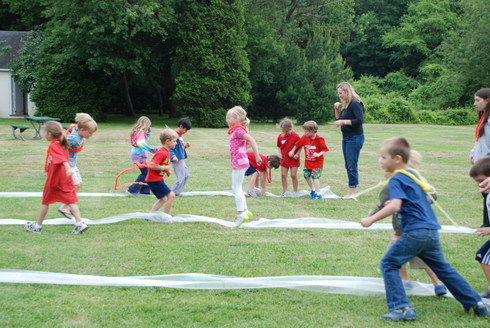 Bubble wrap game!  One huge roll of wrap separated into 5 35-foot lengths.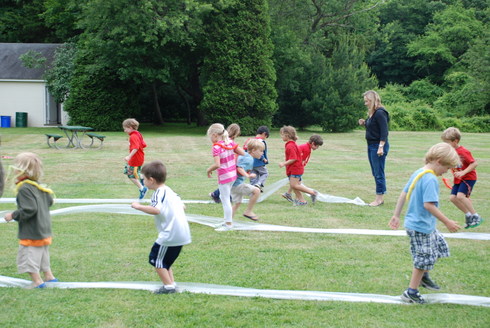 Pop! Pop! POP!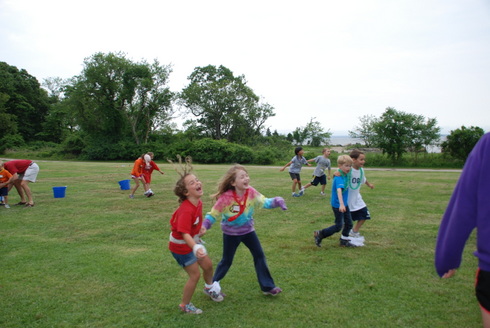 Three-legged race was next.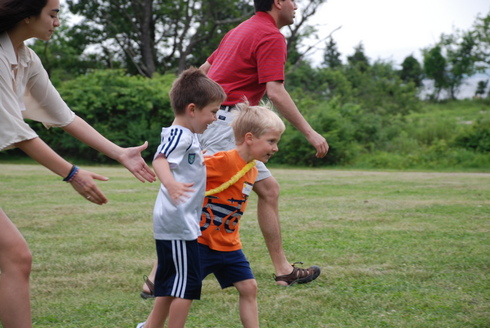 Then dinner and CAKE!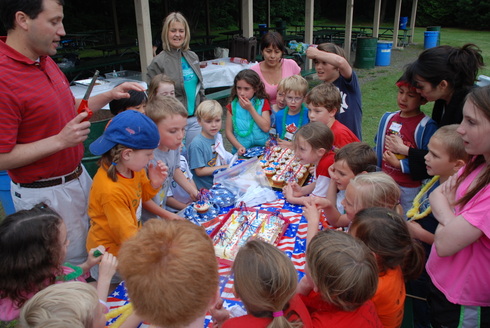 Then closing ceremonies…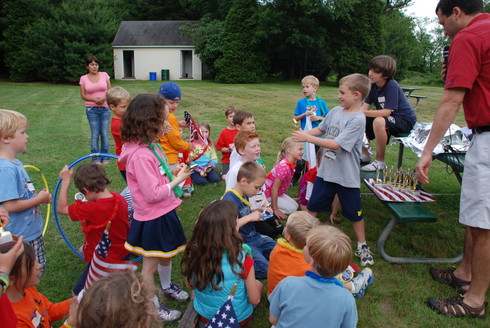 Each kiddo received a trophy with his/her name engraved and "CHAMPION" beneath.  Found them for $3.50 each (with free engraving and shipping! at Crown Awards).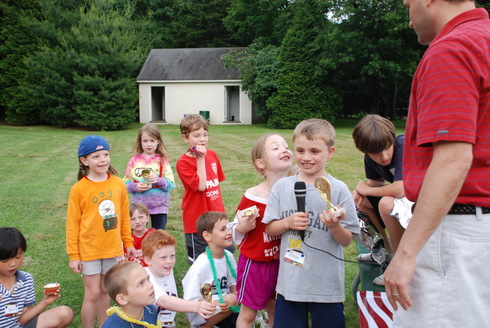 My adorable loved passing them out and the kiddos seemed to really enjoy them.
Then Running Man and I went home, put our feet up and slept for a week.
So what's new with you??
Share this post
You might like...
Category: Activities, Holidays
6 Comments »
on June 14, 2012 8:55 am

Whoa – I bet you did sleep for a week! We just had a birthday party here, too. My daughter requested a "Halloween costume party" – so it was Halloween in June for a few hours around here! I only wish I'd known back in October what her choice would be! Still lots of fun – especially bobbing for apples!

---

on June 14, 2012 9:32 am

Good golly. That is amazing. What great photos!!

---

on June 14, 2012 9:38 am

What fun to see what you have been doing this past month while we were gone. Love the Birthday party!! Is that going to happen every year??

---

on June 14, 2012 2:48 pm

What a fun birthday party idea!

---

Kirsten

on June 14, 2012 2:54 pm

Amazing! What a fantastic birthday!

---

Marykate Wurster

on June 14, 2012 4:37 pm

Heidi – amazing!! Love the bubble wrap races – brilliant – I have mentally filed away to use one day. A theme always helps me with a birthday – Olympics is so original and fun – fantastic idea. Love the parade and graduation pics!

---
Leave Us Some Comment-Love