March 17, 2014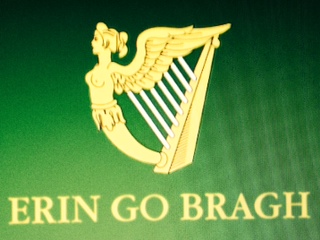 Written by Marykate O'Malley, mother of three wonderful children, Gladwyne, PA 
'Cead Mile Failte' means a hundred thousand welcomes. This saying embodies my grandmother, or Nana, and her spirit. She welcomed everyone, old and young and relished their company. She had a cookie jar, always filled to the brim, for her youngest visitors. And for everyone, after one of her most delicious dinners you truly couldn't eat another bite for she would insist you have seconds, and thirds, followed by dessert, and then more dessert.  She was genuinely interested in others, and that sincere affection won absolutely everyone over. She was everyone's Nana and if you called her Peggy or Mrs. Meagher, she would pat your hand and say with a twinkle in her eyes, "Dear, you can just call me Nana".
This was her mother's recipe, and has been passed down for generations. I can't say it is low in fat but so worth indulging. I have no willpower when it comes to my Mom and Nana's soda bread, and really don't try to hold back. There is a little taste of history and family in every bite.
Happy baking, and eating, and wishing you and yours a most Happy St. Patrick's Day! Cead Mile Failte!
Nana's Bread
Preheat over to 350.
4 cups flour
2 stick margarine (better than butter for this!)
1 cup sugar
3 large eggs
1 tsp kosher salt
1 tsp baking powder
1 tsp baking soda
1 3\4 cup buttermilk
1 cup raisins
2 tablespoons caraway seeds (optional)
Take the flour and soft margarine and using 2 butter knives break the margarine into the flour until it forms course small pieces
add sugar, eggs, buttermilk, salt, baking soda and powder
add raisins
best to stir by hand, when using a Kitchen Aid mixer for example the consistency is different, and not as good a consistency than by hand
The batter should be stiff
Grease 2 loaf pans, bake at 350 for an hour, check with toothpick if done.
We love our with butter!
Share this post
You might like...
Category: Cookin', For Moms, For The Home, Holidays, Kitchen, Momzone, Random and Fun
6 Comments »
on March 17, 2014 9:00 am

I am going to try this today since I have the day off!

---

Anne Schenendorf

on March 17, 2014 12:50 pm

Top of the morning!!!! I had noticed the kitchen aid changes the consistency! Thanks Kariebabes!!!! Something else I've noticed is it's so important to use full fat buttermilk. For some reason I find it hard to get it in NY. A town obsessed with fat content. A lot of places just have buttermilk light which is just not as spectacular as the original. I was so disappointed with the result of using light buttermilk last year(it was literally the only kind I could find) that this year I added a stick of butter and two egg yolks and now it tastes as good as the full fat kind. I'm definitely satisfied with the results. Make your life easy and just get the full fat buttermilk. Btw, if you have had Irish soda bread else where, be prepared to literally have your socks knocked off. This is SO GOOD. My mom describes how when she was a young lady visiting her cousins in Iteland, she was struck that they made it the exact same way. A dear friend if ours had one of these scones dropped off at her house one thanksgiving and she are the whole loaf. I so get it and could easily do the same. It is sinful with butter smeared on(how my hubby loves it) but is decadent plain too. Happy St Patricks Day!!!!!!

---

Anne Schenendorf

on March 17, 2014 12:52 pm

I didn't proof read- meant ate the whole loaf. It is that yummy and can be done easily. 😉 xo

---

on March 17, 2014 1:30 pm

I look forward to Nana Soda bread as if I were a wee lil lad waiting for Christmas morning!

---

Michelle Mancini

on March 21, 2014 8:28 pm

What a TRUE gift!!!!!! Thank you for sharing!!!!!!! I felt so lucky to have met your Nana…

---

Marykate

on March 21, 2014 9:13 pm

Anne – I have been known to eat the whole loaf! It may take me a couple days but oh yes I do. Brian – love you my laddie! Can't wait to see Connor! Michelle – you are such a dear – xxoo!

---
Leave Us Some Comment-Love