December 30, 2013
written by Cathy Baker, mom of two sweet tweens
Our New Years Eve never looks the same — sometimes we are getting home from travelling and collapse into bed at 9pm. Other times we are still away with family. Occasionally we share it with friends.
This year, I'm wanting a fun family evening at home. So, I was searching for some fun ideas, and absolutely LOVE the creative genius of others!  Let me share some of these ideas with you, in case you will be at home and would like to add a little family fun to your evening!
This idea that I found at Crafitibilites blog, I am definitely doing: (I also saw where you can do the same thing with brown paper bags.)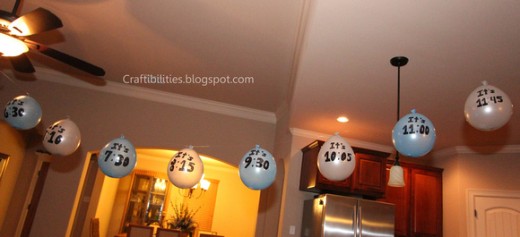 I haven't finalized my list of ideas yet, but here are some of the activities I have been brainstorming to put in our balloons:
Make Cherry Limeade (1 2L Sprite, 1 jar machino cherries, 1 can frozen limeade, 1 can water – mix together)
Play Family Hide-n-Go-Seek — we did this last NYE and had a blast! Sadly, we haven't done it since.
Review 2013 and Make Resolutions for 2014. Love this cute printable I found at Thirty Handmade Days:
Have a wii dance off competition
Play a board game
Make a craft – making these confetti launchers from Pi'ike Street.
Play Charades. Found these charades I found at Moms and Munchkins (I like song, disney and silly animal ones!).
Doodle in our new Family Doodle Book.
Painting Nails
Have a mini photo booth with these free printable props from Kensie Kate blog.
 How do you celebrate? Got any great ideas to pass along!?
However you celebrate the coming of a new year, we hope it's the happiest of happy times for you, sweet readers!! 
Share this post
You might like...
Category: For Kids, Random and Fun
Tags: family fun, New Year's Eve, photo booth |
No Comments »
No comments yet.
Leave Us Some Comment-Love