October 28, 2009
Today is Mansions, mansions, mansions!
Strap on your fanny packs because here we go…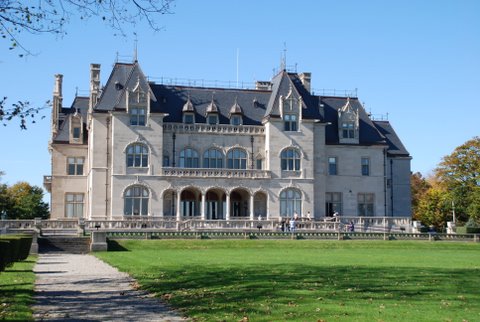 Ochre Court
Ochre Court is the second largest of all the mansions, and I first mistook it for the Breakers.  It was built in 1892 for Ogden Goelet (whoever he was) and is now owned by Salve Regina University.  It's their admissions center and the Running Man and I actually picked up an info packet so we could get a look inside.  I'm sure we fooled no one.  Oh well.
______________________________________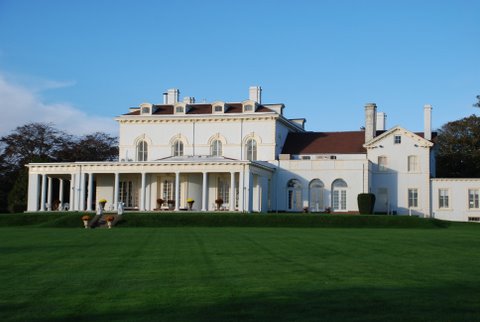 Beechwood Mansion
This was the mansion that put Newport on the map as "THE" summer playplace of the uber-riche.  Built in 1851, and later acquired by the Astor family, which included the Mrs. Astor who created the first social register, it is one of the oldest of the homes and was the center of the social scene.
______________________________________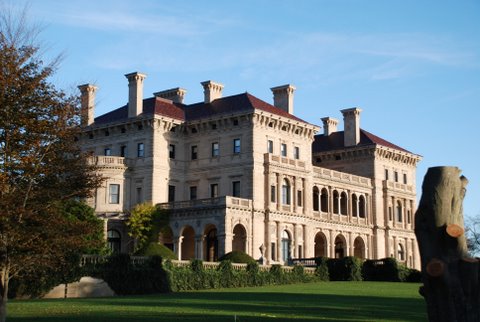 The Breakers
The most famous of all the mansions and the definitive example of "Gilded Age" abundance, The Breakers was built between 1893 and 1895 for Cornelius Vanderbilt. The house has more than 65,000 square feet and required more than $150 million in today's dollars to complete.  If you have time for only one home to tour, this is it.
______________________________________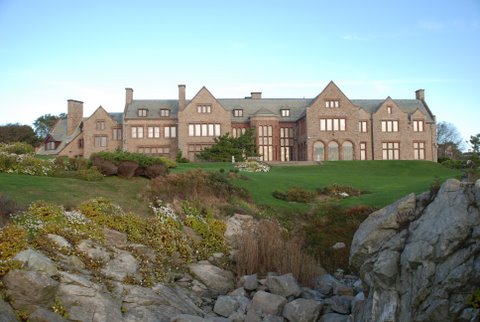 Rough Point
Rough Point was originally built for Frederick William Vanderbilt between 1887 and 1892.  In 1922, the home was sold to James Buchanan Duke (who created Duke Univeristy).  He died in 1925 and bequeathed the home to his 12-year-old daughter Doris.  Doris lived there part-time until her death in 1993, when she donated the home to the Newport Restoration Foundation.  A girl after my own heart, she acquired fine art and antiques for the home, but also bought her bedding at J.C. Penney, and that just makes her real and more likable in my book.
______________________________________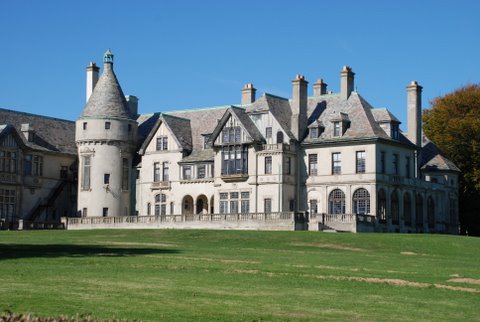 I don't even know the name of this one…
but I thought it was pretty and should be included.  It's currently owned by Salve Regina University.
______________________________________
Private Homes
Here's  the Running Man's and my all-time favorite home: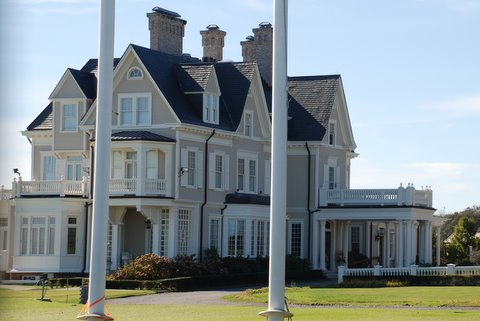 Sorry about the flagpoles, I had to finagle through the fence.  That's elegant me…
Here's another look…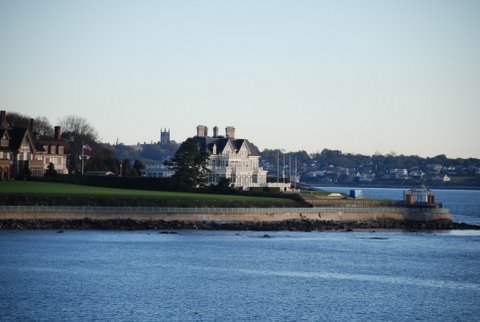 Isn't she gorgeous?  A view from the water.
Someone gets to live here.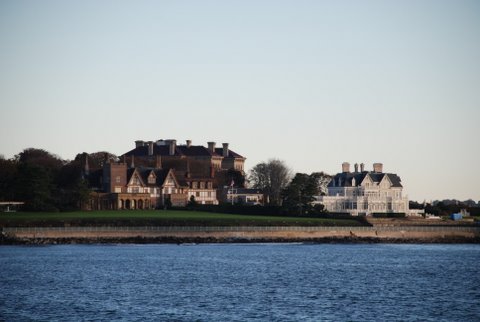 That's the Breakers looming behind these 2 huge homes, just to help you with scale.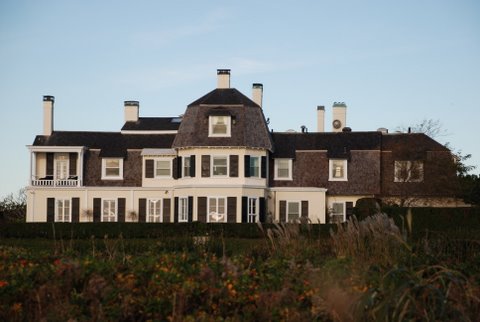 I also thought this was pretty.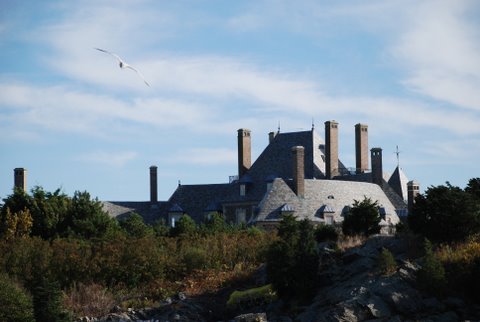 I don't even need to see the rest of this house: with that many chimneys I know it's incredible.
Thanks for walking along.
And thank the Lord for Wikipedia so I can sound like I know what I'm talking about.

Share this post
You might like...
Category: Lovey-Dovey Time
Tags: Newport mansions, Newport RI, Newport tour |
2 Comments »
on October 28, 2009 10:49 am

Those homes are ridiculous! What a fun tour.

---

marla

on October 30, 2009 8:35 am

I always like to think about what it was like living in those homes in that era. I don't need to live there; I just want to be invited to visit and eat!!!

---
Leave Us Some Comment-Love