August 1, 2011
Written by Contributing Writer, Sarah Farthing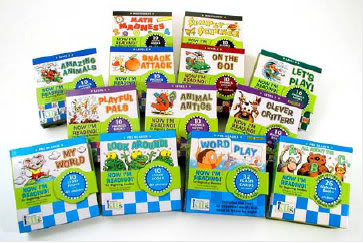 Back to School season is here and there's no better time to brush up on reading skills than those last few weeks of summer so your little ones can hit the ground running when they step into the classroom.   The Now I'm Reading series by Nora Gaydos is a wonderful collection of 10 page books that are perfect for beginning and developing readers.  This author has managed to come up with funny, engaging and memorable stories that young children are not only able to learn to read, but want to learn to read!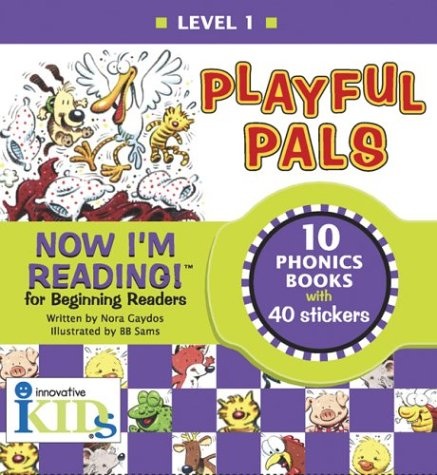 The illustrations are bright and silly, right in line with any 4 or 5 year old I've ever met!  The books actually start at a pre-reading level, then advance to Level 1 for children just learning to read and there are levels beyond that to keep up with your child's reading progress.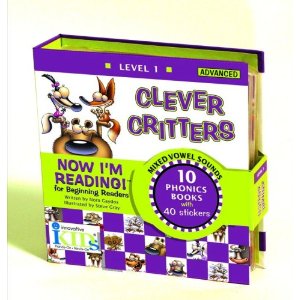 Literally everything about these sets has been just right for us, from the length of the books, the fun in the stories, the reward stickers and the questions at the end of each story that promote and develop reading comprehension.
Nora Gaydos also writes a blog that is full of ideas, tips and suggestions, which you just can't get too much of when you're raising a reader!
These books are worth the investment (which is minimal!); when the time is right for your child, buy them!
And you can WIN a set for your adorable!
Giveaway
One lucky, lucky winner can win a  Now I'm Reading set of your choice simply by leaving a comment by Tuesday, August 9th.  I'll choose the winner using Random.org and announce it on Wednesday.
Because I just LOVE comments, here's how to gain extra entries (please leave them as separate entries):
1. Do you subscribe by email or RSS to The Good Stuff Guide? I love my subscribers, so you get an extra entry. Wahoo!
2. Email 5 of your friends about The Good Stuff Guide and tell them what a rockin' website this is. We'd love to have them join us!
3. "Like" The Good Stuff Guide on Facebook and receive the latest news and your chance at additional giveaways. (I LIKE you too!)
4. "Share" any recent post from The Good Stuff Guide on your Facebook wall by clicking 'Share' under our Facebook posts with links to The Good Stuff Guide site.  This makes a visit to our site just a click away for all your Facebook friends – the more the merrier…
(Feel free to do them all – that's a total of 5 entries!)

Share this post
You might like...
Category: Activities, Books
64 Comments »
Vivian A.

on August 3, 2011 6:22 pm

Let friends know!

---

Vivian A.

on August 3, 2011 6:29 pm

Facebook loved!

---

Xochitl Lara

on August 5, 2011 12:15 am

Wow! Those books would be a great addition to my future classroom. I have my fingers crossed!;+)

---

Guillermo

on August 8, 2011 9:10 pm

These books sound great!

---

on August 8, 2011 9:26 pm

love these!

---

on August 8, 2011 9:26 pm

subscribe

---

Guillermo

on August 8, 2011 9:54 pm

email subscriber

---

Guillermo

on August 8, 2011 9:55 pm

liked on facebook

---

Sarah

on August 8, 2011 9:59 pm

Love these for my soon to be kindergartener! I subscribe

---

Sarah

on August 8, 2011 9:59 pm

Facebook like

---

Guillermo

on August 8, 2011 9:59 pm

emailed friends

---

Rebecca S.

on August 9, 2011 11:56 am

Thanks for the contest.

---

Rebecca S.

on August 9, 2011 11:57 am

I subscribe via RSS.

---

Rebecca S.

on August 9, 2011 11:58 am

I like you on Facebook.

---
Leave Us Some Comment-Love