August 2, 2010
A happy Monday to you!
I've just returned from a major surprise vacation for the Running Man at a ranch in Colorado.  I'll tell you all about it tomorrow.
(And I apologize that I couldn't give you a heads up, but the Running Man periodically reads this website on his train ride in and out of the city.)
But today I need to share something super-awesome with you: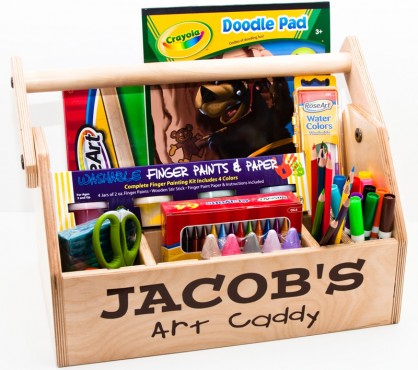 Meet the Organized Kids Art Caddy.  Isn't she cute?
And this caddy comes in several different colors and finishes: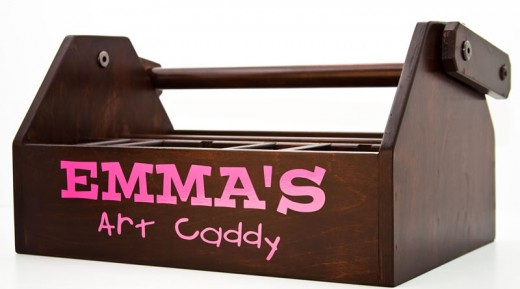 Mahogany…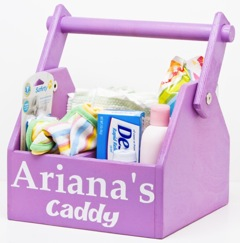 Here is the smaller caddy in lavender…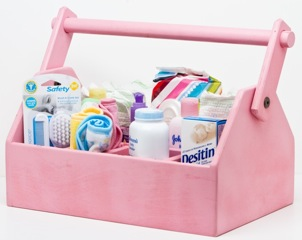 Pink – as a Diaper Caddy, but can be an Art Caddy too…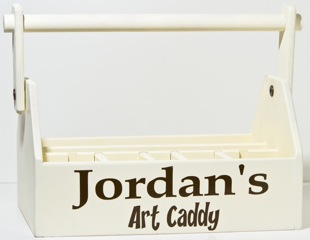 And white…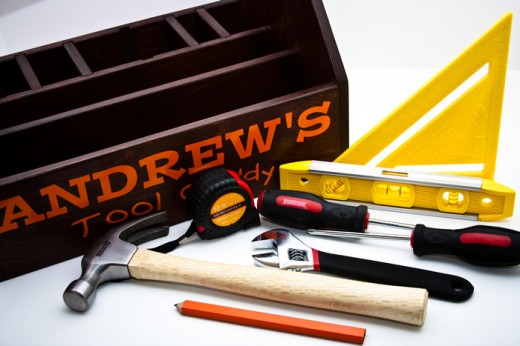 And it can be customized as a Tool Caddy.
Pretty neat, eh?
(I know you organized readers think this is wicked fun!)
Giveaway
You can win one Organized Kids Customized Classic Caddy  just by leaving a comment by Friday, August 6th and I'll choose the winner using Random.org on Saturday, the 7th.
Here's how to gain extra entries (please leave them as separate entries):
Do you subscribe by email or RSS to The Good Stuff Guide? I love my subscribers, so you get an extra entry. Wahoo!
Email 5 of your friends about The Good Stuff Guide and tell them what a rockin' website this is.  We'd love to have them join us!
"Like" The Good Stuff Guide on Facebook and receive the latest news and your chance at additional giveaways. (I LIKE you too!)
(Feel free to do them all – that's a total of 4 entries!)
Good luck!
If you are not the lucky winner, you can find the Organized Kids Art Caddies at CustomCaddies.com. ($54.95)
Have a happy Monday!!

Share this post
You might like...
Category: Art, Toys and Gift Ideas
Tags: Art caddy, Monday giveaway, Organized Kids |
45 Comments »
on August 2, 2010 10:13 am

These are very cool!

---

on August 2, 2010 10:51 am

So cute!

---

on August 2, 2010 10:55 am

I am a fan on FB

---

on August 2, 2010 12:12 pm

These are really cute!

---

on August 2, 2010 12:12 pm

I'm an RSS subscriber. Thanks for the chance to win!

---

Jenny

on August 2, 2010 12:16 pm

So cute!!! I love this idea!

---

Jenny

on August 2, 2010 12:17 pm

I'm a fan on facebook.

---

Jenny

on August 2, 2010 12:18 pm

I'm an email subscriber!

---

Melinda

on August 2, 2010 12:27 pm

love it!

---

Noreen Marando

on August 2, 2010 12:30 pm

So cute! I'm on FB and your RSS feed too! Thanks!

---

Sarah

on August 2, 2010 12:37 pm

My youngest would absolutely LOVE this! I'm a fan on facebook, too!

---

Julie

on August 2, 2010 12:42 pm

How fun! My boys would love this!

---

Gretchen

on August 2, 2010 12:45 pm

Great way to get organized

---

on August 2, 2010 12:51 pm

I subscribe already using luvdamall @ aol dot com.

---

on August 2, 2010 12:52 pm

I LIKE you on Facebook (Keonte' L. Smith)

---

on August 2, 2010 12:52 pm

We love arts and crafts. School is coming, so this is perfect timing.

---

on August 2, 2010 1:02 pm

LOVE it!

---

ErinW

on August 2, 2010 1:11 pm

I'm a FB fan. I love this caddy!

---

ErinW

on August 2, 2010 1:11 pm

I subscribe via RSS feed.

---

Jill

on August 2, 2010 1:53 pm

awesome!

---

Lauren

on August 2, 2010 2:54 pm

Adorable!! I'm a fan on FB, too.

---

on August 2, 2010 3:06 pm

A friend shared your site! These little caddies are so cool!

---

on August 2, 2010 3:07 pm

I just "liked" The Good Stuff Guide on Facebook.

---

bridget

on August 2, 2010 3:13 pm

love it – and my little girl would too!

---

bridget

on August 2, 2010 3:13 pm

and i and a FB fan

---

bridget

on August 2, 2010 3:14 pm

and i subscribe too

---

Tammy

on August 2, 2010 4:49 pm

So cute!!

---

Lesli C

on August 2, 2010 6:52 pm

This is just too cute!! Love it!

---

Lesli C

on August 2, 2010 6:53 pm

I'm an email subscriber! yay!

---

Lesli C

on August 2, 2010 6:53 pm

I like you on FB!

---

Lesli C

on August 2, 2010 7:02 pm

I emailed five friends!! Love this art caddy!

---

Ferdinand A.

on August 2, 2010 8:03 pm

Simple but useful!

---

on August 2, 2010 11:05 pm

Oh, heavens! Both kids would love this. My son for his tools and my daughter for her my little ponies and barbies.

---

on August 3, 2010 1:49 am

subscribe

---

on August 3, 2010 2:13 am

LIke you on FB!

---

on August 3, 2010 6:44 am

My daughter would love the pink caddy loaded with art supplies – she is an artiste!

---

Judy Riley

on August 3, 2010 8:34 am

Looks great for kids.

---

Rachel C

on August 3, 2010 9:50 am

This is such a cute idea! any of my kids would enjoy this.

---

Rachel C

on August 3, 2010 9:51 am

I'm an email subscriber

---

on August 3, 2010 5:36 pm

Super cute, I would love one of these

---

Caryn

on August 5, 2010 12:13 am

You know, I am a sucker for anything organize-y.

---

Caryn

on August 5, 2010 12:13 am

RSS subscriber

---

Caryn

on August 5, 2010 12:14 am

And a Facebook "like"r

---

Kim Derrick

on August 6, 2010 9:44 am

cute

---

Jules Greenaway

on August 6, 2010 12:05 pm

Ooooo, I love anything & everything that has to deal w/organization!!!! And it's cute!!

---
Leave Us Some Comment-Love