March 10, 2011
Say goodbye to my old pantry, because it is outta here!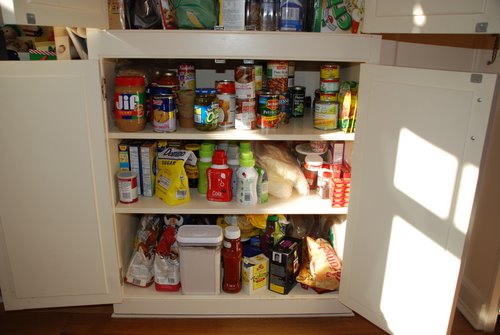 Here's the problem: I see the first couple of cans, then it's a huge jumbled mess.  Behind that big jar of Jif right there are 4 more because they got caught behind things, and I didn't know I had them and bought more.
The bottom baking area was also a huge repository hidden away.  When I stock up on extra brown sugar, etc during sales, I couldn't see them after I stowed them away.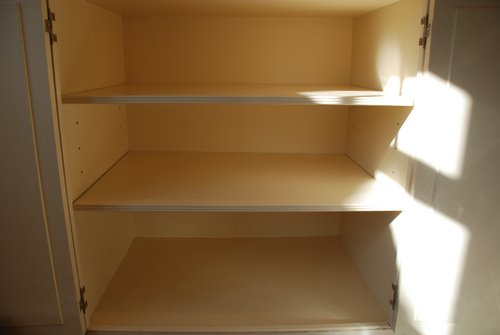 Here's where you can see how really deep these shelves were, which was great for storage, but not for retrievable storage…
Then ShelfGenie entered my life.
Joe came and talked me through the process, then the installer came to measure my cabinets.  Then all was quiet for about 2 weeks while my custom glide-out shelves were handcrafted.
Then this little miracle occurred….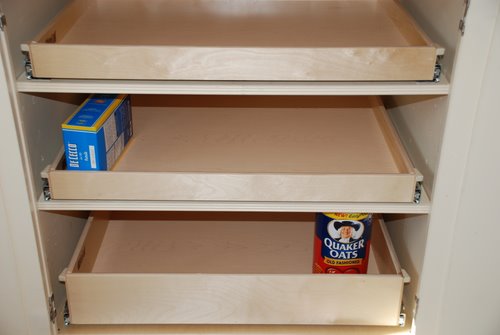 See those 2 boxes there?  I just couldn't wait to get everything organized and I took these before I remembered that you'd like to see the shelves without all of our consumables on them.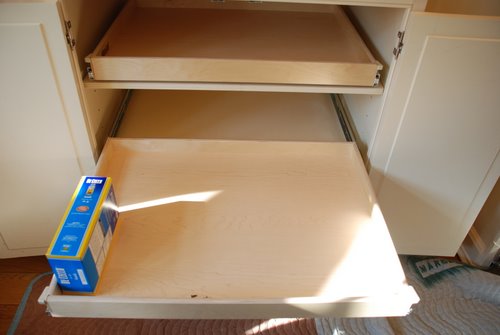 This is the middle shelf pulled all the way out.  I could sit a 75 pound kid on there just fine.
I wouldn't do it, but I could.
But if I did, it wouldn't break.
(And that's probably the information you're after.)
And here we are all loaded up: all 4 jars of pasta sauce, 5 bags of flour (!), 3 brown sugars, 5 jars of Jif, and 9 different random boxes of pasta I didn't know I even had.
Obviously, I'm so much happier to open this now organized pantry.  It's uber user-friendly.  I also hope it makes me a much wiser shopper.
Here are some other ideas from ShelfGenie:
Words aren't necessary for this…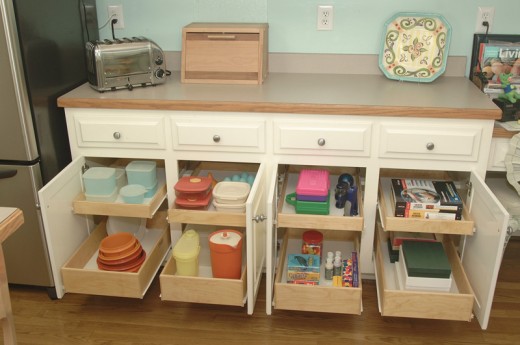 These folks may already have been neat.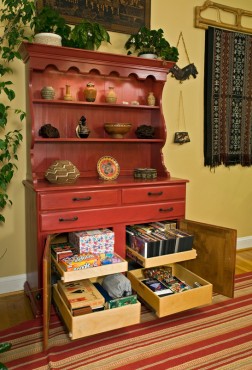 I store our games, puzzles, etc in a similar hutch and this would be pretty incredible…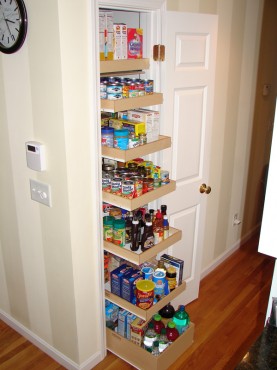 Can you imagine the change from the old pantry?  We don't even need to see the before.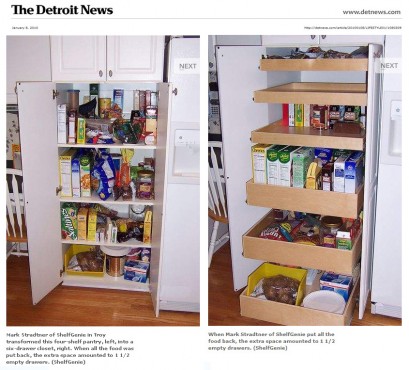 This one was actually the most dramatic change for me.  There's even an extra empty shelf!!
Do you have glide-out shelves in your kitchen/pantry/laundry/bathroom?  How have they helped you?  If you want them, where would you use them first?

Share this post
You might like...
Category: Kitchen, Organizing
Tags: Glide-out Shelves, organizing food, Pantry organization, ShelfGenie |
7 Comments »
on March 10, 2011 11:53 am

The best part about this is it looks like it would work for anyone because they're custom made! How awesome.

---

Susan

on March 10, 2011 3:38 pm

I have a pullout for my heavy pots and pans and another that stores all my baking sheets/pans vertically. No more digging around, stacking and unstacking stuff to get what you need. Love them! But the pantry idea…..wonderful!

---

on March 10, 2011 4:02 pm

Would love to have a set for my pots and pans, baking dishes, and maybe even the cabinet that holds my toaster, food processor, ice cream maker. OK, that's pretty much every one of my bottom cabinets! I'm pretty fortunate to have a walk-in pantry – and the shelves aren't that deep, so I don't loose too much – but for the heavy things it would be great!

---

monkygm

on March 10, 2011 7:08 pm

Love this! Such a great idea!

---

bridget r

on March 11, 2011 9:43 pm

I have glide out shelves through a lot of my kitchen, especially the lower cabinets, but they are not custom, so I do lose some space. But even the non-custom are so much better than none at all! I especially live the glide out fitted for my lids to pots and pans.

---

Erika

on March 23, 2011 4:36 pm

Heaven!!! I have 1 chrome pull out drawer in the upper pantry for all my canned goods. This way I can use that space that is above my eye sight and see thru the drawer to find my canned item!

---

Barbara Roth

on August 23, 2013 8:45 pm

Like many things, it looks wonderful – but I could not afford the material or the labor.

---
Leave Us Some Comment-Love