October 2, 2013
written by Cathy Baker, mom of two sweet tweens, who sometimes get these crazy ideas that their dad goes along with
Our yard is a long hill.  It's a great sledding hill in the winter.
But in the fall? Well…the girls kept crashing their wagon trying to ride it down the hill.
So, they talked their dad into building them a go-cart of sorts. But it's so big, I wasn't sure if we should call it the limo of  gocarts or a toboggan on wheels…so we decided to call it our Go-Boggan!
They sketched out their ideas (with their bff), and Mike grabbed a few pallets they were throwing away at work…and viola! The project began, tearing apart the pallets….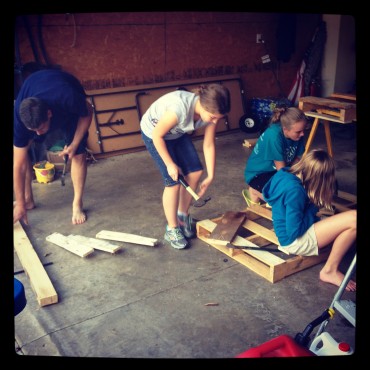 And Hammering lots and lots of nails. I thought it was an excessive amount of nails. He thought it was necessary to build it solid. I'm sure he's correct.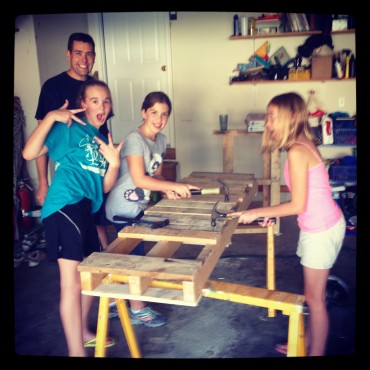 The first night ended with a trip to Lowes and dad welding.  He's in heaven with this project. Heaven.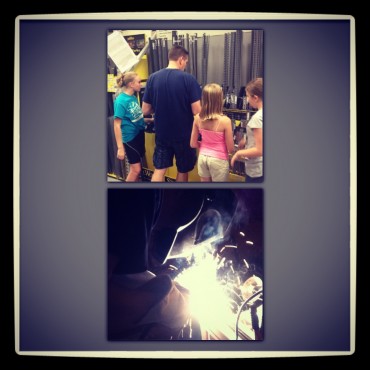 Here they are working on the steering, and building the sides. This takes serious focus, a whole lot of patience (which thankfully my husband has a bottomless pit of!), and a little muscle.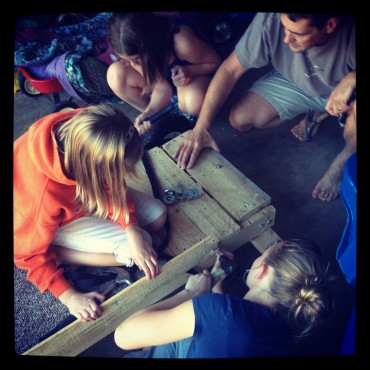 Then they got out the paint. Yes, they even put on a 'spoiler' and that black lever?!  It's the brakes! I'm telling you this sweet ride has everything! You can't see it well, but they even carpeted the seat!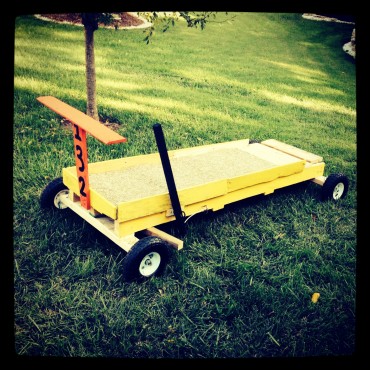 And here they are with the 'final' version.  They had to adjust the initial steering design after crashing into a tree.  And they've had to readjust the brake design after crashing into another tree.  Thankfully, it seems to be working better now (my momma heart can only take so much!).  Still, I keep holding my breath and praying we don't end up in the ER.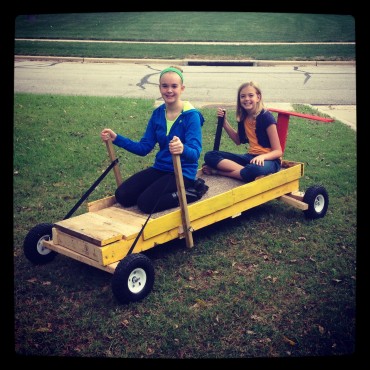 I'm so thankful for their awesome dad who takes the time to design and make cool things like this with them when they have a crazy idea!! What a great memory for them to carry with them for always.

Share this post
You might like...
Category: Activities, Random and Fun
Tags: family fun, upcycling |
4 Comments »
Sarah

on October 3, 2013 6:41 am

That is awesome! I love dads like that. My husband is the same way. They will never forget the fun they had or the time and attention he gives them. Wonderful!

---

Julie R

on October 3, 2013 10:15 am

does your husband want to adopt another one. My son would LOVE to have a dad that did this with him. =( My husband is a lets plan and plan and plan kind of guy and sucks all of the life out of any project that my son imagines.
Have a fun (and safe time) with your go-boggan.

---

Marykate

on October 3, 2013 10:32 pm

Awesome! My brothers made one like this as kids and I still smile thinking about it. This looks so so fun!

---

on October 5, 2013 11:23 pm

This is absolutely the coolest thing I've ever seen! Kudos to Mike!!

---
Leave Us Some Comment-Love