July 16, 2009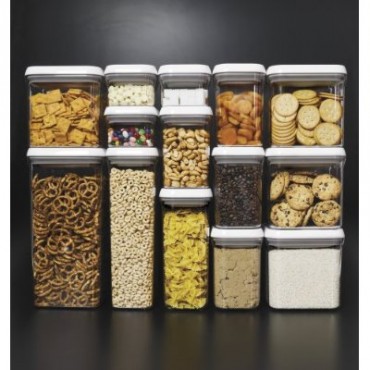 Doesn't this just look pretty?  Okay, if you came to my house, we would make small-talk for about 30 minutes.  Then I would invariably lead you to my pantry to demonstrate the engineering marvel of these storage containers. 
Here's the thing: you just push the button and the vacuum seal unlocks. Push the button down when you are done, and you have a tight, tight seal. We're talking no sneaky air. None. Zilch. Vacuum-tight.
They just make me happy and you would then be happy too. Fresh food makes me incredibly happy. You should see me hungry (not pretty). Click here and Amazon will ship them to you.
Oxo 1151300 Good Grips POP 11-Piece Food-Storage Container Set with Lids
Note: You can also buy them individually. These two are my favorite sizes:
For a large box of crackers or half a box of cereal…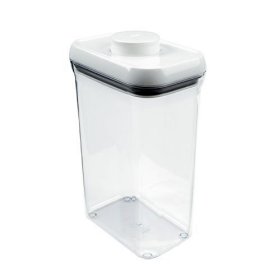 Oxo Good Grips POP Rectangle 2-1/2-Quart Storage Container
For a bag of goldfish (the edible kind) or a box of Teddy Grahams…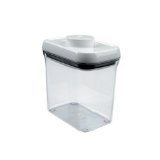 Oxo Good Grips POP Rectangle 1-1/2-Quart Storage Container
Share this post
You might like...
Category: Kitchen Pantry
Tags: Food Storage, Oxo, Oxo Pop Storage |
4 Comments »
Sid Dawson

on July 16, 2009 9:02 am

Great idea, great web design!

---

on January 9, 2010 11:56 pm

After your post on the OXO POP – and then your comment that lead me here – I now have a dozen of these beauties and I'm making a list of which sizes I need in duplicate or triplicate. Thanks for the suggestion!

---

on January 9, 2010 11:56 pm

Oops – I meant the post on the OXO TOP that lead me here. Hmmm – tired from cleaning out my pantry….

---

Heidi Farmer

on January 13, 2010 10:04 pm

That is so fun! You motivated me and I cleaned out my pantry and refilled all mine – it makes the biggest difference in there!

---
Leave Us Some Comment-Love